Here's our regular summary of what the national and local restaurant critics have been writing about in the week ending 16 January 2022.
*****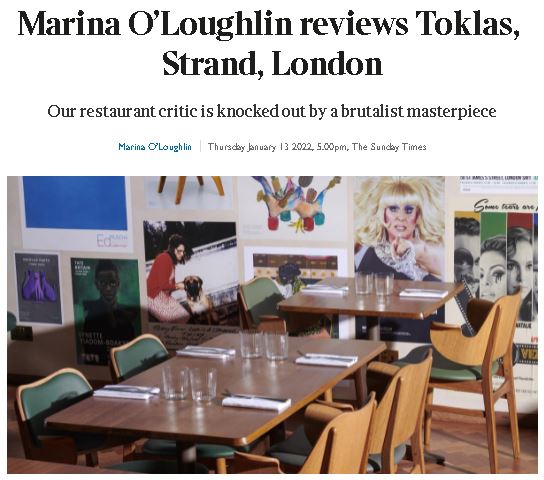 The Sunday Times
When Marina O'Loughlin paid a visit to Toklas, she initially felt like it was "the café attached to an out-of-town retail park" but when she left, she was "pretty much an ardent fan, sniffiness shifting into this self-recrimination at my folly, my blinkered lack of comprehension that its plainness is studied and deliberate — far more Ernö Goldfinger than Oak Furnitureland".
Given that the owners of Toklas, Amanda Sharp and Matthew Slotover, co-founded the "glittering" Frieze art fairs and magazine, it shouldn't have been a surprise. Even the salad (from ex-Spring and Moro chef Martyn Lyons) looked 'curated'.
"That refusal to go balls-out and splashy or fashionable and trend-ticking, extends to the cooking. Each dish is a subtle, untweezery, blob-defying knockout, a Mediterranean-scented celebration of produce as hero." Dishes have "unexpected flavours" and are neat little "works of art "
Marina even warmed to the "uncompromising beauty" of the Brutalist space, which also has a shop attached (and a "huge, plant-decked outdoor terrace" for summer): "gradually it all becomes very sexy in an ascetic, horn-rimmed, hot-architect kind of way".
"Never mind the art, I plan to be a regular installation here."
*****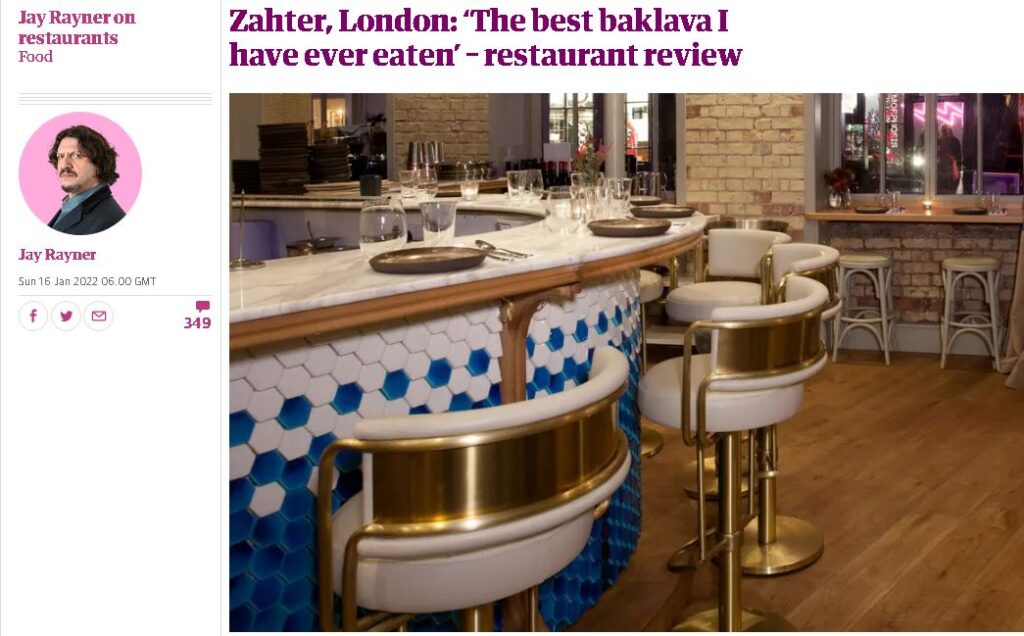 The Observer
Jay Rayner reviewed Zahter, "a new restaurant off London's Carnaby Street which re-examines the Turkish repertoire", including baklava "so good that its gorgeousness could not be relegated to the end of this column… quite simply the best baklava I have ever eaten".
Zahter "occupies a tottering corner site with a cheery view of the street life outside" and "is the first standalone venture from Turkish chef Esra Muslu" who trained in Australia and has worked at Soho House and Ottolenghi. Her menu here is a "wandering journey across Turkey". (Jay recommends the stuffed globe artichoke, an "utterly engrossing and formidable" dish.)
The space itself "has a youthful buzz and assuredness to it", and although "it feels like a mature restaurant" it is certainly "not… one aimed necessarily at a mature clientele". A few considerations for the older customers (who will be more able to afford it) would be appreciated.
*****
We got two bonus Jay articles this cold January week; firstly, an article entitled "There's nothing like a restaurant to make you feel like an old git", on the issues facing older clientele in today's restaurants. "Give us over-50s a menu we can read, grownup waiters and the chance to hold a conversation." (Zahter, reviewed above, is guilty of "everything I whinge about".)
He also provided a heart-warming list of the "rising stars" of 2022 in The Observer's Food Monthly; inspiring stories of how six chefs have made it to where they are now.
*****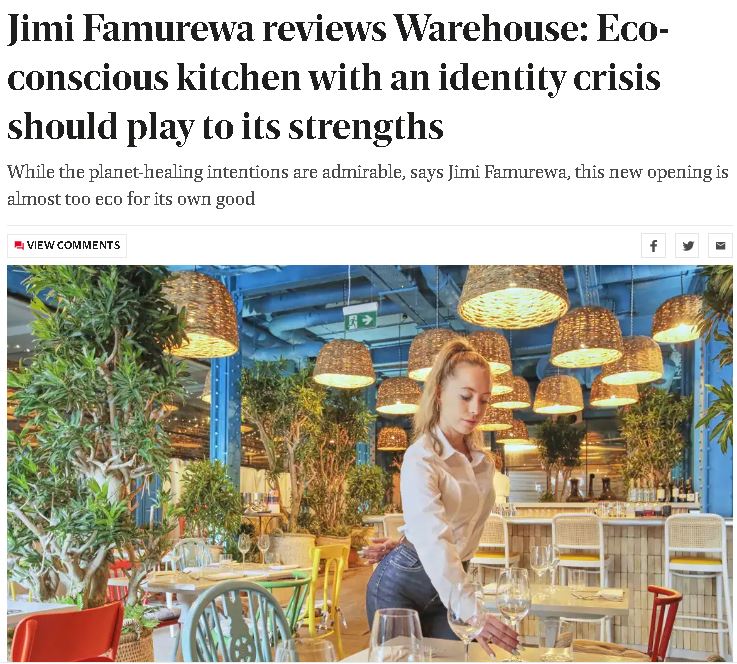 The Evening Standard
Jimi Famurewa's first review of the year was at Warehouse, the "new, ethically minded place in Covent Garden" where "there is deftness, intense pleasure and nimble surprise evident in some of the cooking" but – on visits both before and after Christmas – the place was almost "deserted".
"I'm not wholly convinced about its ability… to find a sustained crowd to fill out its big, echoey space" which looks like "a hurriedly repurposed Wahaca".
Initially, the dishes Jimi ate were bland and "shrugworthy", "prone to both cheffy cliché and a kind of tiring worthiness" but as the meal went on (and "the further… dishes got from their hazy sustainability brief"), "the better and better they became".
Former Silo chef Brendan Eades "is such a gifted chef he excels in spite of his restaurant's somewhat confused elevator pitch".
*****
David Ellis gathered together a list of "best deals and cheap eats" available in January, from discounts on take-home supplies, to set lunches and even spray tans.
*****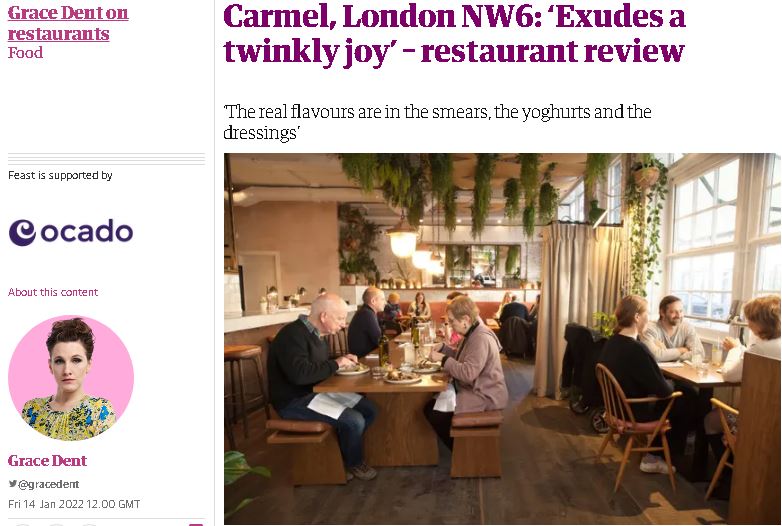 The Guardian
"A most promising start to the eating-out year."
To Queen's Park for Grace Dent, and a visit to Carmel, which was "welcoming and vibrant" on "a freezing cold Wednesday" in early January; "the place was busy with folk keen to try this new North African/East Mediterranean opening from the folk behind east London's Berber & Q".
It's the "much more grown-up relative" of Berber & Q, however: there's no "loud, pulsating house music" and it's "dainty, delightful, good for… a date night".
The menu is "lush, laboured over and decidedly finickety"; the "real flavours are in the smears, yoghurts and dressings", which can be mopped up with the "warm, fresh sourdough flatbreads".
"Carmel exudes a sort of low-watt, twinkly joy, with candlelit tables, low-key music and delightful staff."
*****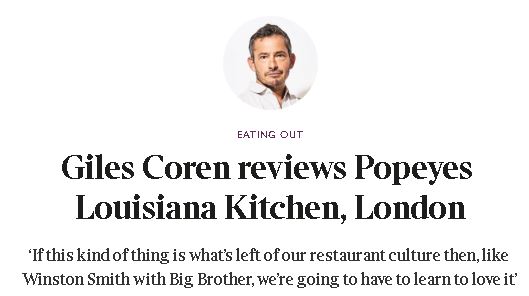 The Times
"This January, as post-Covid Britain lies broken and defenceless before their advance," here come the "giant, always hungry fast-food corporations" as "the British independent restaurant scene lies battered and groaning and close to death".
An unexpected review from Giles Coren this week: he was in Westfield Stratford City, trying out Popeyes Louisiana Kitchen, "the "Louisiana fried chicken" chain that is aiming for 350 [branches] in double-quick time" (close behind Wendy's which is planning 400 UK branches selling their trademark square hamburgers, also starting in Westfield). He even delves into the "lively political backstory" of fried chicken in America.
Giles took his children along; his son who loved fried chicken (but has "never had actual KFC") and daughter who saw "Popeyes on TikTok" when "its new chicken sandwich "broke the internet" stateside". 20 minutes in the queue gave him a "giant bag of dubiously farmed, deep-fried fowl portions". His chicken sandwich was – "by the standards of the genre" – "extremely good… unexpectedly light and crisp"
"If this kind of thing is going to be all that's left of our restaurant culture then, like Winston Smith with Big Brother, I guess we are going to have to learn to love it." (6/30)
*****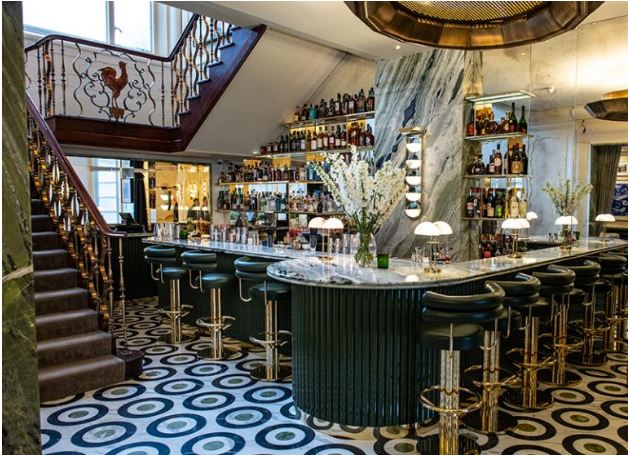 The Mail on Sunday
Tom Parker Bowles in YOU Magazine visited the "much-loved Mayfair old timer" Langan's, which "just reeks of cash" thanks to its recent facelift. ("Staff are clad in immaculate outfits… and cutlery is heavy enough to fight off any corporate raider.")
The service was "swift, smiling and not overly intrusive" and the wine and food were "precipitously priced".
"I know this is Mayfair, where punters panic if prices are too low. But over £100 for a roast chicken for two and £24 for roasted cauliflower seems excessive." And, even worse, "it's not like the cooking even justifies these prices". One dish was "an edible affront", while the crab on toast "resembles cold cat sick" and was "so goppingly awful that one bite is enough".
"The whole place is slick but sad, all swagger and no soul… Not so much the rebirth of a legend, as a damp, dreary squib."
*****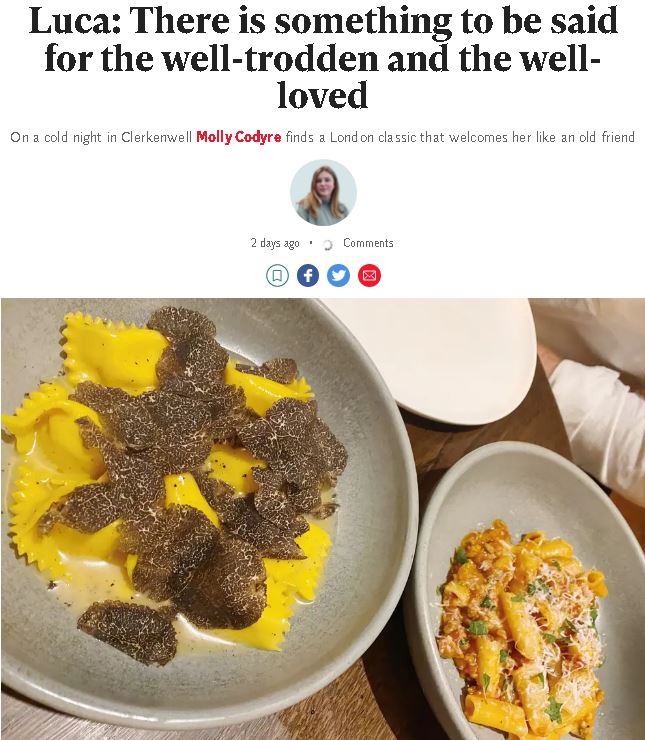 The Independent
Molly Codrye visited Luca, "one of those restaurants that invigorates your love for London". Despite having never been before, she felt "like an old friend".
"Where at the Clove Club there is a tasting menu and a culinary approach to pushing boundaries, Luca seems to take this same technique and shine its light in a heartier, more fundamentally lovely way."
"I may have been a little late to the Luca party, but now that I have arrived I really don't want to leave."
*****
And also…
In The FT's magazine Tim Hayward reviewed Manteca, Shoreditch: "I'm going back for the snout… I fell on the pig-head fritti the second the plate hit the bar, bursting with boiling, fatty, cartilaginous oozings".
*****
In The Scotsman, Gaby Soutar reviewed The Crusoe hotel on the quayside at Lower Largo; it was named for Alexander Selkirk, whose real-life desert island experience inspired Daniel Defoe to write Robinson Crusoe. It was "recently taken over and renovated by restaurateurs Graham and Rachel Bucknall" who own a couple of other venues.
*****
On Koffmann & Vines, the dynamic duo headed for Dim Sum & Duck – becoming a cult classic on the dim sum scene, just a short stroll from Kings Cross. Awarded excellent, "They say the chef has 30 years' experience without specifying where. I am most reminded of Royal China. If you love Chinese food, are willing to risk queueing and don't mind a dining room that isn't much fancier than a canteen, Dim Sum Duck is for you". [We agree, Ed]