Our weekly round-up of what the national and local restaurant critics are writing about, for the week ending 15 November 2020.
Restaurants and bars in England are closed between 5 November and 2 December for a second lockdown; parts of Scotland are also on similar lockdown, and the 'firebreak' lockdown in Wales ended on 9 November.
Please consider ordering takeaways or deliveries from your favourite spots if you can; the restaurant industry and everyone involved in it need our continued support.
As the stock of pre-lockdown reviews dwindles, we are sharing whatever the critics are sharing with us: delivery reviews, nostalgia, lists of favourite meals and even Christmas news.
*****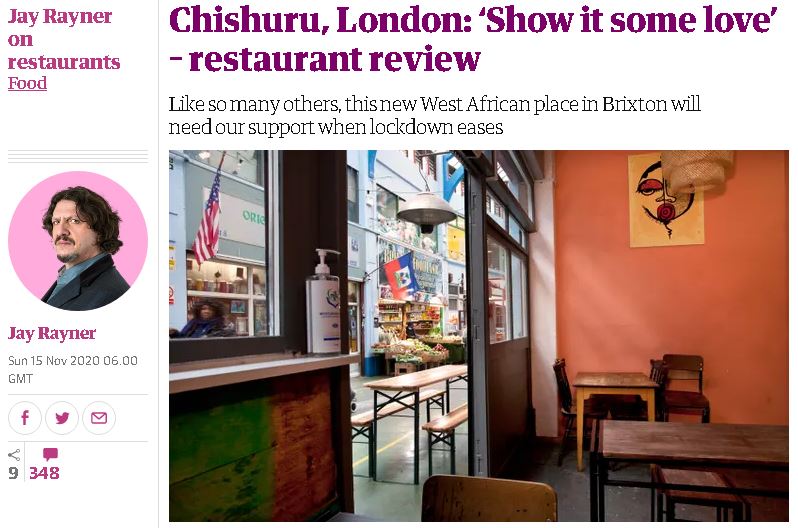 The Observer
Before lockdown 2, Jay Rayner reviewed Chisuru in Brixton's covered market; the fascinating backstory to the review included his being invited to judge a cooking competition by the new (in 2018) custodian of the "vital neighbourhood asset" that is Brixton Village and Market Row, Hondo. He declined the offer, and watched as Hondo attempted to raise the rent and relocate several beloved establishments, including Nour Cash & Carry, "an extraordinary family-run food shop selling cheap ingredients to the many BAME families that have long lived in Brixton".
The eventual winner of the cooking competition was offered their own space within the markets; that was Nigerian-born Adejoké "Joké" Bakare, who started with supper clubs focusing on "the lesser-known dishes from West Africa". She has now opened Chisuru, "a small restaurant with peach-coloured walls, and an open kitchen where she cooks with the help of just one assistant", and a menu that's "short and full of heat and vigour and zest".
"It's food you must play with… our napkins become properly stained and sit on the table beside us like badges awarded by the Brownies in recognition of effort made." The side dishes alone (including a rice dish of "come home and let me look after you") made Jay want to "bow my head in supplication and disappear into its comforting, non-judgmental depths".
"Sooner rather than later, I hope… Chishuru will reopen and, when it does, like all our most beloved local restaurants, it will need the support of its neighbours. It's a portion of the community on a plate, and one that has all too often been overlooked, including by me. It deserves to be shown some serious love."
*****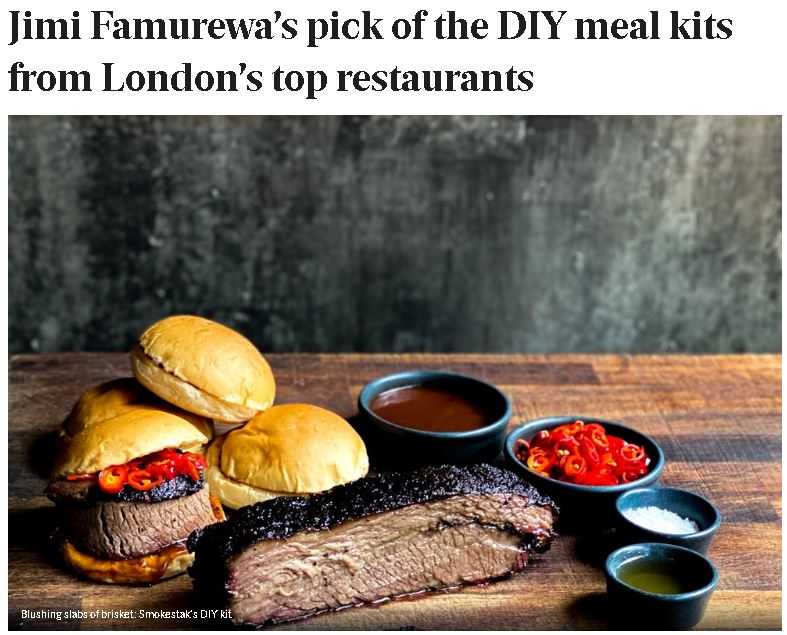 The Evening Standard
Jimi Famurewa reviewed restaurant meal kits this week – they'd been the "one true constant of my first lockdown", albeit "assembled with varying degrees of ineptitude": "the regular punctuation to those shapeless weeks was me trying to get a chef's YouTube instructional video to work with a mass of tiny tubs littering the worktop".
He also wondered "on more than one occasion, if the real function of these kits was that they made you all the more grateful for professional chefs".
They are not for everyone, or for last-minute meal decisions, but nor are they the same for Lockdown 2 ("This Time It's Purgatorial"). As Jimi says, "the slick, carefully calibrated delivery market of the autumn is a different beast to the understandably frantic fridge-clearing effort of spring".
He mentions "Corbin & King's typically beautiful online hub for bung-it-in versions of The Wolseley's Wiener schnitzel and The Delaunay's mushroom stroganoff", fresh pasta from Popham's and "cult, south London sibling restaurants Artusi and Marcella", the joy of re-creating a Smokestak brisket slab at home and The Quality Chop House's confit potatoes that "hold on to their brilliance even if you've turned them into a tragic, collapsed rosti-pile".
"The impulse is to lean into celebratory, laborious things you couldn't possibly pull off at home; which means beef Wellington from Adam Handling's Hame or the mad decadence of eating Gymkhana's [via Ambassador General Store] Michelin-starred wild muntjac biryani in novelty slippers and elasticated loungewear."
*****
Also in The Standard, a longer list of London's home delivery kits and an article on the takeaways and kits for celebrating Diwali at home.
*****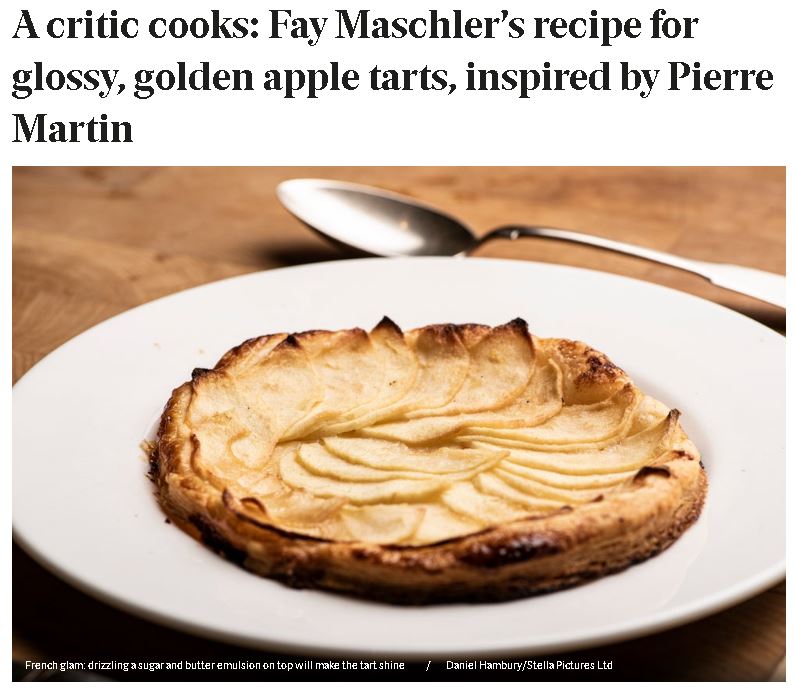 Fay Maschler returned to her short-lived series, "A Critic Cooks", in which she recreates famous dishes at home. This week it was the lightning-quick "delicate apple tart" cooked by Pierre Martin at Lou Pescadou (RIP), one of his five London fish and seafood restaurants. ("Simon Hopkinson offered it at Bibendum when he was chef-patron there, the menu requested that you wait 20 minutes and plenty of people did.")
The tart (recipe included) is "a quick, hot, ticklish assembly that would… contribute a bit of French glam" to any meal She advises that "ready-rolled sheets of puff pastry are a great asset".
*****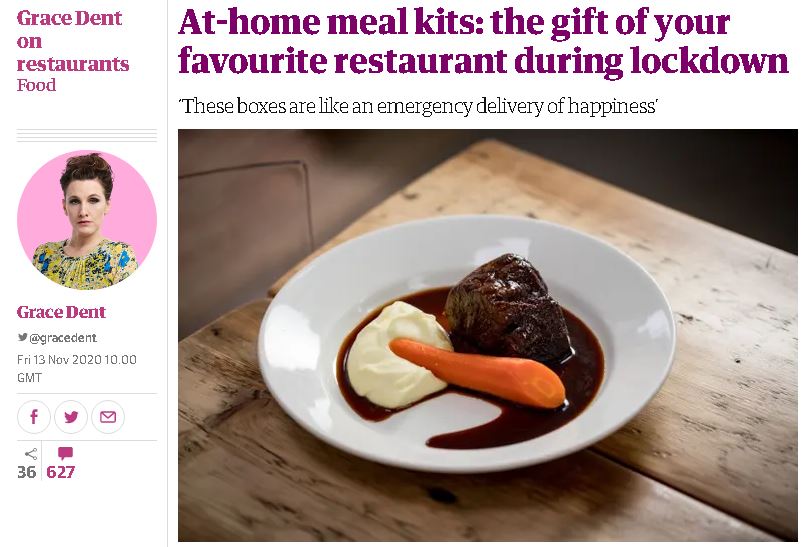 The Guardian
Grace Dent also reviewed home delivery kits, which she has stocked up on and booked for weeks ahead after realising that "what March-August 2020 taught me was that no amount of languorous house arrest would see me acquiring, scraping and braising my own artichokes".
"The delivery kit era is here, with names such as Hoppers, Dishoom, Patty & Bun, Padella – in fact, anyone who is anyone in the food world – joining in." Chef Lara Lee is offering recipes from her new book this week.
"Back in April, I'll admit to thinking that most, if not all, of these DIY kits were costly and gimmicky, the final gasps of good restaurants fighting for survival" but "I now cannot quite imagine the restaurant landscape without them".
"The Elite Bistros' boxes… are like an emergency delivery of happiness to anyone who is missing the Sunday pub lunch." Get in there now if you fancy their version of Christmas dinner, "which chef Gary Usher and the team behind, among others, Sticky Walnut in Chester and Hispi in Didsbury will send out filled with turkey (or stuffed butternut squash) and all the trimmings".
And for those not thinking about Christmas just yet, the Meatliquor kits can be sent to friends and family nationwide; "a genuinely useful present that sparks joy in even the grouchiest heart and supports an industry that's on its knees".
*****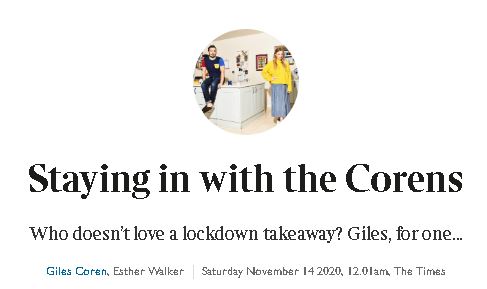 The Times
"Well, we're back. I'm so sorry. I mean, I'm not sorry. We'll have a lot of fun, just as we did last time."
Giles Coren also returned to his original lockdown column with his wife, Esther Walker. His problem with embarking on the idea of reviewing takeaways and home deliveries is that "I've got 1,500 words to fill. I need a revoltingly decorated dining room (other than my own) to sneer at, waiting staff to berate, the pretensions of other diners to mock, bad lighting and poor extraction to rail against, a complicated and possibly scary journey home to complain about…"
Also, he hates takeaways: "I hate the waiting, and the plastic waste, and the cleaning up afterwards. I hate the absurdity of laying the table all nicely, and then putting a greasy paper bag down in the middle of it" and lots more besides.
Esther, in the other hand, hates the "Sisyphean task" of domestic cooking:"takeaway is my escape hatch; it's the red emergency cord; it's the smash-this-in-an-emergency alarm. I will defend it to the death for its emancipatory symbolism; it's shopping and cooking and planning and thinking that I haven't had to do. I love takeaway the way that housewives have loved the refrigerator, the twin tub, the microwave or Ocado."
*****
The Mail on Sunday
On a stormy pre-lockdown night, Tom Parker Bowles in The Mail's YOU magazine reviewed The Wheatsheaf, a "comfortable" thatched, listed pub not far from Hungerford in Wiltshire.
The place, a Parker Bowles local, feels "lived-in and happily well worn, a provider of succour and joy". "The kitchen has the confidence to keep things simple, let the ingredients (local where possible) speak for themselves. Food that complements, rather than dominates, conversation."
*****
The Scotsman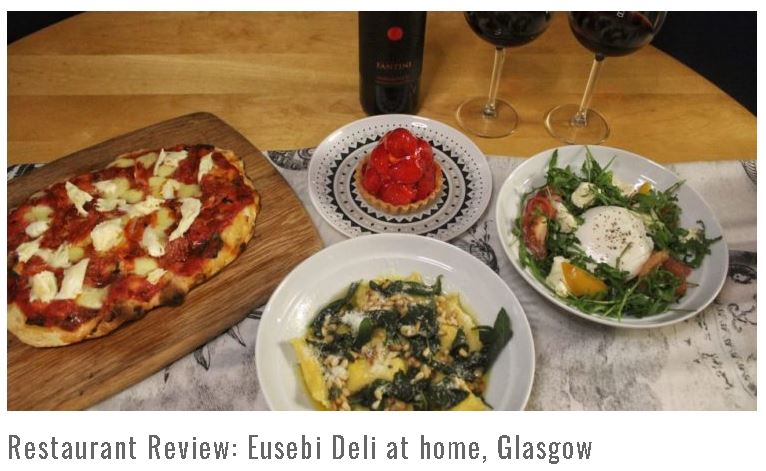 "In less time than it takes to open an app and choose a restaurant, an Italian feast awaits."
Rosalind Erskine enjoyed a home cooking kit collected from Glasgow veteran Eusebi Deli, which recently won a court battle to stay open as a cafe, but offers home kits as well (with wine).
"Assembly is easy and the cooking time is only around eight minutes" for the pizza, less for pasta. Eusebu even supplied dessert, "made on the site of the original east end deli" and they "recently added afternoon tea home delivery" to their offer.
*****
And also…
Birmingham Live ordered a cook-at-home kit from Antona at Home, the company set up by MasterChef: The Professionals winner Stu Deeley of Simpsons and The Cross.
*****
The Manchester Evening News listed local home delivery kits available, and featured the offer from Tom Kerridge's Bull & Bear restaurant (and his London restaurants too), to deliver five-course 'Tiny Tasting Menus' to children, free of charge, after a "nationwide poll by Uber Eats that found 84 per cent of parents struggle to get their kids to try new ingredients".
*****
The Yorkshire Evening Post reported on the lockdown offering from Jamrock, which only opened last month on the former site of veteran Leeds restaurant Arts Bar Cafe. Jamrock is "bringing the soul of Jamaica to the heart of Yorkshire" – via home dinner boxes for now.
*****
Recent News from Harden's