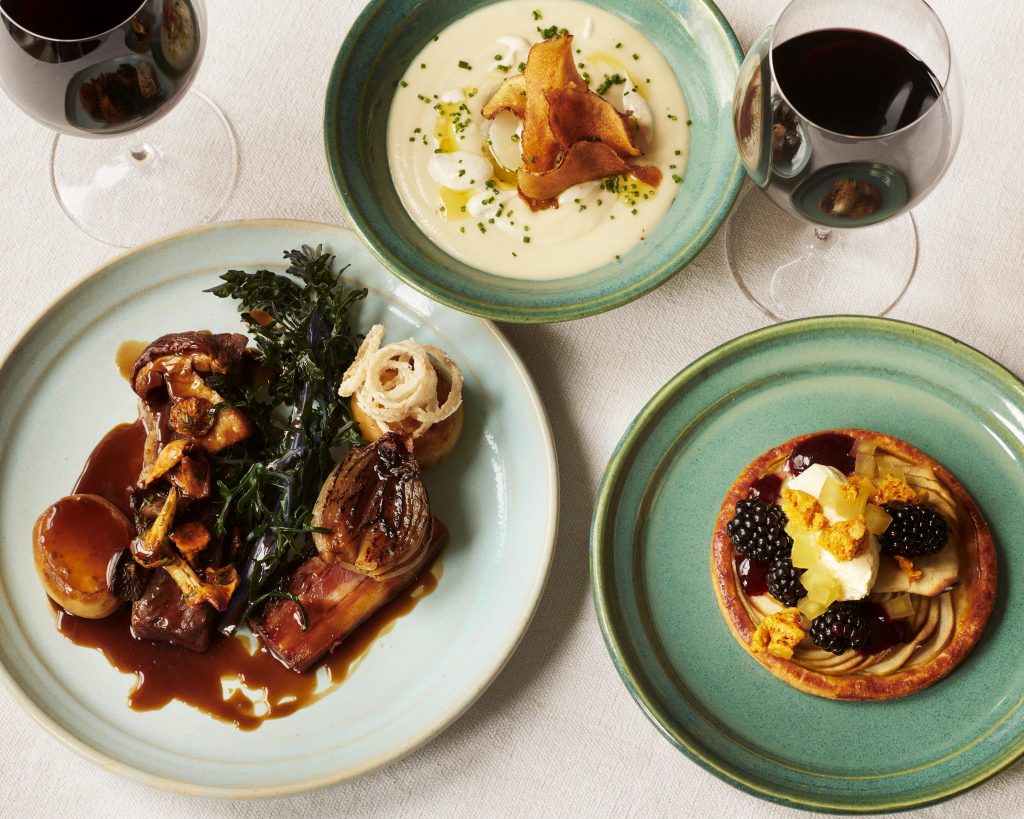 Each week in lockdown, we'll shine a light on three restaurant delivery services, either a 'DIY kit' or a takeaway meal service, we think look worth trying. Not only is it crucial to support the restaurant trade, but it also stands to reason we continue to eat well. Here's our pick for week three: London stars
"Berry Bros. & Rudd is delighted to announce the launch of 'Berry Bros. & Rudd At Home', its new fine dining concept, offering menus and wine pairings for customers to enjoy in the comfort of their own home.
Britain's oldest wine and spirits merchant, is partnering with premium online food delivery service Big Night. Joining a stellar line up of independent London restaurants already delivering restaurant quality food to consumers, Berry Bros. & Rudd will offer a series of four regional menus and accompanying wine pairings from Burgundy, Bordeaux, Italy and Spain.
Each week a different three-course menu will be available to order for delivery with the optional accompaniment of region-specific wine pairings selected by Master of Wine, Barbara Drew.
While better known for its award-winning range of fine wines and spirits, for the past 20 years, the historic merchant has been serving customers visiting its cellars beneath St James's street with quality seasonal food, now under the direction of Michelin-trained chef, Stewart Turner.
Stewart Turner, Executive Chef at Berry Bros. & Rudd comments: "Big Night provides us with a brilliant opportunity to take our food beyond No.3 St James's Street. During a time of lockdown when people are unable to eat out, this news is hopefully music to the ears for many of our customers as well as potentially an entirely new audience. Our series of regional three-course menus have each been designed to be finished at home and are perfectly completed with a bottle of wine."Initially delivery will be available only for Thursday and Friday. Delivery will be within an 8-mile radius of St James's. Full details of the menu, order by and delivery dates can be found on the Big Night app."
"Leaving no pun unturned, Top Cuvée & Shop Cuvée announce Take Cuvée, the meal delivery branch of their lockdown-proof portfolio.
"Brodie Meah and Max Venning are pleased to introduce Take Cuvée, the latest string to the Cuvée brand's bow. Since the successful launch of Shop Cuvée in March, a pivot that saw the team go nationwide and which cemented them as the friendly faces of natural wines, they have been quietly developing delivery-friendly home meals in anticipation of lockdown 2.0.
"Launching this month under the helm of head chef Will Blank (ex Lyle's), menus will change daily and will be available to order for same-day delivery in London. Alongside chef Will, Brodie will select rotating natural wine pairings to complement each menu, and to ensure maximum vibes from the front of house team, a Spotify playlist to accompany all orders.
"Prepared fresh daily in the kitchen at Top Cuvée meals arrive with simple heating instructions. Priced at £35 for dinner for two (before wine)."
"Having just opened to critical acclaim in the heart of Fitzrovia, Pali Hill won't let lockdown 2.0 deter their wealth of warm hospitality and community inspired by the city of Mumbai, offering an Indian banquet experience available for delivery until they are able to open their doors again. Inspired by India's diverse culinary heritage, the new takeaway and delivery menu offers an eclectic range of regional dishes taken directly from their restaurant menu and adapted to be enjoyed at home.
Launching today under the helm of Head Chef Avinash Shashidhara (previously River Café and Hibiscus), the menu offers both freshly prepared dishes and finish at home dishes that can be pre-ordered in advance or on the day. Finish at home dishes include Marinated Lamb Cutlets, Tandoori Monkfish, and a Make your down Dosa kit with Chutney and Sambar, with especially created videos and recipe cards for perfect plates. For those in need of instant gratification, the rest of the menu arrives ready to be devoured straight away.
In keeping with the original Pali Hill menu, the takeaway offering features small plates such as their immensely popular Papadi Chaat with roasted delica pumpkin, Hara Kebab, and Chicken Tikka. Big plates include the now famed Veal Chettinad, Palak Paneer, and Lamb Biriyani. The canteen section of the menu offers traditional thalis, providing the perfect way to experience the taste of Pali Hill for those after a lighter meal. End on a sweet note with their ghee and saffron Carrot Halwa or an indulgent Chocolate Cake with an Indian twist.
Shashidhara said: "Pali Hill was inspired by neighbourly sharing and delivery of something to your door, or plates of comfort when you needed it most, so having the chance to be invited to your home is still as exciting for us, especially with Diwali on the horizon. Whether it's the fragrance of a lamb biriyani as you lift off the lid, or one of our kits, we hope our offering brings you contentment until we can serve you in person again".
Recent News from Harden's