Our regular round-up of what the nation's restaurant critics were writing about in the week up to 14 May 2023.
*****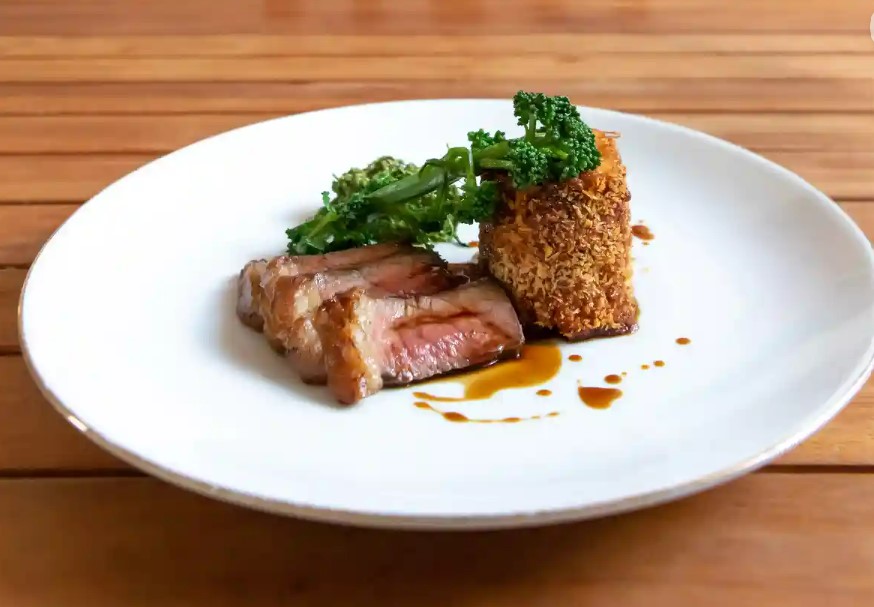 The Guardian
"One of the best restaurants within 100 miles or more."
Grace Dent reviewed the "defiantly unswaggering" Home in Dumfries, which "has been on my to-do list for about three years now, not least because it sounded so intriguing", with dishes like "steak and lasagne" (pictured) listed on the tasting menu that's served just twice a week.
"Home was once housed above a pub, but has now moved into a rather large industrial space titivated only by a few strings of fairylights, some wall hangings, a big, warm welcome… I'd take that over snootiness, crystal chandeliers and caviar any time."
Grace agreed with those who'd recommended the place to her, that it's "a restaurant built on pure heart", one that's "serving a menu that's at times quite fancy, but still has about it an utter dearth of pretension, as well as house pinot grigio at £3.50 a glass".
She asked who was cooking, and owner Louisa replied that it was her husband, but refused to pass on Grace's compliments, saying "It will only go to his head".
*****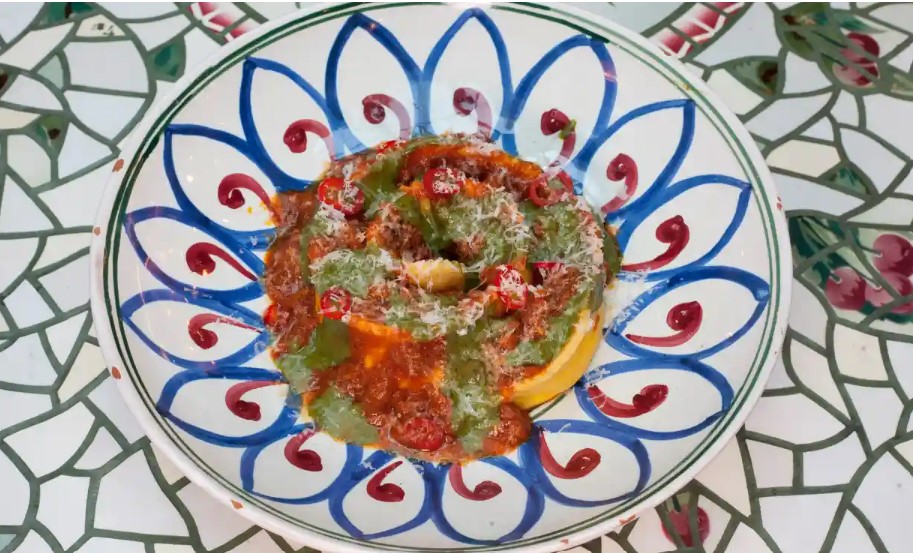 The Observer
"A huge, riotous explosion of high camp, thick foliage, artfully poised clutter, pasta and whipped ricotta."
In Kensington for a change, Jay Rayner washed up at Jacuzzi, the "fourth London opening from the Paris-based Big Mamma group, famed for their comic-book take on the Italian restaurant" (following Gloria, Circolo Populare and Ave Maria, and followed by Carlotta).
It's not the sort of place we've come to expect Jay to enjoy – and he admits to expecting it to be "the hospitality industry's version of" the "festering breeding ground for every suppurating pathogen known to modern medicine" rather than a "flourish of bubbles and fizz".
Instead, he enjoyed the "three floors of raucous, jaw-slackening bravado". Yes, "some of the food is over-wrought… but it's done with such enthusiasm" and in vast portions.
"Service is properly engaged and appears to be that rare thing, genuinely happy. The wines are entirely Italian. The cocktails look a bit silly. But again, that's part of the deal."
"I expected to tolerate Jacuzzi; instead, I gave myself to it as to, well, a hot, bubbly bath."
*****
The Evening Standard
No review this week, but there were round-ups of London's best brunches, "from pancakes and eggs benny to avo toast and shakshuka" (and of course the bacon naan at Dishoom, pictured), plus the 17 best restaurants in Chelsea and the "supercar-clogged artery" that is the King's Road, and "there's more to meat-free than another mushroom risotto" with the list of London's best veggie restaurants for National Vegetarian Week.
*****
The Sunday Times
Chitra Ramaswamy tried to book a meal at Restaurant Andrew Fairlie just after reading the Harden's survey and Top 100 that came out in January, naming the place "Britain's best restaurant" – there was "nothing available for four months" – a waiting list that only got longer when "Noma, considered the best restaurant in the world, announced it was closing its doors".
She booked for early May; was it worth the wait? Undoubtedly, as she had "the best meal I've eaten in Britain".
"The restaurant achieves the unforgettable, with flawless food, atmosphere and service." We're glad you agree, Chitra.
*****
The Times
"There are cheap Chinese restaurants and there are expensive Chinese restaurants — as there are across every cuisine — and I will go to any of them without prejudice."
Giles Coren reviewed Gouqi, which he already had suspicions about: "it's had no newspaper or online review coverage, I have received no unsolicited press releases about it and there has been no word of mouth". He saw some "fancy-looking… dishes" on a colleague's social media and wandered along to try it out.
The Trafalgar Square restaurant clearly exceed even Giles' concept of "expensive" – "'£16 for a spring roll? Unforgivable!"
"I do not mind spending money on nice things. But this was insane."
*****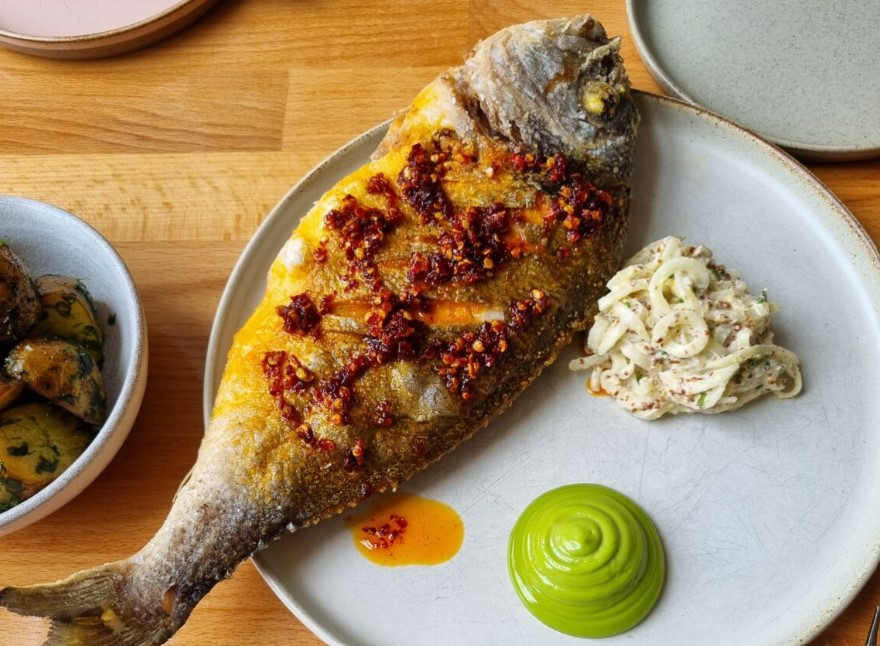 The Scotsman
"One of Edinburgh's premier attractions."
Gaby Soutar reviewed tipo, the Edinburgh newcomer from the team behind Noto and Aizle, in the former home of The Perch. It has instantly "become part of my fantasy perfect day in the Capital" and she also plans to visit for her birthday – the ultimate accolade, surely?
Named after the finest grade of flour used for making pasta, tipo offers pasta dishes and small plates, which "come as they're ready. You know the drill". Gaby described one salad, added to the order at the last minute, as an "elevated combination of dreams", and the strozzapreti were "compulsive eating".
The renovation has "created a very appealing venue. The ergonomics are just right", and there's a "perfect people-watching window seat" for waving at tourist buses. (18/20)
*****
Also in The Scotsman, Rosalind Erskine tried out the new evening tasting menu offering from Seven21, a Glasgow café that's part of the Eighty Eight family.
"The menu looked promising, and some dishes were great, some weren't and I left still feeling a bit hungry." (13/20)
*****
And also…
In The Independent, Kate Ng visited Porte Noire, Idris Elba's wine-led restaurant "located at the bottom of one of the striking gasholders" in King's Cross: she will "not be back for the food" but "the wine menu is stunning and worthy of a return trip" – and "by London standards, the prices were not outrageous".
*****
In The FT Magazine, a review of Koyn: "Japanese food is extraordinary, diverse and democratic. In Mayfair it's stuck in 1990s Nobu mode… I blame Bobby De Niro".
There's also a list of the favourite restaurants of guest editor Kate Moss, including Jin Kichi in Hampstead.
*****
Manchester Evening News announced the opening date of Gordon Ramsay's Lucky Cat, which debuts in the city on June 1, at 100 King Street, the Grade II-listed building vacated by Jamie Oliver's Jamie's Italian in 2019.
*****