Our weekly round-up of what the national and local restaurant critics are writing about, for the week ending 12 July 2020.
Restaurants, pubs, bars and cafes in England were permitted to re-open on Saturday 4 July after over 100 days of enforced closure. Some establishments remain closed – the owner of the three Market Halls, for example, has decided to remain closed until social distancing has ended.
Several restaurants – including high-profile names such as Nathan Outlaw's Siren, Le Caprice and Sardine – will not be re-opening; one estimate that "50% of restaurants, cafes and pubs will not re-open" predicts a very different future for the hospitality industry.
Check with your local and favourite restaurants before heading there; many are operating strict timings, reduced menus and booking systems, even if they didn't before; look at their social media pages for details (all available via hardens.com).
*****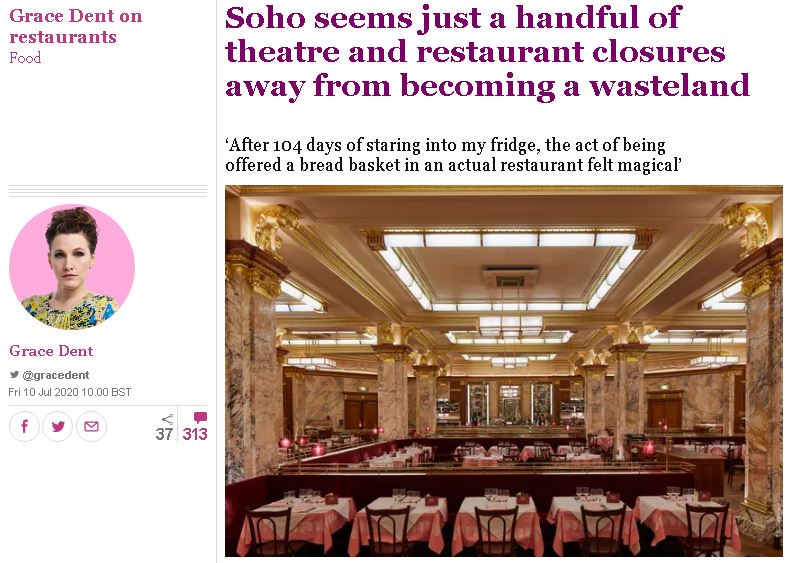 The Guardian
"If I were to begin anywhere, it had to be Brasserie Zédel."
Grace Dent has been nervous about coming out of lockdown, but bravely booked "the largest dining room I know" for "1pm on what the media was waggishly calling "Super Saturday". If anyone could sprinkle an air of jocundity over all this havoc, and keep everyone safe in the meantime, it would be restaurateurs Chris Corbin and Jeremy King."
She's "been a repeat customer here for the past seven years" but "never went to Zédel purely for the food". The "cavernous basement" appeals in many other ways, being "part restaurant, part cocktail lounge, part cabaret club" – and is top celeb-spotting and people-watching territory.
Pre-lockdown, "Zédel thrived by serving decent-quality, Cafe Rouge-style French classics at Cafe Rouge prices to pre-theatre crowds, tourists, and retail and media workers. You may have noted several clanging chimes of doom during that previous sentence." (As a side note, Cafe Rouge's parent company folded last week…)
Footfall is down "in every city centre across Britain", but Grace worries "especially for Soho, which is, to my mind, merely a handful of theatre and restaurant closures away from becoming… a wasteland".
"With this in mind, I aim to use Soho, rather than lose it. Things cannot be the same, so one has merely to embrace the different." Fewer covers, face masks, screens, sterile cutlery and menus, temperature checks, no music, online ordering; we will just have to get used to it all. It's different for the staff too: "every customer they meet will have an ever-so-slightly different attitude to risk". Grace's server "deftly tried to gauge the boundaries of our fears without himself appearing too casual or too paranoid".
"Still, after 104 days of staring into my fridge and trying to find interesting new ways with reheated Puy lentils, the act of unfurling a napkin and being offered a bread basket felt magical."
*****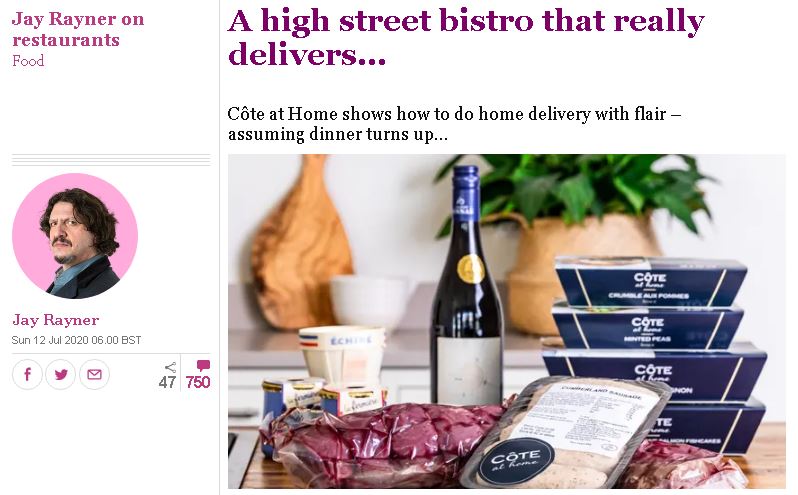 The Observer
Jay Rayner published another delivery review this week (probably because he filed last week's review within four hours of restaurants re-opening, so this is no doubt a leftover). This order was from Côte; they'd offered him a freebie, which he declined, but then ordered "to experience products as other customers would"; also he'd "never eaten in a branch of Côte, but many people have told me they rather like them: a fair price point, reliable food and good service".
After a slight hitch when the delivery company told him his delivery had been cancelled (luckily he'd kept the email address of the "senior person at Côte" who'd offered him the freebie, and it was all sorted out (along with five other customers' orders who "probably have me to thank for their delivery turning up that Sunday, because I do wonder what would have happened if I hadn't made a stink").
He mentioned the delivery hiccup just so Côte sort out their reliability: "The thing is that Côte at Home is really good. Not just "good considering they're a high street chain", or "not bad at the price". It's proper good."
Dishes included beef bourguignon ("ripe and unctuous"), salmon with ratatouille and lamb parmentier, with "an impressive lemon and Armagnac posset" for dessert. "The online selection is so extensive – not just ready meals but cheeses, wines and butchery", packaging is " recyclable film-sealed plastic trays" (recalling "hardcore M&S") and – the best bit – the ingredients list contains "all words you would recognise, rather than the sort of preservatives and emulsifiers that allow certain foods to outlive that kitten you just acquired". And in "proper servings" too – unlike most supermarket ready-meal portion sizes.
Even the "home preparation has been considered. The oven needs to be at 200C for all of it, and cooking times are in multiples of 10 minutes, making it straightforward to get the dishes out in the right order."
"I'd be very surprised if this service didn't continue once the crisis ends, and far less surprised if the products turned up in supermarkets, though they'll be hard pushed to maintain the current price point once retailers take a cut."
Jay also recommends the Dishoom at home bacon naan kit, which he did get for free when he was outside the delivery area (they now deliver nationwide, £16 for two plus delivery). "The good things to have come out of this crisis are few, but a Dishoom bacon naan at home is one of them." (You've convinced us, Jay – it's ordered for next weekend!)
"Next week this column should find me eating in an actual restaurant. Or just outside one. Fingers crossed."
*****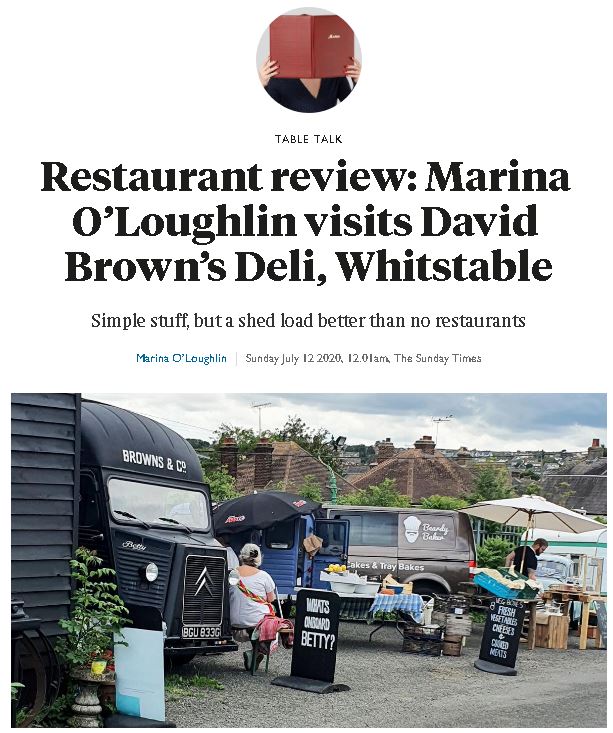 The Sunday Times
"My first restaurant review since lockdown, is an odd beast altogether. It's neither really review nor restaurant. Also, I'm going to suggest that you don't actually go to the place I'm going to tell you about. Really: don't go."
A slightly unhelpful return to reviewing from Marina O'Loughlin (although better than her Times colleague Giles Coren, who's still producing his column with his wife; this week they argue about who's the better driver…)
She discusses those restaurants which have returned and those which won't. "Every week brings news of another closure, much-loved restaurants whose owners simply couldn't survive the pandemic. "
"Some big names, however, are opening doors, devil-may-care… Elsewhere, slowly, tentatively, tiny shoots poking through blasted earth, new things are springing up. Smaller places, nimble and responsive." One of these latter examples is where her first review comes from.
David Brown's Deli is "in a caravan sales park just beyond Whitstable's railway bridge" where "a small black hut has set up shop (literally: for beer and anchovies, jars of beans, cans of pimenton and gorgeously oily Spanish crisps). But it's also serving a small selection of dishes from Wednesday to Saturday, chalked on a blackboard." The owner, David Brown, has run a "beloved" deli in the town "since before the town was comprehensively discovered".
"The little collective is fabulously ad hoc: there's the shed itself; a van for coffees and under-the-counter iberico hams and cheeses… a stall selling veg boxes and another manned by the Beardy Baker, with his bread and cakes." And "they take what they do seriously".
Marina enjoyed a posh fish finger sandwich made of a "fat brioche bun stuffed with goujons of fresh cod, radicchio, tomatoes and the kind of tartare sauce that has never met a sachet".
"So why am I telling you about the place at all? Because — hallelujah — I can. Because it's open and new and serving food, and that makes my heart swell… But, really, don't go: they can't cope with more business than they have already… Nor, for that matter, can car-overwhelmed Whitstable."
"The last big crash and recession gave us a wave of street food and supper clubs and pop-ups, a shake-up of an industry with an indomitable spirit. I'm strapped in to see where it takes us next."
*****
The Evening Standard
The newspaper's list of London's confirmed re-openings is being regularly updated (also here), and they've added a handy etiquette guide for what to expect from post-lockdown pubs, from 'one-in-one-out' bathrooms to app-only payment and social signposting. For those of you who are heading to the pub instead of a restaurant, there's also a list of places offering delivery after 10pm.
The list of closures grows longer, too, with Moxon's Next Door and the Cereal Killer cafes announcing permanent closure this week. Chains are announcing closures too, from Pret a Manger to Cafe Rouge, Bella Italia, Las Iguanas and Belgo.
The launch of new outdoor dining hub The Set at the former BBC Television Centre is cause for celebration; the iconic forecourt ("populated with a selection of film and television props including directors' chairs, giant television screens and clapperboards ") will seat 120 people who can order takeways from Kricket, Patty & Bun, Homeslice, Flying Horse Coffee and Allis Bar at Soho House.
The Standard also reported on Rishi Sunak's far-reaching measures to provide a boost to the hospitality industry and Tom Kerridge's frustrated social media rant at the 27 people who booked for Kerridge's Bar and Grill for last Saturday night, and then failed to show up: "This industry, like many others is on the verge of collapse… Your behaviour is disgraceful, shortsighted and downright unhelpful….. all of you "no shows" in all restaurants up and down the country are adding to the issues already being faced….". The Caterer also reported a similar story from Italian group Gusto, which had 270 guests book but not arrive.
*****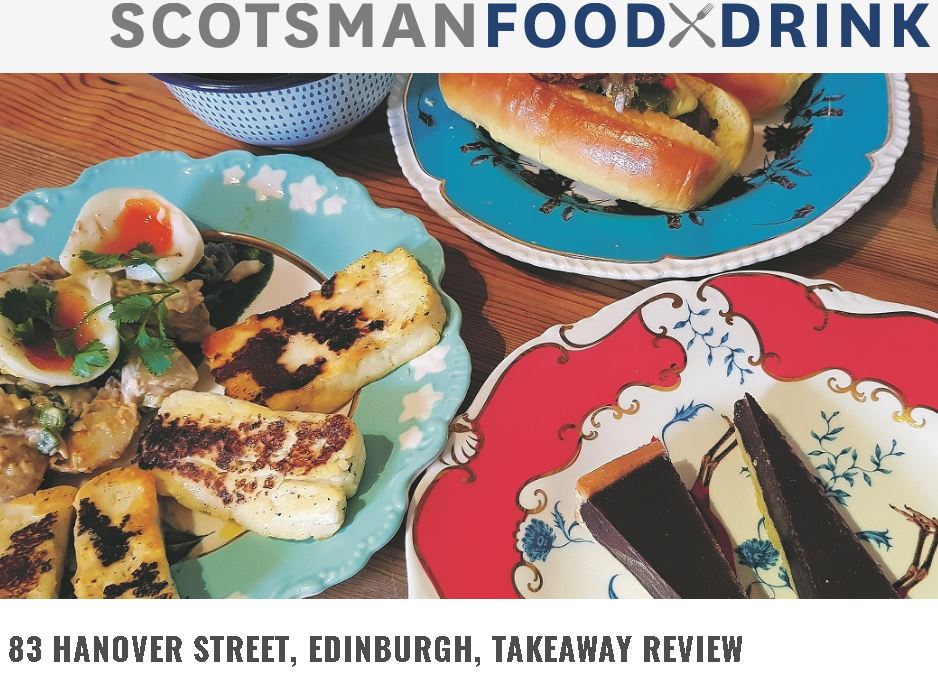 The Scotsman
Gaby Soutar had possibly her last takeaway this week (restaurants in Scotland can re-open from 15 July), this time from 83 Hanover Street, the South American restaurant from former Gleneagles restaurant manager Juan Jose Castillo Castro and his partner Vanessa Alfano.
The "perfectly prepped" meal was dropped off by Juan himself, and included a Spotify playlist to set the vibe, which turned the plating up into a pastiche of "the famous Morecambe & Wise breakfast scene". There were "simple chronological instructions provided for the "nuestro sabor en su casa" (our flavour in your home) six-course set sharing menu for two".
Wine pairing was available, but Gaby opted for her "new favourite summer cocktail – the pale pink honeydew pisco sour… which features ABA Pisco, Giffard Melon Liqueur, pineapple oleo, lime juice and Peychaud's Bitters".
The choripan (an "Argentine take on a hot-dog": brioche buns with "chunky but airy chorizo sausages… house pickled dill cucumber, a scoosh of mustard, and a crunchy potpourri of crispy onions and chilli hoops") was "the most substantial course" and created "a funfair in my mouth".
Crispy chicken wings in a "nutty, smokey and sweetly hot merken sauce" and halloumi followed. Only the quinoa, beans and butternut squash salad was "rather neglected because it was relatively healthy and beige".
Pudding was a "dreamy" salted caramel ice cream "scooped over our subtly spiced triangles" of chilli and chocolate tart.
"I'd say all that was a pretty spectacular feast for £35, especially since entertainment was provided." (85%)
*****
And also…
Kathryn Flett for The Telegraph headed to The Eagle for her first post-lockdown meal; "The Eagle was the obvious choice… Having loved, lost, and fallen over within its walls more times than I care to mention, this London gastropub was my number one".
*****
Despite a review from Super Saturday, this week produced nothing from Tom Parker Bowles in The Mail on Sunday.
*****
Bristol Live reported that The Cauldron won't re-open until there is a Cov-19 vaccine, and on the survey by the Office for National Statistics (ONS) which concluded that "six in 10 adults feel uncomfortable eating indoors at a restaurant" (this was before Rishi Sunak's recent announcement).
*****
The Birmingham Mail looked forward to the restaurant openings planned for the rest of the year, including the long-awaited branch of Dishoom.
*****
Manchester Evening News is on the ball with a list of the places already signed up to the 50% off in August deal.
Recent News from Harden's