Here's our weekly round-up of what the nation's restaurant critics were writing about in the week up to 4 June 2023.
*****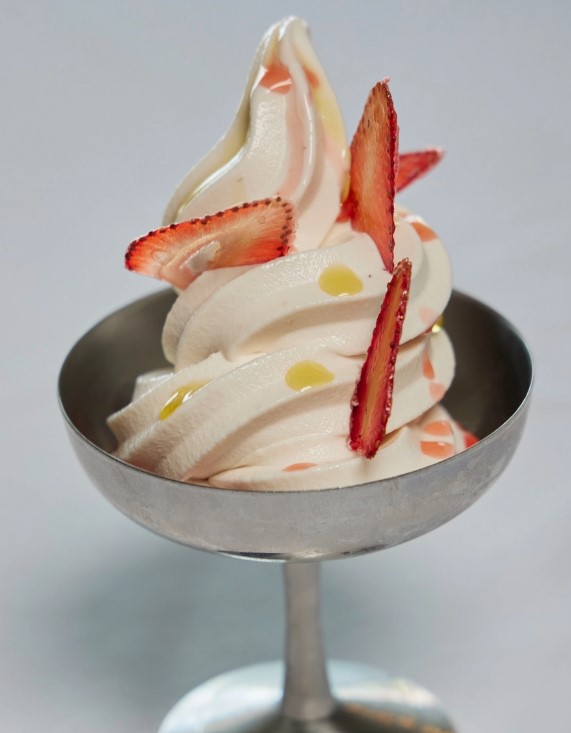 The Evening Standard
"A brutally brilliant destination in its own right."
Jimi Famurewa visited the new National Theatre restaurant, Lasdun, and wondered what he'd done wrong when every other customer left at exactly 7pm (they were just heading to the next show, but even the staff find it "weird").
It's a "a tantalising collaboration between Ogier, KERB, and Hackney pub The Marksman's Jon Rotheram and Tom Harris" in a room of infamously "blocky, grey elegance" serving a menu with a "pubby, throwback simplicity" to a crowd of theatregoers. It shouldn't work, but it does – "it is, in fact, in possession of a stirring potency and clarity of purpose".
If that doesn't get you through the door, maybe the "decent-value three courses for £38 deal" and the promise of "soft serve and Kentish strawberries" for dessert (pictured) will. (****)
*****
Also in The Standard this week, round-ups of London's top fish & chip shops from Masters Superfish to the Fryer's Delight, plus the capital's best barbeque joints, "Acme Fire Cult to Mangal 2".
There were sneak peeks at two restaurants, too: Kachori, Elephant and Castle's new "super-modern Indian" with a former Gymkhana chef; and the newly redesigned chef's table at Simon Rogan's Aulis London.
*****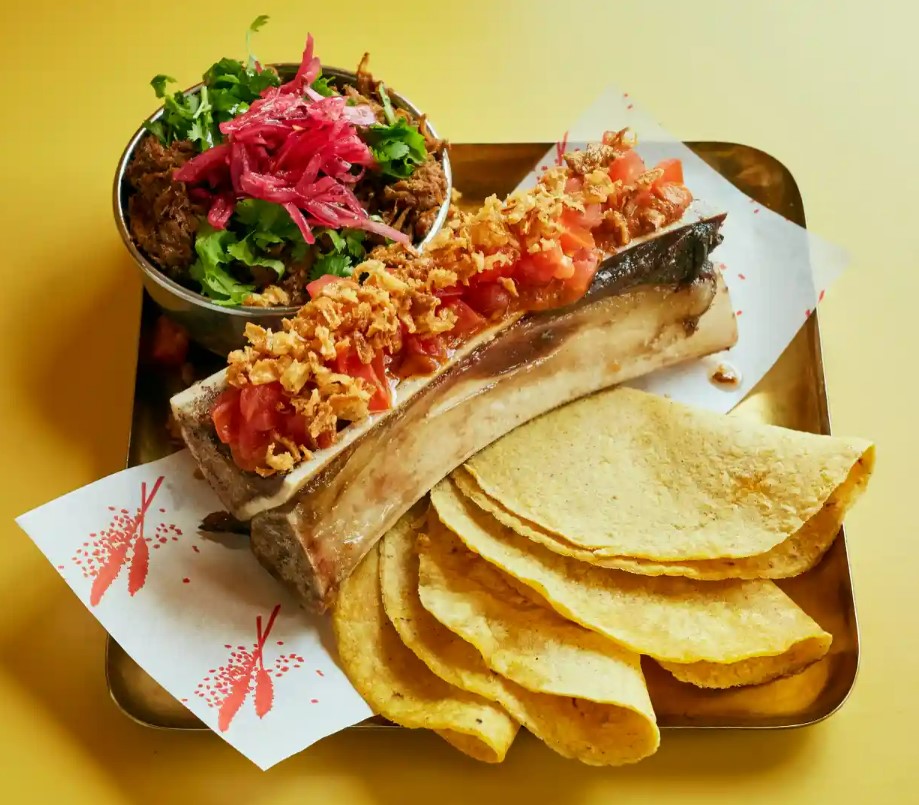 The Guardian
"Sensory whiplash with tacos on top."
Grace Dent reviewed the delightfully named Homies on Donkeys, a "vibrant, nonconformist, independent" Mexican taqueria that is Leytonstone's "most exciting new opening for a while".
There's an instruction on the "single-sheet menu" that will appeal to Grace's Observer colleague Jay Rayner – "no cutlery, no exceptions, we got napkins, get messy" – although he might not love the "1990s hip-hop, graffiti-strewn walls and the sensation of eating in a suburban skate park".
"I've had a comfier seat at Costa Coffee – but they play Kool G Rap while you eat, you leave very full and the bill is utterly reasonable. In many ways, that's about as good as life gets."
*****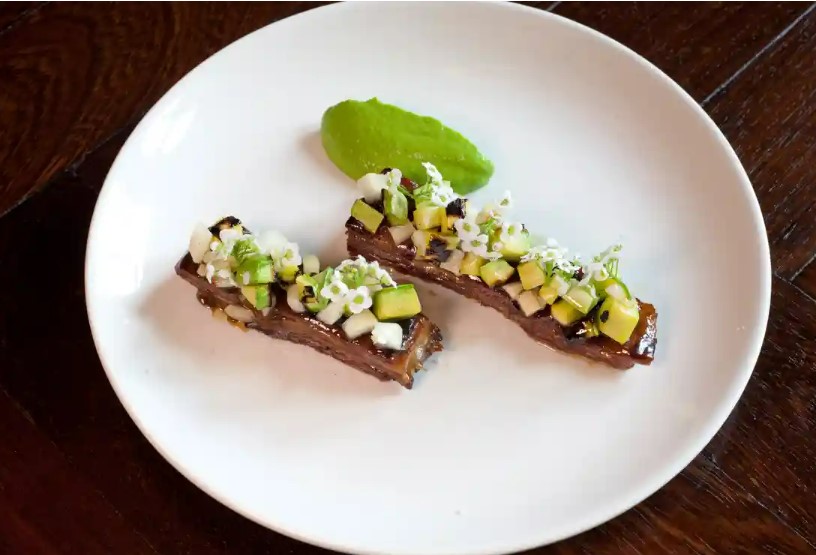 The Observer
"A refreshing move away from live-fire dude food."
Jay Rayner reviewed The Parakeet, the North London pub everyone's been raving about – he loved the food too, but didn't appreciate the attention he received from the pub's canine visitors. Nor did he love sitting under the "wall-mounted blackboard" and having every customer stare (or photograph) just above his head.
Formerly the Oxford Tavern, The Parakeet is "a big-boned old pub" with a dining-room at the back; there, the semi-open kitchen, complete with "an on-trend live-fire grill" that does the "heavy lifting" in the "restauranty" menu. ("But their vegetable game is also strong.")
"It's actually a quite fancy restaurant, where the bill builds quickly for less than large portions." Which is where the "pro-dog policy" jars once again… Jay "won't be going back, however good the food, however charming the service. And both of these really are great".
*****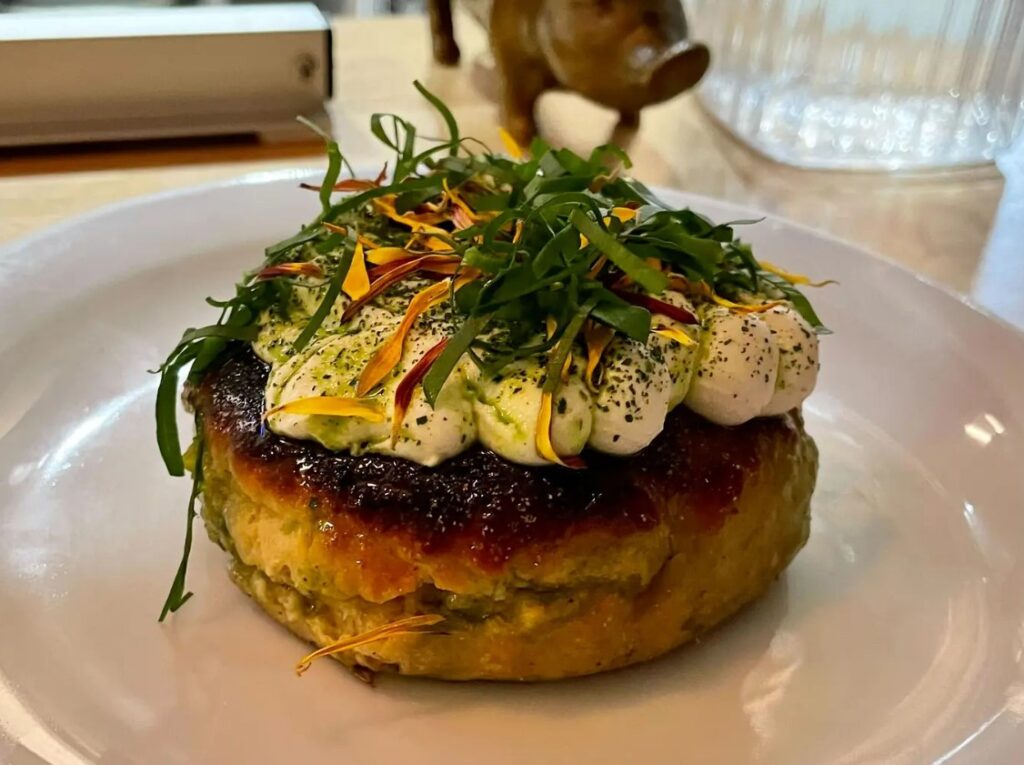 The Independent
"Guaranteed great vibes with a dose of nostalgia."
Hannah Twiggs reviewed Papi, the new London Fields spot from "professional funmakers" and "pandemic troublemakers" Matthew Scott and Charlie Carr (of HOT4U and Wingnut Wines respectively.
Unfortunately, she took a fish-hating friend to the counter seats to try the "heavily seafood focused" menu, but managed to find enough dishes to try out, even sneaking in one fish dish which her guest had "the audacity to eat half of".
Papi is a "pared back little space with colour blocked walls, dinky wooden tables and low hanging lamps" with "the thump of disco bangers in the background".
"The food is fun to eat" and "the wine is just as fun to drink". Hannah recommends that you "go hungry, go open minded. Don't take someone who doesn't like seafood".
*****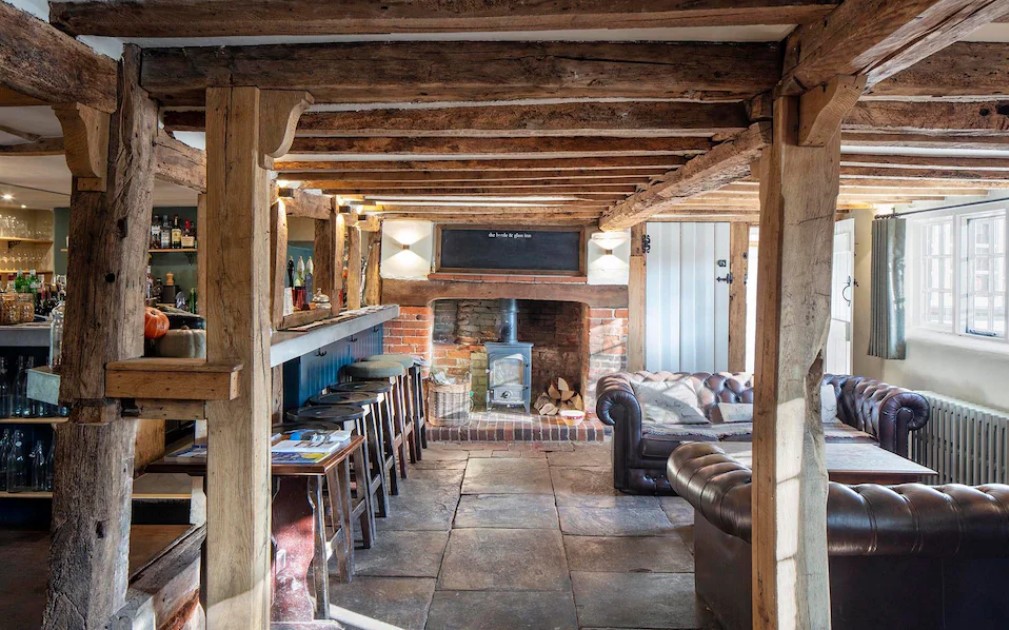 The Telegraph
"I could literally eat this every day of my life."
Bucking with the tradition of restaurant critics reviewing new establishments, William Sitwell visited The Bottle & Glass Inn, "an heroic island of good old-fashioned charm standing proud in 21st-century Henleyshire".
His wife was "in raptures over lunch" at the pub, which has "a cosy bar at the front with a ragged stone floor and large leather sofas and a smarter restaurant in a modern extension"; they were "very well looked after by eager, cheerful staff". (****)
*****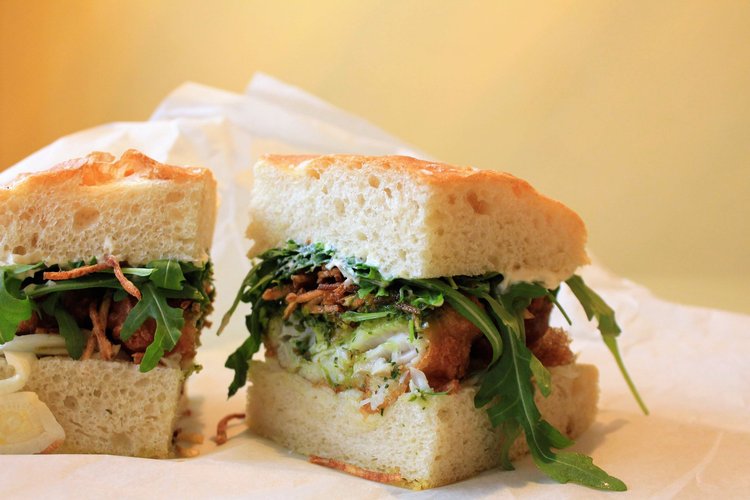 The Scotsman
Gaby Soutar visited the new Southside branch of Alby's, the Leith sandwich shop that serves "arguably the best sandwich in the city".
Her fried chicken Caesar was "a compilation of the perfect flavours and textures to make a satisfying piece. There was just no way to eat it and look pretty".
"I've never eaten a whole Alby's in one sitting. Sometimes I take my own plastic containers in anticipation." (17/20)
*****
Also in The Scotsman, Rosalind Erskine tried out the new breakfast menu at El Perro Negro, the Glasgow burger joint; they now serve a selection of egg and sausage muffins, with various fillings; "a healthy start this isn't, but as with their burgers, the quality in the meat is obvious and everything is well cooked – from the cookie cutter fried egg to the deeply crispy yet fluffy hash browns". (17/20)
*****
And also…
"Situated inside a much-maligned cultural landmark, a new restaurant is very much to this critic's taste." In The FT Magazine, another review of Lasdun (see also Jimi Famurewa): "excellent food, soul-nourishing architecture".
*****
In The Times, Giles Coren reviewed Palmito, "a tiny restaurant on the site of a former takeaway on Western Road where Brighton blends quietly into Hove", where he enjoyed "extraordinary Ecuadorean-Indian food"
Also in The Times, Chitra Ramaswamy visited Banca di Roma, Glasgow's "new super-luxe Italian", which "charges premium prices and serves a gold bar for dessert. But if you want premium food, look elsewhere… Next time I'm off to Sugo".
*****
In the Manchester Evening News, a National Fish and Chip Day review of the Ancoats chippy named "second best in the UK" by betting company Betway who put the awards together from data "based on Google ratings, Instagram hashtags and reviews on TripAdvisor". "They've gone all in on the theme" at The Hip Hop Chip Shop (which also has a van decorated like a giant cassette tape) and "it's skirting around the top end in terms of pricing", but was "hip hop chip shop heaven" for critic Ben Arnold.
*****
Also in the Manchester Evening News, a first peek inside Gordon Ramsay's Lucky Cat, a three-storey behemoth on the former Jamie's Italian site on King Street.
*****