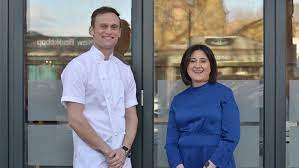 The Glasshouse restaurant in Kew, which closed down last summer after almost 25 years, re-opened under a new guise this week, under the co-ownership of former manager Patra Panas. It's called Hawthorn, in reference – like its predecessor – to the nearby botanical gardens.
Patra has teamed up with ex-Murano and La Trompette chef Josh Hunter (pictured above, with Patra), who is planning a menu of carefully sourced ingredients with an emphasis on game – a repertoire he has developed in charge of the kitchen at Holland and Holland's shooting grounds in north London.
The Glasshouse was one of the Chez Bruce trio of high-quality neighbourhood restaurants established in southwest London by Bruce Poole and his business partner Nigel Platts-Martin. Patra joined as a part-time receptionist and worked her way up to restaurant manager in her 14 years at the Glasshouse. In all she spent 22 years with the group, and her good relations with Nigel were crucial to the launch of Hawthorn.
She said: "He knew I was looking to do my own thing and very kindly called me to let me know he was closing the restaurant and that – if I wanted it – he would leave everything inside and put my name forward to the landlord."
The Hawthorn launch team includes a number of ex-Glasshouse staff, including restaurant manager Nicola Mognol, sous chef Abbie Hendren and junior sous Max Wilson, while head sommelier Stefano Barbarino was at Chez Bruce stablemate La Trompette in Chiswick.
Hawthorn is open for lunch Wed-Sat (£45 for three courses; £50 on Saturday) and dinner Tue-Sat (£65 for three courses).