Our weekly summary of what the national and local restaurant critics were writing about in the two weeks ending 30 October 2022 – sorry for the enforced break, the editors were busy putting the finishing touches to our UK guide. We hope you enjoy this double issue!
*****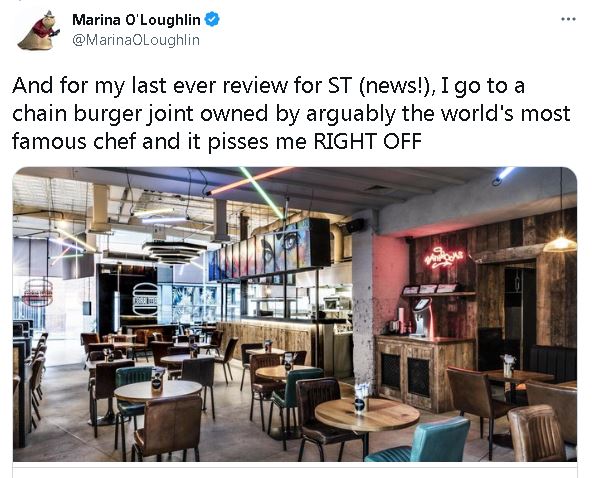 The Sunday Times
Marina O'Loughlin surprised and saddened us all by announcing her final Sunday Times review last week, and amused us no end by reviewing Gordon Ramsay's Street Burger chain – the Farringdon branch to be exact.
She admits that the food "looks terrific" on arrival – "until it's deconstructed into unloveable parts". Of the 'Hell's Kitchen' burger she says: "we all know where meat comes from but this manages to actually taste dead".
"He's the most famous chef on the planet — does that mean he's above criticism?" Marina has had run-ins with 'Big Sweary' before, and will no doubt be hearing from him again now she's called his burger chain "a high street horror show".
The week before, Marina was in Cardiff, where her plan was to eat at a tiny, tasting-menu only spot she'd been looking forward to (can you guess where?), but her booking turned out to be only for one, not two, and she couldn't get hold of the place to change it, so cancelled and – for the price of the tasting menu – ate at three other places instead.
Plan B started with Bacareto, an "indie beacon in a parade of (mostly) mid-range chains" that was "a cool little joint" serving "Venetian-style snacks with a few larger dishes, as restrained or blowout as you fancy" ("perfect drinking food"). Next up was Plan C – "a curious idea in a city not known for tropical temperatures: the completely outdoor Kindle" and its "fire food" menu. "They're not short on ambition here. Or skill: it all works." (And there's cocktails and blankets to ward off the chill.)
Plan D was Nook, sibling to Kindle, which turned out to be "a cute, wine bottle-lined corner spot in Canton", where "each dish is a small triumph".
All three offered "sharing plates and natural wines. You can't fight it, basically" but also shared "a loveliness, a commitment to getting it right".
Goodbye, Marina, we'll miss you and can't wait to see what you do next (if, as your Twitter says, you're soon to be our new PM, you can rely on our vote).
*****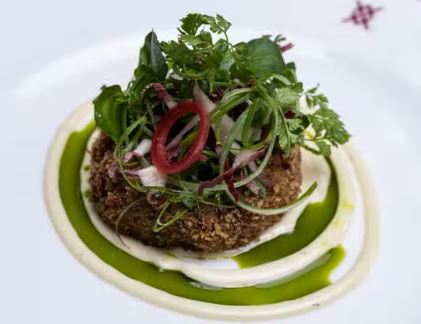 The Evening Standard
"A plush sanctum of technically dazzling culinary Victoriana and also the basest of deep-fried, cheese-blasted pleasures."
Heading to Mayfair (where, as "another age of austerity beckons… new luxury restaurants continue to emerge"), Jimi Famurewa visited Mount Street Restaurant, the newly opened "highly swanky and art-focused new all-day affair above a revamped… pub", The Audley.
Reviewing these blingy, glitzy openings – especially in terms of value – has been "a gnawing private dilemma " for Jimi. Luckily, "the obvious ridiculousness of many of these spendier restaurants, the ease with which they can be basically ignored, has been quite helpful".
Mount Street bucks that trend; it's expensive, yes, but also "deserving of both attention and acclaim". "A 'mock turtle' croquette starter (actually veal) was an outrageous opening" (pictured above) and the bubble and squeak was "one of the most ridiculously fun things I've eaten in months".
"Overlooked by a couple of Lucian Freuds and a Matisse", the 'blowout restaurant' "genre is enlivened by inventiveness, historical curiosity and… real artistry".
The previous week, Jimi reviewed Milk Beach Soho, a spin-off (although "conceptually distinct") from the"popular Queens Park spot" of the same name, which oozes " breezy stylishness and aspirational cool".
"The notion of the 'Australian restaurant' has come a long way since the boganmania of the Eighties — and this confident, culturally-nimble place shows exactly how."
*****
Also in The Standard, David Ellis reviewed Raby Hunt in Darlington in a piece entitled "Restaurants worth travelling for". The "warm and kind staff" livened up a "grey, black and white dining room as severe as a paring knife" which served up a tasting menu that "glides frictionlessly from course to course, no messing about, no needless lectures".
In other news, it's been confirmed that the long -awaited Studio Frantzen will open at the end of next month in Harrods,
*****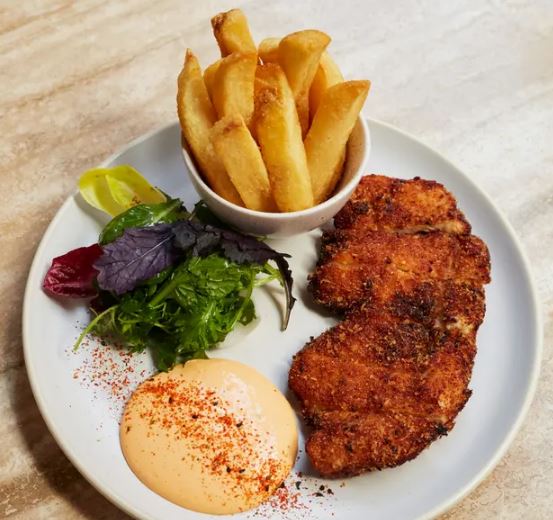 The Guardian
Like Jimi Famurewa, Grace Dent visited Milk Beach Soho, "a spacious, pastel-and-pale-timber oasis helmed by calm, rested, beach-tousled staff", incongruous among the "bins, rats and hen parties" of Greek Street.
"I realised that Milk Beach is really rather brilliant; not just a gimmicky brunch spot for people too wised up to join the queue for The Breakfast Club, and instead a living, breathing restaurant offering some of the most accomplished cooking I've seen in Soho for some time."
Last week, Grace dined in style at the "low-key fabulous" Old Stamp House in Ambleside, "a brave and sentimental project that has clearly won a lot of hearts" with its "fine, painstakingly orchestrated, hyper-local Cumbrian produce".
"The menu is fancy, yet ultimately hearty"; a letter from the chef replaces those endless explanations about each course, and "quietly screams a love of modern Cumbria and old Cumberland".
"Small and homespun is often more beautiful."
*****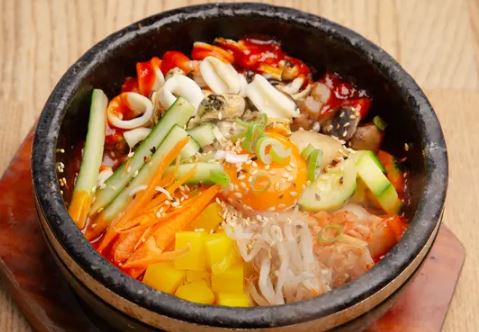 The Observer
This week Jay Rayner was in Coventry, eating BBQ, bibimbap and "double-fried, highly sauced chicken" at the Jinseon Korean BBQ Restaurant, "part of a cluster of Asian restaurants and supermarkets crowded around a modern square opposite the HQ of BBC Coventry and Warwickshire", and well supplied with customers by the local universities.
The "steel cauldron of glowing coals, brought to our table" brought out the "cave-dweller" in him; it's a rare sight these days. " Anywhere that can still be bothered with the faff of burning coals is good by me."
Dessert was "croffles, which, like the cruffin and the cronut, is a hybrid baked good involving a croissant, in this case shoved into a waffle iron". ("I am very much here for the croffle.")
Last week, Jay reviewed Moonfish Cafe in Aberdeen, a "simple, square room" set opposite a 12th century church,
Chef Brian McLeish "made it to the finals of MasterChef: The Professionals" in 2014, but "there are very few tiresome cheffy touches on display here" and dessert is a "particular strength".
"Instead, it's a crowd-pleasing menu of mildly restless bistro food, at very good prices" with "efficient and unobtrusive" service and a short but "thoughtful" wine list.
*****
The Telegraph
"The food is magnificent, civilisation has hope."
William Sitwell ventured to Shropshire and The Bear Inn in Hodnet, which he declared "impeccable" with "utterly charming staff" and an "air of slick hospitality". (*****)
Also in The Telegraph, a commentary from Ben Wright: "Restaurants are the canaries in the UK economy's coal mine" which discusses the many-pronged attacks the hospitality industry is suffering from, from "the price of cooking oil quadrupled in the space of a few months" to unreformed business rates and rising interest rates.
*****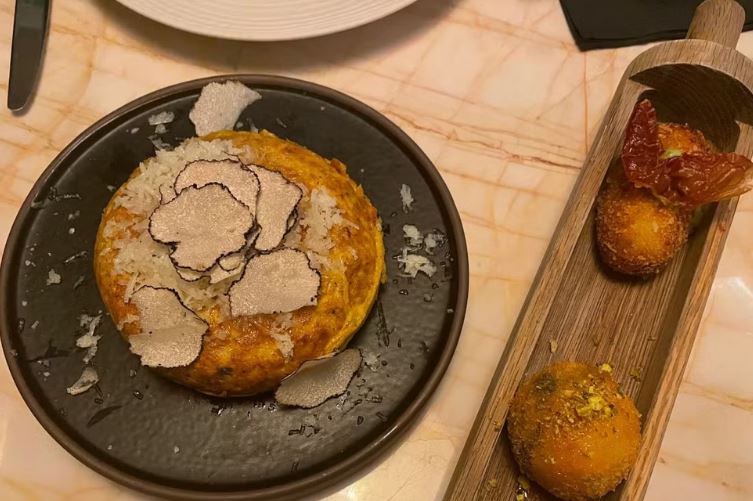 The Independent
With "air fares on an uphill climb" Kate Ng tried to find a taste of Spain here by reviewing El Norte in Mayfair: she expected much more for the price. It's "not the place to go if you're after an affordable Spanish meal".
The "heart-thumpingly loud club music" was a jarring note, as was the excess of potato-based dishes; some dishes were "fantastic", others underseasoned.
"El Norte serves up some genuinely good Spanish fare, but its prices certainly aren't for the faint of heart."
*****
And also…
In The Scotsman Gaby Soutar visited Edinburgh's new Street Pizza by Gordon Ramsay: "I wouldn't say Gordon's latest venture is a match for Edinburgh's established independents, but it might be an alternative to upmarket chains like Franco Manca." The bottomless ice cream was a hit with her nieces, though.
Rosalind Erskine enjoyed a generous and well priced afternoon tea in Sidings Cafe in Dufftown on a recent trip through Speyside; "inside it's like stepping back to the golden era of rail travel crossed with your gran's living room".
*****
"Squid ink frankfurter, anyone?" Tim Hayward for FT Magazine investigates the Korean hotdog chain, Myungrang Hotdog, which has branches across the US, and has just opened in Islington.
*****