Our weekly round-up of what the national and local restaurant critics writing about, for the week ending 26 April 2020; the UK is in lockdown, with restaurants, cafes and bars officially closed over a month ago, due the coronavirus outbreak.
You can still support your local and favourite restaurants; many are offering takeaways or deliveries, or you can buy produce, meal kits, vouchers, cookbooks or merchandise. Check out their social media pages for details (all available via hardens.com)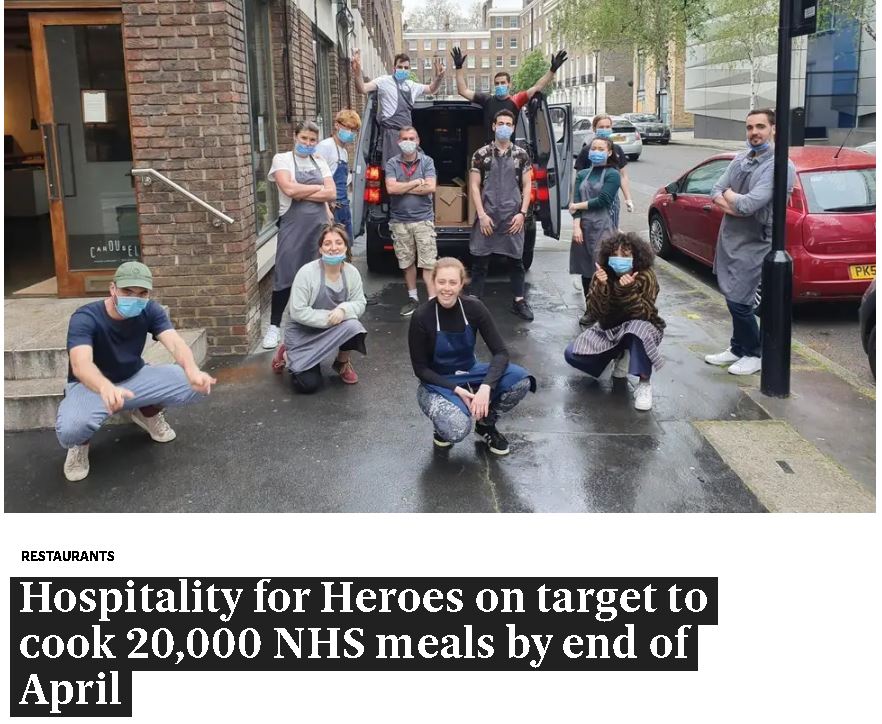 The Evening Standard
The Evening Standard reported on the London-based charity organisation,  Hospitality for Heroes, which was set up as lockdown began "to provide food for NHS workers". It's "now cooking close to 2,000 meals a day for London's hospitals, all while accumulating a bank of easy-to-do recipes from top chefs for key workers to tuck into at home".
Founder Oli Coles "realised his two businesses – one doing restaurant marketing and the other working with private members' clubs" – would be very quiet during lockdown, and wanted to help.
"Along the way, the campaign has raised £30,000 to feed key workers", used to buy produce; chefs and delivery services are "volunteering their time".
---
For patrons missing Max's Sandwich Shop, there's a recipe from Max Halley himself on how to re-create the sandwich the shop was started with: the ham, egg and chips. It's not the shop version – "to make my sarnie shop's ham, egg n' chips at home takes about three days and 6,000 ingredients", but it's pretty "close to the real McCoy".
---
Fans of Paul bakeries will also cheer to hear that 10 branches around London are re-opening " for same day deliveries and take-away, though dining in remains prohibited, with all seating removed". NHS staff will be prioritised and can claim a free cup of tea or coffee.
---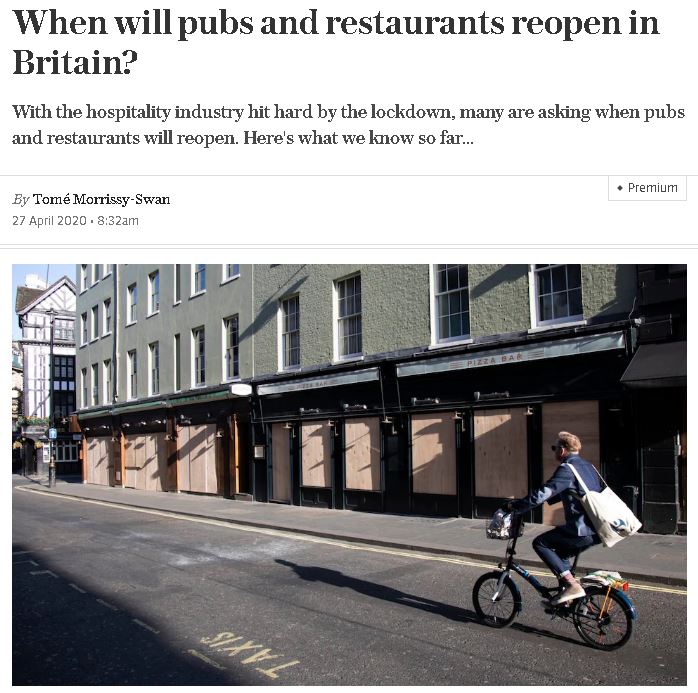 The Telegraph
The Telegraph's Tomé Morrissy-Swan published an article asking when restaurant and pubs will re-open.
"The hospitality industry has been hit harder than most… The reduction in footfall has had a knock-on effect on suppliers, wholesalers, producers and farmers, while staff up and down the country have been furloughed – many won't get their jobs back. Experts predict a high proportion of restaurants won't make it through to the other side of the Covid-19 crisis."
---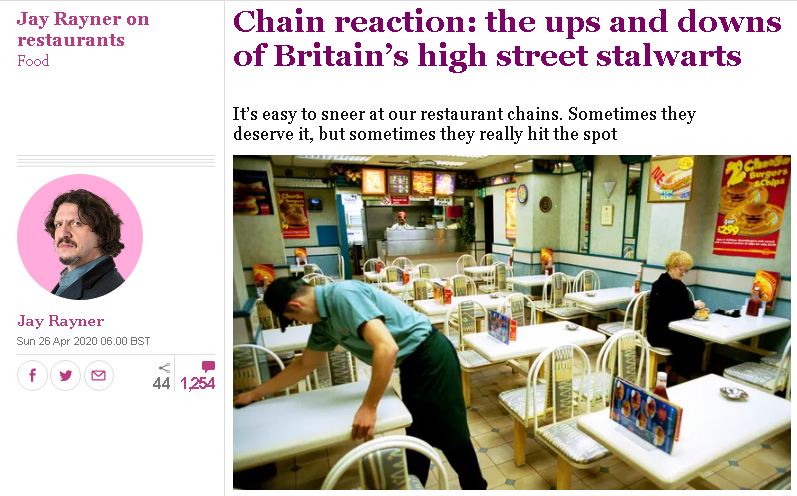 The Observer
Jay Rayner's article this week is about chain restaurants: the good, the bad and the ugly. He recalls with fondness the Wimpy and Golden Egg chains of yesteryear, "where many people of a particular generation learned the grammar and vocabulary of eating out".
"Obviously, there are terrible examples; ones that make you want to sandpaper your own tongue to kill the memory. They are where ingredients, good employment practice and hope go to die."
"When I reviewed the original Jamie's Italian, I suggested it would do just fine. Eventually, I received more complaints about the chain than any other, as the food deteriorated. The end result: closures, mass redundancies and suppliers unpaid."
But there are also great examples, which has kept up standards through expansion: he cites Franco Manca and Honest Burger, which both started up in Brixton Market. "I ate at the originals and their later outposts. Both still did the thing. Honest Burger still hand-cuts its own chips."
Jay discussed the snobbery and disdain shown towards chain restaurants, despite the fine examples given above. "Now that we all speak fluent independent bistro, taqueria and live fire grill, we are, of course, meant to look disdainfully upon them and all their works. Which, in true Carrie Bradshaw style, raises the simplest of questions: are the chains a valuable part of the British restaurant landscape?"
"Nobody but a fool launches a small independent restaurant thinking it will make them money. Nobody but a fool invests in turning a small independent restaurant into the cornerstone of a brand, without planning to make money. It's how they go about the latter that's the issue."
He spoke to Nisha Katona, owner of the now 10-strong Mowgli chain, on the key to a successful chain. She says: "Look for peasant food from across the globe that uses every bit of the ingredients." It makes sense. I have long been a huge fan of Nando's. The proposition… is clear and simple. It's done well."
"If you want to dismiss the very notion of a good restaurant chain as a contradiction in terms, go right ahead. Knock yourself out. But be aware: you may be missing out on the good stuff."
---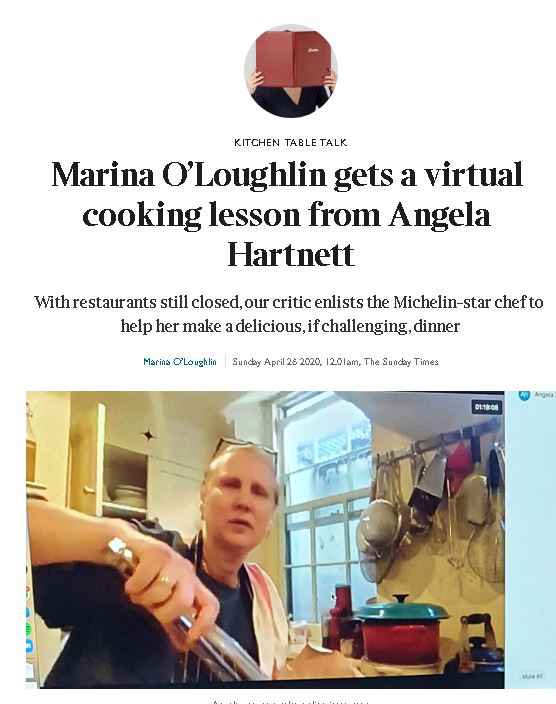 The Sunday Times
In the second of her 'cooking lessons via Zoom' series, Marina O'Loughlin 'met' with Angela Hartnett, and learned how to cook "fragrant chicken and pepper casserole and lemon meringue pie". Angela gamely gave up her free time, not that she had much – there's also "her work with Cook-19, set up to help feed NHS coronavirus units; taking part in virtual food festivals designed to help beleaguered restaurant trade suppliers; making sure her 100-plus staff will have jobs to go to once the virus has (hopefully) buzzed off" to keep her busy.
"Hartnett is great company — funny, direct, occasionally righteously furious. There's a cameo appearance from Otis, their mini beagle, and his comedy salivating."
We learn about Angela's ambition "to have a house by the sea", probably in Kent, with "a nice little restaurant" that she'd ruin with husband Neil Borthwick (of The French House). Something like the "brilliant" Folkestone Wine Company set-up.
Dinner cooked (of her pie, Marina declares "I'm so proud of it, I'd like it pinned to my chest"), they discuss the changing times, and how "it's incredible how food has become as important as music and arts. It just seems nuts." And with all the initiatives set up to feed people (not just her own Cook-19, which has had donations exceeding £80,000), "nobody can say it's not meaningful" or frivolous.
"In my years of this gossipy business, I've never heard a word against Hartnett: almost inconceivable. I try a spot of light bitchery, talking about chefs ripping off each others' dishes, but she's phlegmatic: "Doesn't bother me. You can give everyone every recipe under the sun — doesn't make them a better cook or restaurateur. You are what you are. None of us are perfect.""
---
The Times
Giles Coren and his wife, Esther Walker, focussed on their children's lockdown screen time in their new double act column.
---
The Scotsman
The Scotsman actually published a restaurant review last week, of Edinburgh sandwich company Alby's, which Gaby Soutar visited in the weeks of "pre- lockdown limbo". It had just started deliveries, so was empty, but Gaby liked the "Seventies style decor" and "pea green exterior".
They all went for the Big Hot Sandwiches (£8), in focaccia that made "marshmallowy and salty topped pads of softness"; there was one with "beer battered coley, salsa verde, pickled fennel, matchstick chips, aioli and rocket", another with smoked ham hock and "all the classic ham lovin' accoutrements including rocket, little crumbs of cheddar, a smear of the classic that is Branston Pickle, fancy potato chips, and veiny sheets of braised savoy cabbage".
The "the burly beef short rib sarnie" came with "horseradish mayo, red cabbage sauerkraut, parsnip crisps and rocket"; sides included broccoli smothered in "a rich truffled burrata cream", skinny chips and prawn toasts. "This feed is a distant memory now, and my homemade lockdown sandwiches – especially the soggy tuna mayo ones – have been utterly lame in comparison to what I received at Alby's."
"Next time I come here, it won't be a ghost cafe. There will be hipsters, dogs, clatter and a queue of customers who are less than two metres apart."
---
The Bristol Post
The Bristol Post reported on happenings slightly outside its usual jurisdiction, in France, where the McDonald's drive-through and home delivery services have "partly resumed". "Desperate customers queued for three hours outside a drive-through restaurant to get their first McDonald's fix after weeks of lockdown."
---
The Guardian
The Guardian's Grace Dent is wondering how life will be different on the other side of lockdown, and whether we'll always be just that little bit more cautious.
"As the world throws up many more questions than answers, I've found myself dreaming of Pizza Express dough balls. Not the food, as such, but all that it symbolises: friendship and silly, unplanned Fridays where everyone gets together at the last minute."
And also…
Tom Parker Bowles for the Mail on Sunday again published nothing.
Recent News from Harden's