Here is our weekly round-up of what the national and local restaurant critics are writing about, for the week ending 24 January 2021; the first few round-ups of the year are often short due to reviews being replaced by articles on Veganuary and Dry January, but reviews are especially thin this year with so many restaurants closed.
Happy Burns Night to all our Scottish readers!
England is now in a further national lockdown, with restaurants and pubs closed (many are operating a takeaway or delivery service): https://www.gov.uk/find-coronavirus-local-restrictions.
All of Wales is at alert level 4, with similar restrictions to full lockdown: https://gov.wales/coronavirus-regulations-guidance#section-48600
Mainland Scotland is also in a national lockdown with guidance to 'stay at home' https://www.gov.scot/publications/coronavirus-covid-19-protection-levels/
Northern Ireland is under strict restrictions until 5 March: https://www.nidirect.gov.uk/articles/coronavirus-covid-19-regulations-guidance-what-restrictions-mean-you#toc-9
Please continue to order takeaways, cook-at-home kits, vouchers, merchandise and deliveries from your favourite restaurants if you can; the restaurant industry and everyone involved in it need our continued support.
*****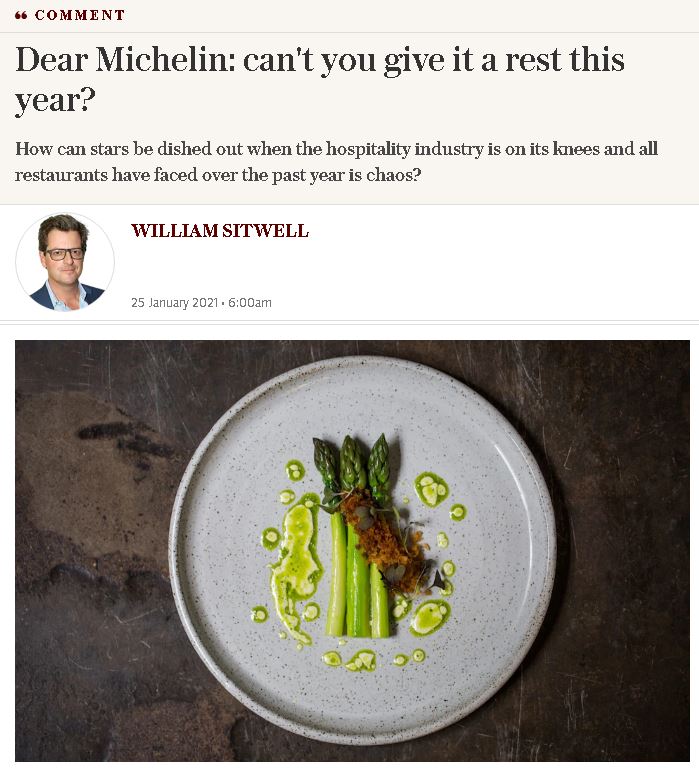 The Telegraph
"How can stars be dished out when the hospitality industry is on its knees and all restaurants have faced over the past year is chaos?"
Echoing our own news item from Friday 22 January, William Sitwell has come out of lockdown hibernation to question the wisdom of Michelin running their restaurant awards event (25 January, live online at 6pm).
"Couldn't you, Michelin, just give us a break this year, leave us in peace, pass on 2020? The rest of us want to, and if Glastonbury can be man enough to cancel, why can't you?"
He asks pertinent questions including "Can stars really be dished out when the only prizes that could truly be given are for Most Reassuringly Worn Face Covering, or Best Tempered Chef Forced to Shut Having Just Taken Receipt of 40 Filets of Beef for Next Day's Service" and "would Michelin be so heartless right now to demote a restaurant, from three to two stars, or delete a star?"
But of course, they will. They will make the right noises about supporting the industry and then go right on as usual, "all the way hoping for headlines" (the vegan restaurant awarded a star in France has certainly made its share of those).
"That, of course, is what Michelin is about: PR. PR for tyres. People often forget that the guides are not some independent entity." [He's forgetting everyone's favourite, fully independent restaurant guide, of course!]
*****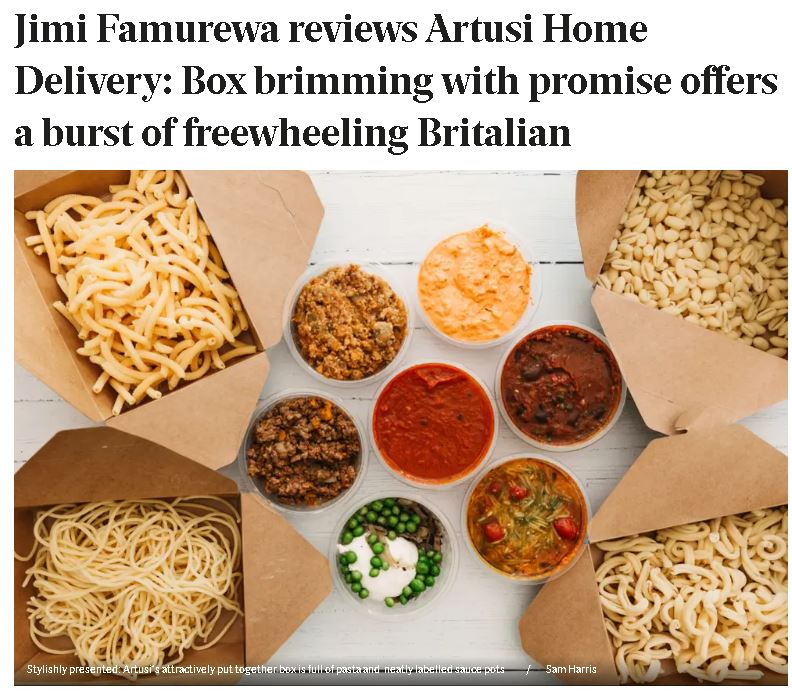 The Evening Standard
New chief restaurant critic Jimi Famurewa reviewed the "mostly very impressive finish-at-home dinner" from Artusi  in Peckham (artusihomedelivery.com); the leftover "pot of anchovy aioli" ("a briny, heavily garlicked wonder") now resides in his fridge alongside "stray pots of Sparrow's rabbit rillettes… a bottle of Quality Chop House mustard dressing" and other decadent comestibles from home deliveries during lockdown.
It wasn't quite the same as his last visit to Artusi's sibling restaurant, Marcella, an "Aperol-drenched group birthday dinner in The Before Times", but it's "good value… and attractively put together". His only real complaint was that some carbs (bread with the burrata, potatoes with the pork chop) "wouldn't have gone amiss", but overall the kit was "a cool, uncomplicated burst of freewheeling Britalian, thoughtfully conceived and stylishly presented".
Also there was only room for pudding much later on, which couldn't have happened in a restaurant, and they ate the rich chocolate mousses "in the sort of elasticated loungewear that is generally frowned upon in actual restaurants".
*****
Jimi's week in food column listed vegan cheese, a chip shop lunch for the home schoolers, "mum's spiced, Nigerian beef stew", Christmas leftovers being made into Calum Franklin's panettone and gianduja pudding and an order from Franco Manca.
"I lose track of where we are on whether Franco Manca has lost it or not. But a family order – featuring a special with greek peppers, olives and stilton – absolutely banged. "
*****
Also in the Standard, an article on Brexit's effect on fruit and vegetable prices which "could affect menus from top chefs".
"New red tape in place on imports since January 1 has already sent… prices soaring by up to 10% at London's New Covent Garden Market."
*****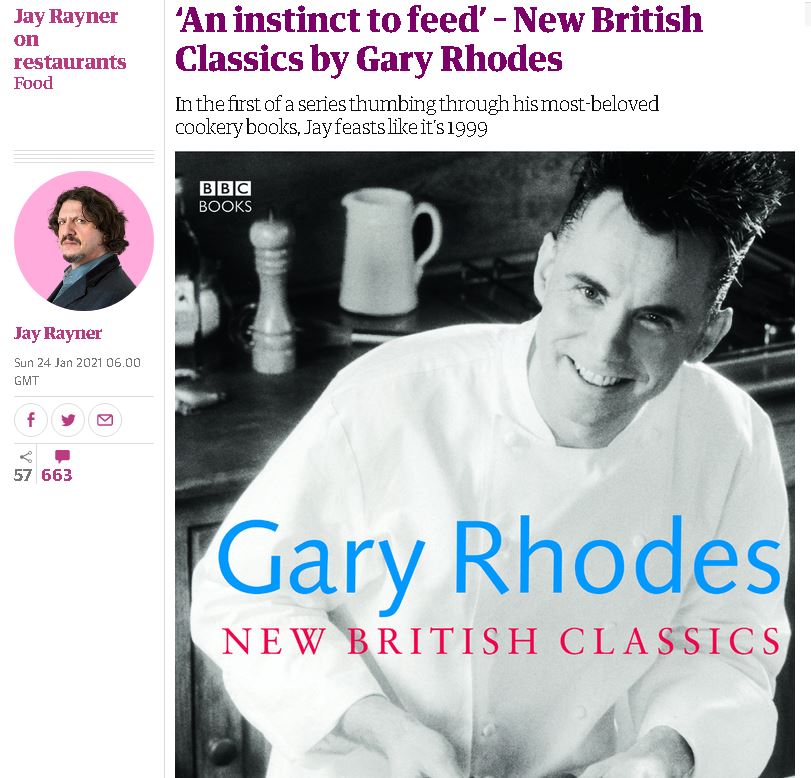 The Observer
"New British Classics by Gary Rhodes may be more than 20 years old, but the marks of battle are clear. It remains one of my most consulted cookbooks. "
Jay Rayner has started a new series of articles, "thumbing through his most-beloved cookery books". He receives many in the course of his job, but only a few earn a place on his bookshelf. "I keep the ones containing recipes for dishes I want to eat, but I look for other things, too. They must be strong on broader methods. They must have tips that will make me a better cook. They must be well written."
New British Classics is a serious tome from the late spiky-haired TV chef is "a compendium of huge flavours which remains influential on restaurants to this day". Tom Kerridge still consults the book (he was sous-chef at Westminster's Rhodes in the Square), and still has the "lobster omelette thermidor on the menu at his restaurant at London's Corinthia Hotel".
Jay cooks a selection of recipes for his family. "They are a study in Rhodes's attention to detail; in his intensity and instinct to feed. It's like meeting the man at the table."
*****
The Mail on Sunday
"So here we are again, pubs shuttered, restaurants closed, our hospitality industry on the edge of collapse."
Back to takeaways and cook-at-home kits, Tom Parker Bowles in The Mail's You magazine reviewed "the best home-delivered Indian and Sri Lankan dishes".
"First up, the Ambassador General Store (ambassadorgeneralstore.com), from the team behind Gymkhana and Brigadiers. Packaging is handsome, instructions clear, flavours sublime… This really is restaurant quality and, while not cheap… offers seriously good value."
He also received "some of the most thrilling regional Indian food I've eaten for years" from Clay's Hyderabadi Kitchen (https://www.clayskitchen.co.uk/).
The meal kit from Aktar Islam ("one of the country's finest Indian chefs, and Opheem, in Birmingham, his crowning glory") was "very exciting" (aktarathome.co.uk): "£70 gets you ten different regional dishes… incredible value for such exceptional food."
Last but by no means least was the "cracking selection of kits" available from Sri Lankan specialist Hoppers (hopperscashandkari.com), which included vegan options.
*****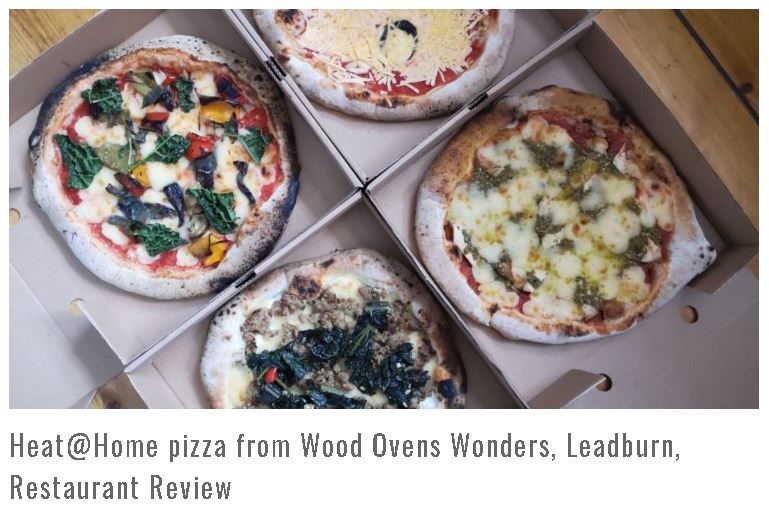 The Scotsman
Catriona Thomson ordered a selection of 'Heat @ Home' pizzas (including vegan) from Wood Oven Wonders (www.woodovenwonders.co.uk, usually operating out of a "vintage horse trailer") as a treat to cheer up her bickering, lockdowndepressed family. 70%
*****
Also in The Scotsman, butcher Simon Howie has launched the first-ever haggis into space to celebrate Burns Night. The 'space haggis' took off "from Simon Howie HQ in Dunning before travelling over Stirling, Falkirk, Edinburgh, and the Pentland Hills before its safe landing in Lauder". It has now been taken back to the HQ "where it will be preserved for years to come as the first haggis in space".
*****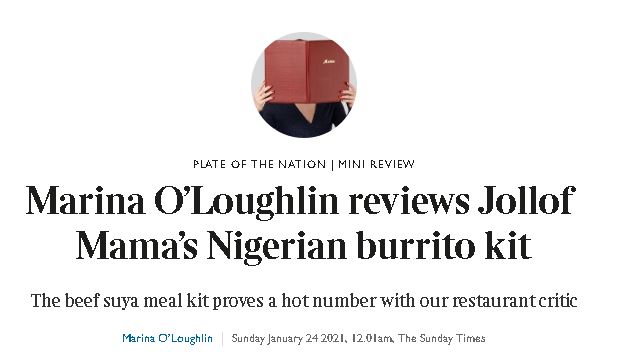 The Sunday Times
Marina O'Loughlin reviewed a cook-at-home kit packed with classic Nigerian flavours from Jollof Mama, "responsible for the '1st African burrito'" (jollofmama.com/meal-kits/ available nationwide). "They're a serious trip."
She cooked street-food staple suya ("thin strips of meat in a moveable-feast spice blend (usually involving peanut powder, hot pepper and ginger), skewered and grilled") and simmered rice in "vivid jollof sauce". Everything was then "piled into the burrito wrapper ". The food was "very good indeed, generous for the loot. I loved the resonant rice and fragrant beef, and I'm now addicted to Jollof Mama's insanely fruity-fiery Scotch bonnet hot sauce."
*****
In another article, Marina paid homage to "Peter Luger, the New York steakhouse that stole her heart". It may have been "old-school" but the "extraordinary restaurant", which was "hunkered in a brooding part of Brooklyn just over the Williamsburg Bridge", served her "the most sensational meat I'd ever tasted".
"Peter Luger is the restaurant that fully cultivated my passion for oldies, for the classic trouper restaurant… menus that were not so much bills of fare as cultural history."
Unfortunately, "I might never go back to Peter Luger. It was devastating to read not long ago a brutal zero-star takedown from Pete Wells — the New York Times restaurant critic, a man I know and admire."
*****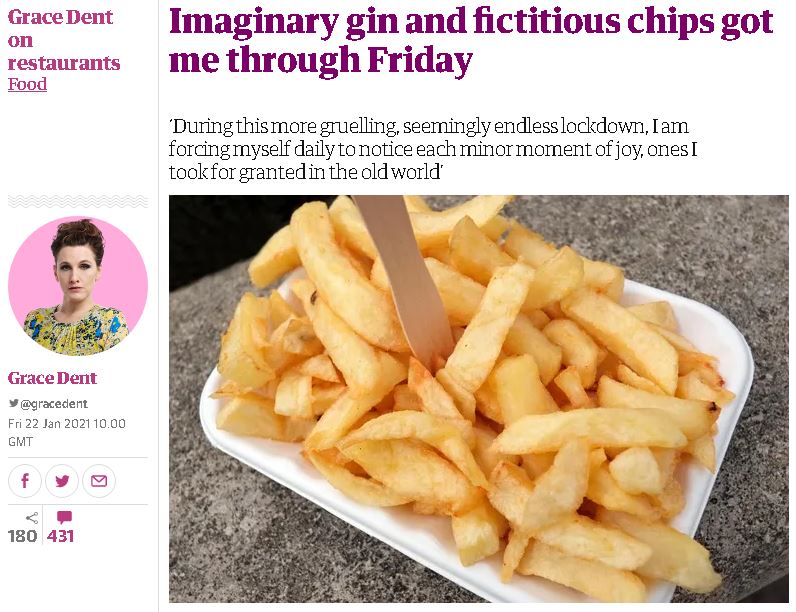 The Guardian
"I am forcing myself daily to notice each minor moment of joy; ones I took for granted in the old world."
Grace Dent is learning to appreciate the small things in life in this "most recent, more gruelling, seemingly endless national lockdown". ("Owning a complete set of nestable LocknLock food containers" comes pretty high up on her list of things that make her happy.)
Lighter mornings over Derwentwater, her "glorious state-of-the-art pressure cooker", a new cheese; these things are getting her through the day, ticking off the hours to vaccination and freedom.
"There is a beer garden waiting for us… There is gin served in goldfish-bowl glasses. And bottles of rosé, ice-cold in a bucket. We will be there in August, I promise."
And also…
The Independent and many other foodie news pages were tickled by Nigella Lawson's clever trolling of Donald Trump with her 'recipe of the day' as he left the White House: 'Bitter Orange Tart', she said, was easy to make, with a base of "bashed ginger nuts".
*****
In The Financial Times, Nicholas Lander detailed what restaurant staff do "when the guests go home". When a restaurant empties, "waiters' work has only just begun… from counting knives to cleaning the coffee machine, everything must be shipshape for a swift start the next day".
*****
Also in The Financial Times, a free-to-read, warts-and-all article from restaurant critic Tim Hayward on his recent month in hospital with Covid. Recommended reading.
*****
Recent News from Harden's