Core by Clare Smyth and Hélène Darroze at the Connaught have been awarded three Michelin stars apiece.
It's always good to see Michelin catch up with Harden's. It only took the famous French tyre company three years in this instance. In 2018 the restaurant was named Harden's Diner's 'Top Gastronomic Experience' in our own annual awards. We tipped Core to soar, and it has, remarking in our guide's introduction eighteen months ago: "The third Michelin star must be on its way".
Smyth said: "We worked hard every day to be the best that we can. We try to be better every day than the last. Obviously it's my dream to reach this level but you could never imagine it would happen. It's incredible."
(Obviously she would imagine it would happen, because i) she had held three stars for a number of years as head chef at Restaurant Gordon Ramsay; and ii) people have been saying since the day she opened that she deserves three stars.)
Clare added: "There's nothing that is unachievable now. Core opened just over three years ago. I just want for the future that young chefs – male or female – have the opportunity to open their own restaurants."
As for Restaurant Hélène Darroze – it is not to criticise the award to say that it helps that she's French: notoriously helpful with Michelin. Her restaurant at The Connaught is celebrated by Harden's Annual National Diners Poll, but not to the extent that would have suggested this latest elevation. In this Gallic connection, her promotion to three stars resembles that of Sketch last year.
The accolades were dished out during a virtual ceremony hosted by Davina McCall, in which three other London restaurants were noted for their exceptional cooking, each climbing from one star to two, and further fortifying the capital as a dining hub that could well be the best in the world.
A Wong in Victoria, Da Terra in Bethnal Green, and Restaurant Story in Southwark are the trio to win two stars on the night. All three score well in our poll, but none to the extent that any of these awards was obvious.
Wong said: "It's massively humbling. Today is a historic day for Chinese communities. It's not just for my team, it's for every Chinese restaurant that has laid the ground for us."
Sellers said: "It's great teamwork from the guys. It's been a lifetime's work so to be recognised and sit amongst other great chefs feels amazing."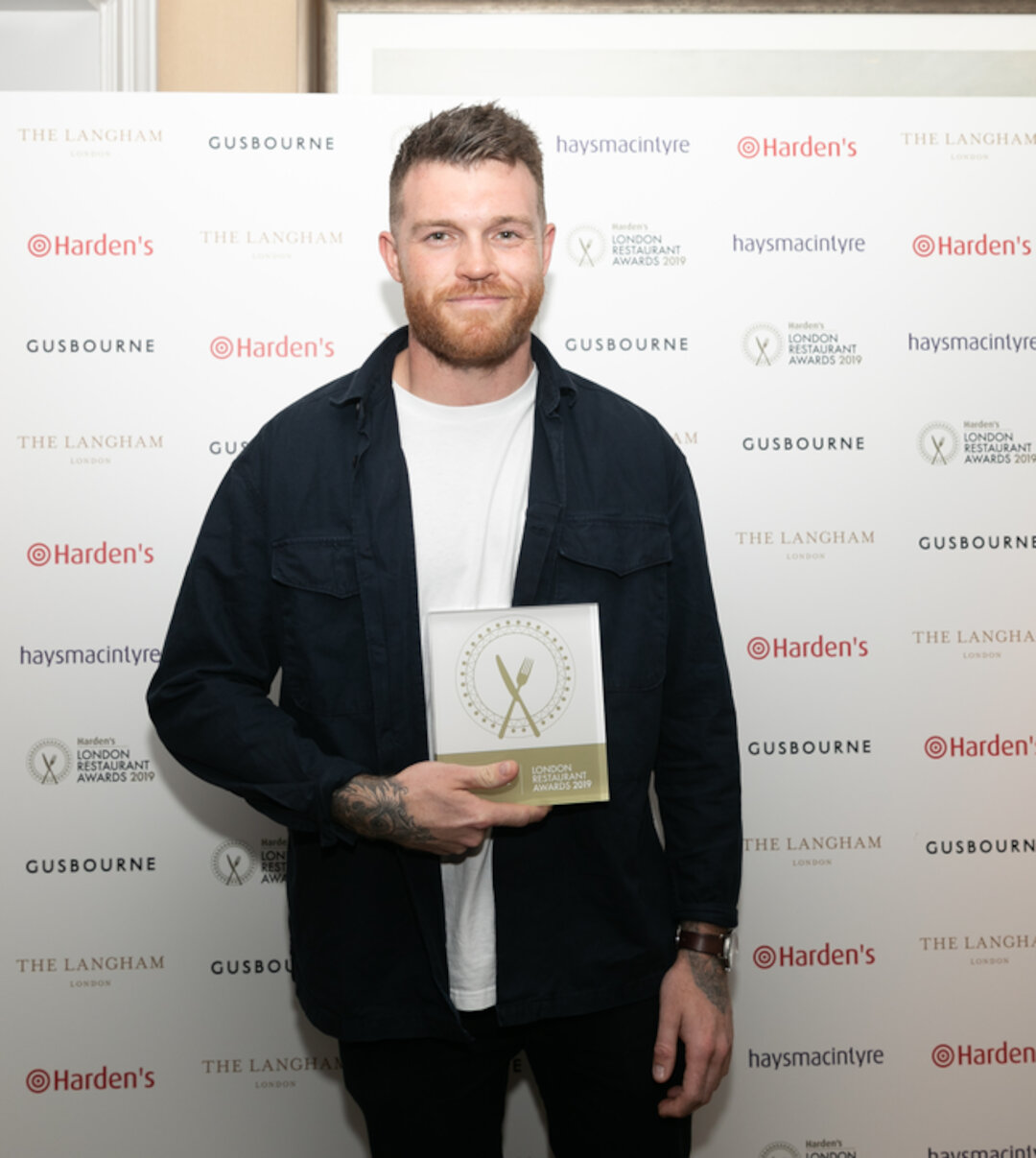 Elsewhere, 17 restaurants received one star, including Tom Aikens's Muse (predictable… and we did); Cail Bruich in Glasgow (an award Harden's reporters would totally support); Shaun Rankin at Grantley Hall; Cornerstone in London's Hackney (a surprise omission in former years and winner of our 2019 Best Fish & Seafood award); Osip in Bruton, Somerset; and Hide and Fox in Saltwood, Kent.
Well, we got some of them right in our not-exhaustive round up of predictions. One assertive Midlands reader who tipped us off with suggestions did not.
It is an utterly bizarre time to be handing out accolades, as was rightfully noted this weekend by William Sitwell in the Sunday Telegraph ("Dear Michelin, Can't you give it a rest this year").
We all know how nightmarish Covid-19 has been for the hospitality industry. Indeed, restaurants were closed for longer than they were open in 2020, or near enough.
Michelin, though, has defended its decision to press on.
Speaking at the launch, Gwendal Poullennec, international director of the Michelin Guides, said: "This has been a hugely challenging period for the hospitality industry and our thoughts remain with all those who have suffered from the pandemic and by the restrictions that have been put in place."
He continued: "The Michelin Guide is about so much more than recognising those at the top of their profession; it is about promoting the hospitality industry as a whole and we want to shine a light on the hard work, tenacity and commitment of chefs and restaurant teams."
Also, we're paid to sell tyres, and that work goes on regardless.
No, you're right. He didn't say that last bit…
Here's a full list of the new stars:
Three stars
Hélène Darroze at the Connaught, London
Core by Clare Smyth, London
Two stars
A Wong, London
Da Terra, London
Restaurant Story, London
One star
Osip, Bruton, Somerset
Shaun Rankin at Grantley Hall, North Yorkshire
Dede, Baltimore, Cork
Muse, Belgravia, London
Latymer, Bagshot, Surrey
Hide and Fox, Saltwood, Kent
Behind, London
Cail Bruich, Glasgow
Roots, York
Restaurant Hjem, Hexham, Northumberland
Cornerstone, Hackney, London
Davies and Brook, London
Outlaw's New Road, Port Isaac, Cornwall
Benares, London
Casa Fofo, London
Pea Porridge, Bury St Edmunds, Suffolk
Sola, Soho, London

Green stars (Michelin's new award for sustainability)
The Black Swan at Oldstead, York
Angela's, Margate, Kent
Belmond Le Manoir aux Quat'Saisons, New Milton, Oxfordshire
Coombeshead Farm, Lewannick, Cornwall
Daylesford Organic Farm, Stow-on-the-Wold, Gloucestershire
Inis Meain, Aran Islands
Inver, Strachur, Argyll and Bute
Kai, Galway
L'Enclume, Cartmel, Cumbria
Loam, Galway
New Yard, Helston, Cornwall
Oxo Tower Brasserie, Southwark, London
Henry Robertson at Palé Hall, Llandderfel, Gwynedd
Petersham Nurseries Café, Richmond, London
Restaurant Sat Bains, Nottingham
River Cottage Kitchen, Axminster, Devon
Silo, Hackney, London
The Dining Room at Whatley Manor, Malmesbury, Wiltshire
The Small Holding, Kilndown, Kent
Where the Light Gets In, Stockport
The Ethicurean, Wrington, Bristol
Hypha, Chester
Tredwells, Strand and Covent Garden, London