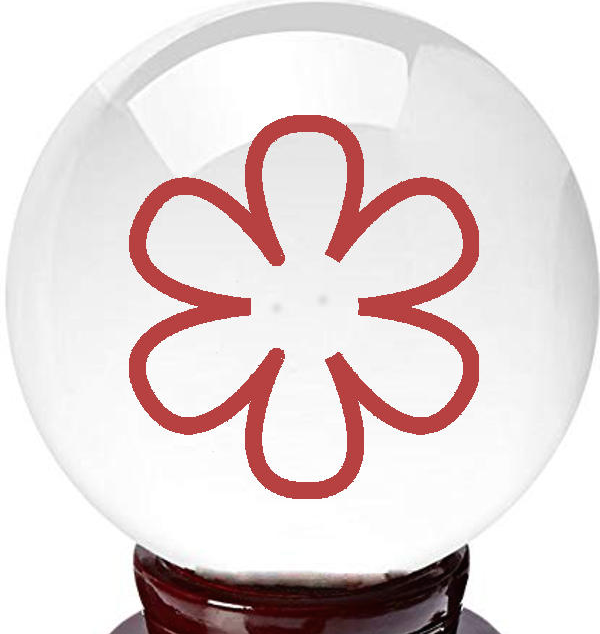 It is the worst of times. No-one can go out to restaurants. Evidently what this country needs… is an online restaurant awards!
So, on Monday 25 at 6pm, the emissaries on earth of the great Tyre God will unveil this year's Delphic results and reveal the new custodians of their precious stars.
How do you rate an industry that was closed for most of the last year? How do you allow for menus and teams being in constant turmoil?
Will the process just reveal the high level of arbitrary credentialism that's part of the Michelin process? Or will the industry just think: "fab, at least someone still cares about us"?
We don't know. Do we care? Just enough to indulge in some idle speculation about what might happen on Monday night (in all honesty, we're not that busy at present either…).
So, armed with the results of our last (2020) restaurant survey, we cast our eye over the candidates.
Tom Aikens opened Muse into the eye of the gathering pandemic storm. A small restaurant dependent on his input, Michelin can make an award to this former holder of two stars with little risk. The only question in our mind is will they go the whole hog and give him two?
Monica Galetti's Mere is a classic example of a restaurant overlooked hitherto by Michelin for utterly incomprehensible reasons. As we said last year: "ridiculous that it doesn't have a star yet: will they finally put it right this year?" Same question. It's amongst a number of bizarrely excluded restaurants below.
After this week's first ever award in the French Michelin to a vegan restaurant, there is some speculation that they might go down the veg-friendly route in London too. Gauthier has been staring them in the face for a bit now: maybe this year they will finally reinstate his star for his amazing vegan food.
In some ways, the easiest headlines may be bought by Michelin perfectly predictably taking stars away from restaurants that are closed.
So The Ledbury and The Greenhouse having their two stars taken away may provide some coverage.
In fact, potentially, it will be a great result: double whammy by the PR of taking them away and then more PR giving them back if and when either restaurant does reopen. The Ledbury and The Greenhouse have both already been deleted from the Michelin website, so this is a fair bet…
The re-jigging at Restaurant Nathan Outlaw – since 2020 Outlaw's New Road – is a similar open goal for breathless press coverage. Take the two stars away and maybe award one to the newcomer for its simpler style. Restaurant Nathan Outlaw has also been deleted from the Michelin Website.
At the one star level, the passing of Roganic, The Square, Texture and Alyn Williams at The Westbury may be noted (and have all been deleted).
Cue dry ice…
Michelin three stars ☆☆☆
All existing award holders are marked in black bold. Potential promotions are in red.
Alain Ducasse at the Dorchester – has never deserved three stars, will they rectify the position in any way (we say this every year, and it's not very likely)?
Core by Clare Smyth: like last year, social media speculation is rife about whether Clare will be promoted to three stars. She deserves them. Also, she held three at Restaurant Gordon Ramsay, so the Tyre Men would not have to be too brave to give her three here.
The Fat Duck – probably safe, although in our own survey it's lost a bit of its sheen (mostly 'cos it's so stupidly expensive)
Gordon Ramsay – hasn't deserved three stars for ages, will they finally demote Royal Hospital Road (we say this every year, and it's not very likely)?
Sketch (The Lecture Room & Library) – a surprise promotion from two stars last year. Our survey would have maintained them at two stars but demotion this year after just a year would seem bizarre.
The Waterside Inn – criticised a little more in our survey of late for being old-fashioned, but you could have said the same for the last 30 years. Should be safe.
Michelin two stars ☆☆
All existing award holders are marked in black bold. Potential promotions are in red.
Andrew Fairlie at Gleneagles – we have seen no deterioration in feedback since AF's sad loss, so can't imagine Michelin will want to trample on his legacy.
Aulis – Simon Rogan's secret test kitchen experience was ignored by Michelin for the last two years. It clearly deserves stars. Time to give it some? (We're not holding our breath: it's not even listed on the Michelin website.)
Bibendum by Claude Bosi – two stars is a reasonable award if not one our reporters totally agree with. For the last two years he's been boosted as a favourite for elevation to three stars – PR-wise he has the peer and press respect to justify such a promotion even if it's not yet matched in our diner feedback.
Casamia – Michelin remain the only guide not to have gone utterly bonkers for this Bristol restaurant. A promotion from one star to two remains a possibility…
Core by Clare Smyth – see above.
Dinner by Heston Blumenthal – long past its sell-by: should be demoted to a single star.
La Dame de Pic – elevated to two stars this year – a quality kitchen with stable backing, so no change expected.
Endo at Rotunda – last year we said that if the history of The Araki was any guide, Endo Kazutoshi should have been award two stars last year, and this year would have been three. But last year, they only awarded a single star, but we continue to think it deserves at least two.
Elystan Street – Phil Howard is really into his stride here now; taking his star-rating up a notch would be a very easy award.
L'Enclume – if it is re-rated it should be upwards – consistently one of the country's top kitchens.
Five Fields – winner of Harden's London Restaurant Awards 2019 for Top Gastronomic Experience and one of the town's most consistent starred restaurants. Worth bumping up?
Le Gavroche – steady as she goes: perhaps at some point it will regain its third star.
The Hand & Flowers – always a suspect award at two stars – nowadays increasingly sticking out like a sore thumb. Tom Kerridge has merely emphasised this fact by opening the (better) Coach just down the road. But he is now a national treasure so no change likely.
Hélène Darroze at the Connaught – likely to hang on to two stars despite its bizarrely stripped-down refit.
Hide Above – We remain surprised that this wasn't awarded two stars.
Kitchen Table at Bubbledogs – its elevation to two stars remains one of Michelin's best awards in recent times. No reason to expect further promotion though.
Lympstone Manor – We were surprised that Michael Caines was not elevated to two stars last year and still think that's his level here.
Le Manoir aux Quat'Saisons – still a hit in our survey, but very nearly out of the GFG's Top 50. Our survey says it's the GFG who are wrong however. Probably a banker, but you never know.
Midsummer House – on our current survey, a one-and-a-half rating would be perfect here. Unlikely to change, though.
Moor Hall – Michelin have rightly acclaimed this star of the North. Last year we asked if they might just go absolutely wild and step up to three? This year: same question.
Muse – Michelin are almost certain to recognise Tom Aikens new restaurant: might they go the whole hog and give him back the two stars he first won aged 26?
Paul Ainsworth at No 6 – One of the most consistent restaurants in our survey – and in tier 1 much of they year – would not be ridiculous to recognise Padstow's true star nowadays.
The Raby Hunt – stellar if expensive: likely to retain its rating.
Restaurant Sat Bains – despite the Crossroads motel setting might the editors go wild one day and give Sat star number three?
Umu – its fell into administration in February, but this is a quality show and our current bet is that it comes through unscathed (including with Michelin).
Whatley Manor (The Dining Room) – Niall Keating has risen to two stars with impressive speed. Some talk of him deserving three.
Michelin star ☆ (not comprehensive, but a few ideas…)
Health warning: the following list is a tad London-centric. This is partly because there are more places in London attracting enough survey data year-in-year-out to say they are being clearly missed by the Tyre Men.
Anglo – Mark Jarvis works wonders at this Farringdon 40-seater – wake up Michelin and give the lad a star.
The Araki – it lost its three stars when Mitsuhiro Araki returned to Tokyo, rather surprisingly not being even granted a single star. Michelin's utter ignoring of this restaurant now seems odd.
Brawn – one of the East End's best performers: it has a Bib Gourmand but should really have a star.
Caractère – winner of Harden's London Restaurants 2019 top newcomer award: last year we said "mad if it doesn't get a star". Same thought.
Cornerstone – winner of Harden's London Restaurants 2019 award for Best Fish & Seafood. Michelin ignored their chance to get down with the hipsters last year and, contrary to expectations, last year too. It is too hip for Michelin, true, but even so it's a strange omission.
The Frog – Adam Handling should have had a star for a while now: more weird ignoring.
Gauthier Soho – Bizarrely had its star taken away; when will they finally reinstate it? Surely Alexis Gauthier's embrace of all things vegan finally qualifies him for reinstatement!?
Hipping Hall – we cribbed this one from the list on The Staff Canteen, but having read it can't believe we didn't think of it ourselves!
Joro, Sheffield – in a shipping container 'up north so probably a bit too hipster for the big M no matter how good it is.
Kerridge's – shortlisted for Harden's London Restaurant Awards 2019 top newcomer: we were surprised last year Tom didn't get a star for this place – could happen.
Kutir – Rohit Ghai won a Michelin star at Jamavar in record breaking time. He's been here in Chelsea, for over a year now on a site that used to have a star. Wake up guys.
Medlar – same as Gauthier – when will they recognise their mistake in removing their star?
Mere – last year we said "ridiculous that it doesn't have a star yet: will they finally put it right this year?" We say the same again this year.
Rovi – why not burnish their veg-friendly credentials by recognising Yotam. C'leb chef so easy to do.
Scully – if Ikoyi can have a Michelin star, why not nearby Scully too?
Shaun Rankin at Grantley Hall – a recent opening award three AA rosettes (we have no survey data, but our newsletter editor liked it a lot!)
The Small Holding, Kilndown – anyone who has been there raves – an easy award outside of The Smoke.
Sushi Tetsu – If Michelin fully understood restaurant going, surely this place would have a star? Or two?
Reader suggestions
Harborne Kitchen, Birmingham – Jamie Desogus scores brilliantly in our survey but the Michelin man has had since 2016 to recognise this former butcher's shop.
Folium, Birmingham – Ben Tesh & Lucy Hanion likewise score brilliantly in our survey but similarly they have been open since November 2017 without recognition.
The Wilderness, Birmingham – Alex Claridge's decidedly rock 'n' roll Jewellery Quarter four-year-old scores 5/5 for food in our Annual National Diners Poll like all the other recommendations above. It doesn't strike us as Michelin's bag at all though.
The Boat Inn, Lichfield – the AA gave Liam Dillon's two-year-old pub conversion three rosettes in their latest awards and it was Estrella Damm's Newcomer of the Year. Our poll awarded 4/5.
Lake Road Kitchen, Ambleside – Ex-Noma chef James Cross scores full marks for food in our survey… and has since 2018. Will this be his year?
Ynyshir, Eglwys Fach – Gareth Ward's very contemporary hotel in West Wales is tipped by some for two stars this year.
This article has been amended to include Joro and Shaun Rankin at Grantley Hall; to correct information about Kutir; and to add reader recommendations.