Here's our regular summary of what the national and local restaurant critics have been writing about in the week ending 21 November 2021.
*****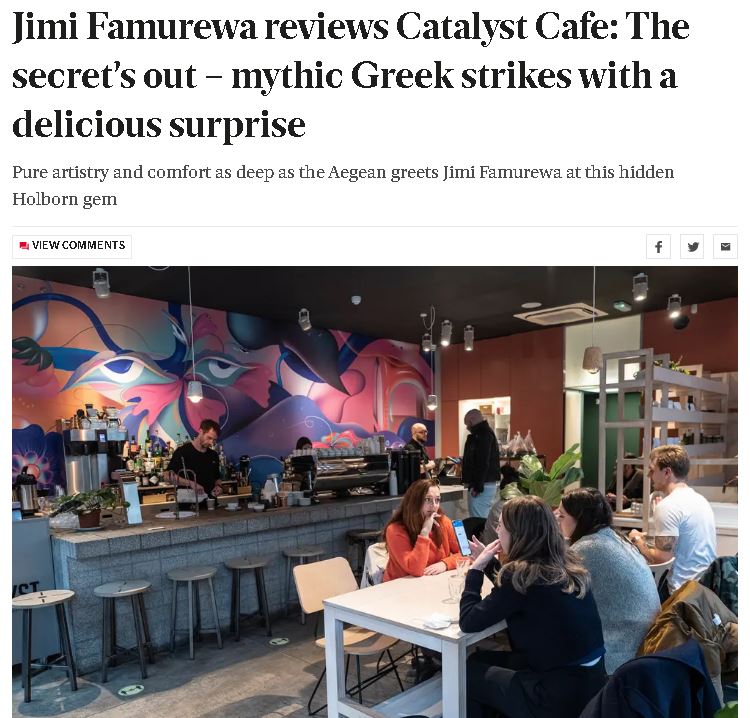 The Evening Standard
Catalyst Cafe in Holborn has "no hype-stoking publicist or obvious Hellenic signifiers", but is "serving some of the best Greek food in London" thanks to "the considerable gifts of two Greek head chefs"; it's not even new, having been around, and "steadily grown its cult following" since 2016.
Jimi Famurewa raved over the "ever-shifting menu" of doorstop sandwiches, "complex stews" and "wildly creative evening bar snacks", doused with "Catalyst's semi-mythic coffee sriracha" sauce. It's "a reminder of this city's unmatched ability to still spring the most delicious of surprises".
It's "genuinely… some of the most inventive, exhilarating, taverna-inspired cooking that I've ever experienced" – making Catalyst Cafe "one of the more dynamic restaurant kitchens of any category operating right now".
Also in The Standard, David Ellis on Blacklock opening its fourth (and "biggest yet") branch, and the group's intention to "work towards becoming more planet-friendly and attaining B Corp certification".
*****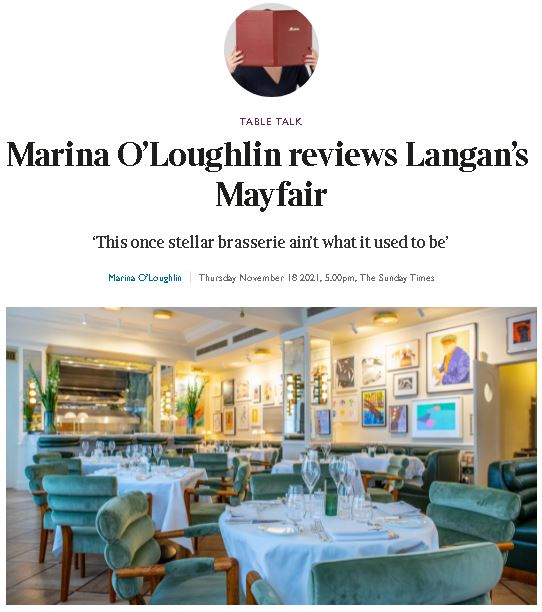 The Sunday Times
Marina O'Loughlin paid a visit to the newly re-opened Langan's Brasserie. "I'm excited. I missed its heyday but was agog at stories of its glamour, its clientele from the worlds of art and celebrity, its walls papered with works by the cream of contemporary artists."
Revived after falling into administration in 2020, Marina was hoping it would be "a thrilling new life for an old trouper stumbling towards the knacker's yard in a fug of tourists and mediocrity, art and buzz gone decades ago along with the starry owners".
The 'welcome' was a bad start, and the food – "so boring, so safe, so luxury-pimped nursery food — as if Nanny had it away with a plutocrat" – left Marina "stone cold" with its "outlandish richness". But "it was never a destination for sublime cooking, even under Langan".
"Prices are stupid, designed for people not troubled by such irrelevances." Wine prices are "eye-watering" but "I suppose I should be glad that the place hasn't been left to moulder".
*****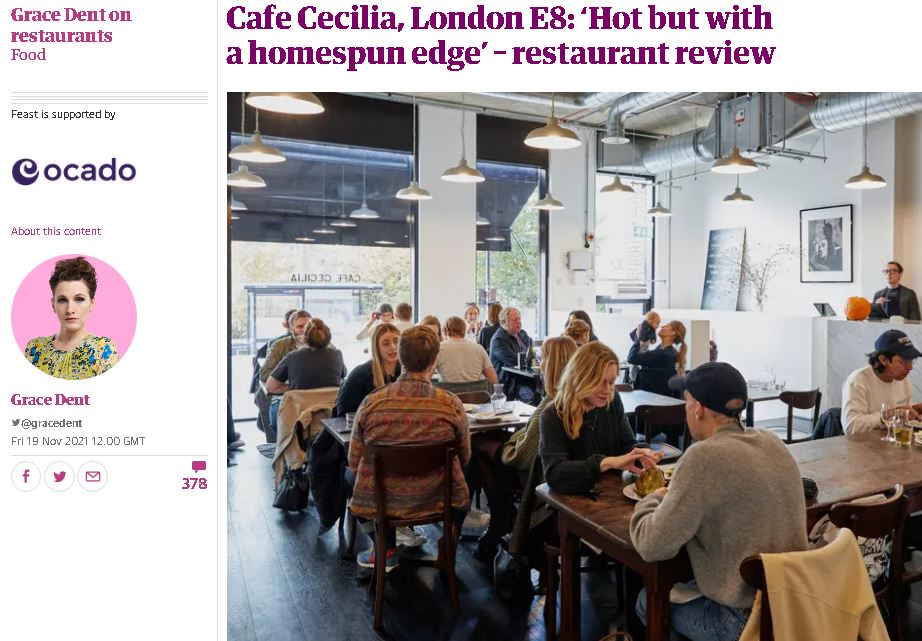 The Guardian
"Notions of Ireland, and of St John, were alive."
Grace Dent secured a booking at Hackney's Cafe Cecilia, despite the "type of buzz" surrounding ex-River Cafe / St John chef Max Rocha that "inevitably leads to all 15 or so tables being booked up". That said, she did have to book "almost six weeks in advance".
"It's a calm, self-effacing space with lovely staff and a menu that allows Rocha to lean on his Irish heritage." Even better, it's "a far cry from River Cafe prices".
There's definitely a "homespun edge, rather than the feel of a new rumbling hospitality juggernaut" but Grace's Spidey senses were tingling, and she feels that Cecilia is "only just getting started on its path to being one of London most serious restaurants".
*****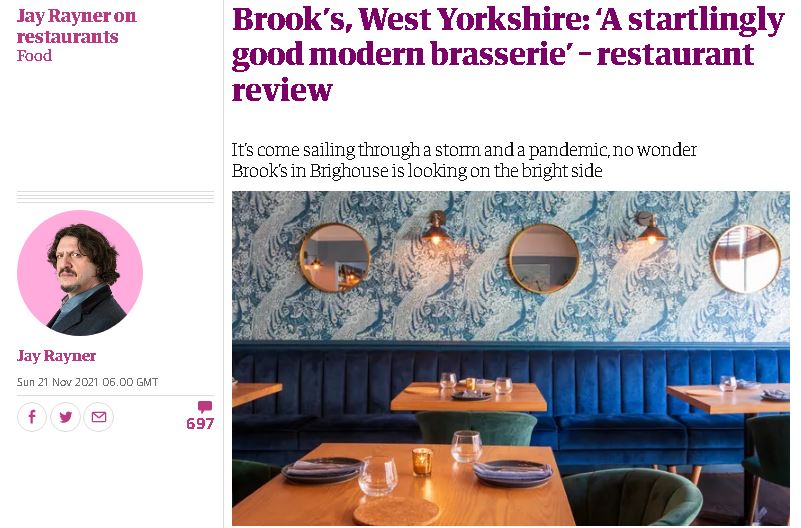 The Observer
"I am powerless in the face of good bread."
Jay Rayner was in Brighouse, West Yorkshire, weakened by freshly baked goods (with "whipped Marmite butter") and "the black pudding against which all others must be judged" at Brook's, a "startlingly good modern brasserie opposite the civic hall".
After 30 years in business, the namesake owners sold up in 2019 to Lauren Midgley and Greg Foggo. Storms, floods and a pandemic have hurled themselves at the venture, but it's held fast.
Jay originally booked as he was in Leeds and was in search of lunch, but Brexit and Covid have seen off so many staff that few local places are open for lunch. Chef Dan Maxwell's lunchtime menu "reads a little restlessly, but makes total sense on the plate. The flavours are reliably big and self-assured", with "nods towards the Middle East".
"The value is obvious, helped by a concise wine list apparently priced to make you consider ordering another bottle, even on a school night." Service is "cheery and efficient" and the restaurant "hums with a comfortable contentment".
*****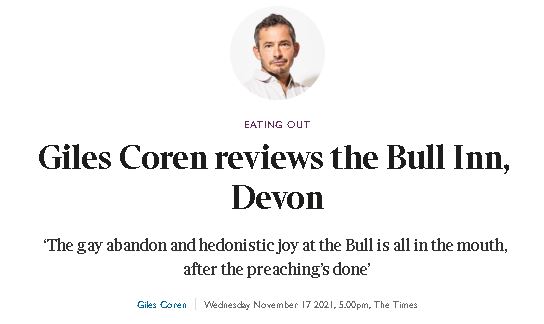 The Times
Giles Coren was in Devon, at The Bull Inn, Totnes, a "lovely, mazy old boozer" which has been bought and restored by Duke of Cambridge founder Geetie Singh and Riverford boss Guy Watson; it originally opened in 2019 but quickly closed again "due to that thing that everything closed for".
The refurb may have cost £1.5 million but it's been "kept rustic and chunky and very, very ethical", with "reclaimed and upcycled" fixtures and renewable energy. The menu is "veg-first" with a focus on "field-grown not flown".
"They've got eight beautiful, blameless bedrooms upstairs (and I bet the breakfast rocks) and it's a wonderful town in a glorious county." (29/30)
*****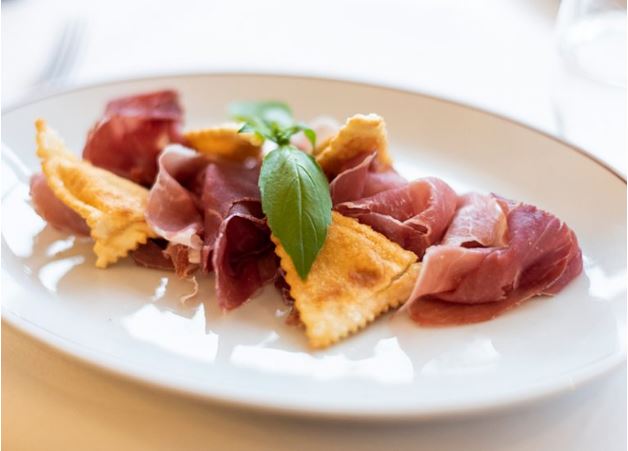 The Mail on Sunday
In YOU Magazine, Tom Parker Bowles was the first to visit to new La Brasseria, the Notting Hill sibling to the long-standing Marylebone Milanese restaurant.
Despite his initial reaction that "the very last thing this part of town needs is yet another overpriced, underwhelming Italian restaurant", Tom liked it "very much". He's now been twice and found the food "reliably good, with a menu that flits all over Italy. No regional monogamy here, just old-fashioned crowd pleasers and greatest hits".
"Front of house is Roberto Veneruzzo, formerly of Locanda Locatelli, and one of the very best"; he oversees service that's "slick and warm", and the "handsome open-plan room" is "sultry and more subdued" at night.
"Notting Hill might just have a new Italian that's well worth shouting about."
*****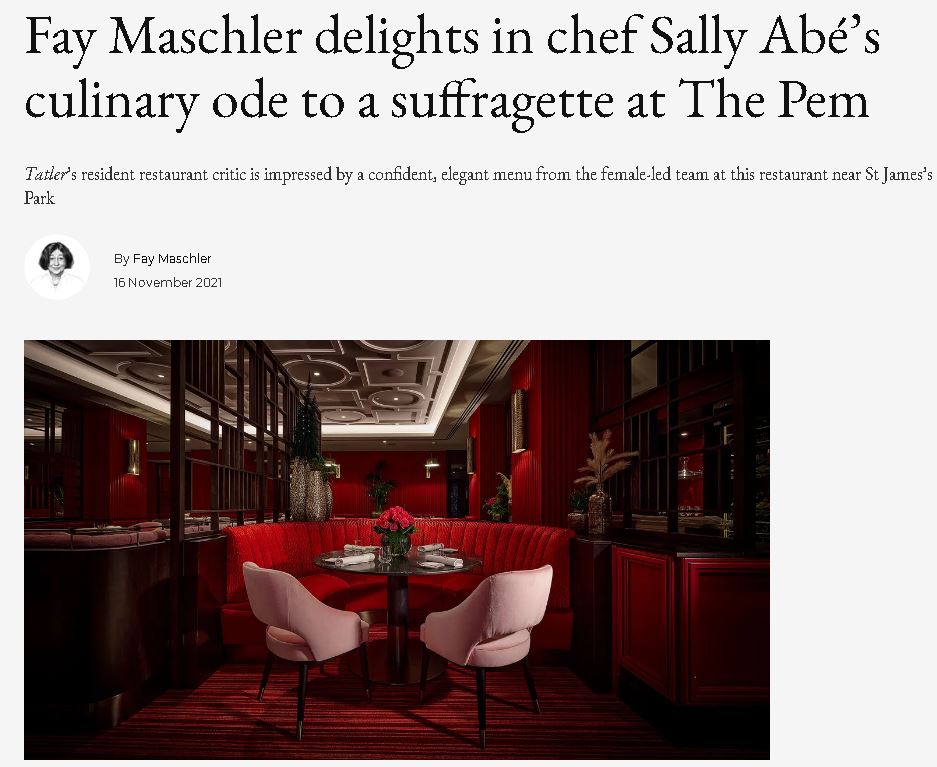 Tatler
Former Evening Standard critic Fay Maschler is now publishing a weekly review of her meals out for Tatler; this week she ate at Andrew Edmunds, Launceston Place, Rita's and St John.
She also published the first review of the female-led brigade at The Pem, "Sally Abé's culinary ode to a suffragette". While "it is not a brilliant name for a restaurant", Fay was "impressed by a confident, elegant menu".
*****
And also…
Tim Hayward in The FT Magazine paid a throwback visit to Vasco & Piero's Pavilion for some "pure old-school Soho Italian": "I look at the combination of inventiveness, skill, knowledge and margin control and I want to let out a little cheer".
Also in The FT Magazine, Nicholas Lander asked "Whatever happened to specials boards?" "Specials were the freshest ingredients, dishes that the kitchen felt proud to be cooking — they revealed the true nature of the restaurant."
*****
In The Scotsman, Gaby Soutar was feeling wintery, in "the mood for heat and colour", so she paid a visit to the third – the biggest and newest – branch of Edinburgh's El Cartel Mexican restaurants chain, for "life-enhancing and stodge-banishing grub" in a cool setting ("It might even be my favourite branch").
*****
The Manchester Evening News revealed the delight of the owners of The Pack Horse in the Peak District after Marina O'Loughlin's recent review, which hailed it as "pretty much pub perfection".
*****