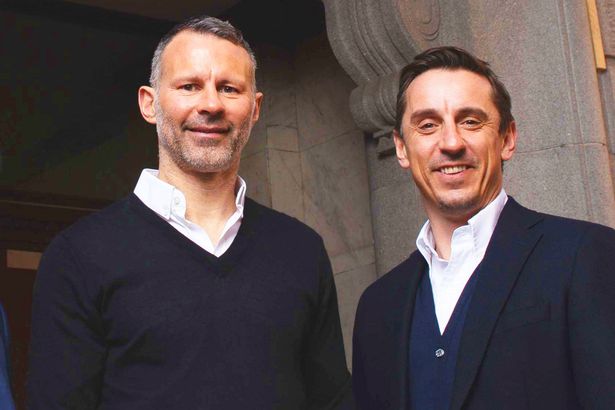 Gary Neville (right in pic) and Ryan Giggs (left) have signed bartender brothers Joe and Daniel Schofield to replace Tom Kerridge running the signature restaurant at the Stock Exchange Hotel, the luxury Manchester hotel they opened in 2019.
The celeb chef recently announced he would be "parting ways" with the former footballers with the closure of his restaurant the Bull and Bear at the end of this year, enabling him to focus on his flagship venues down south, in Marlow and London.
The Schofield brothers opened two cocktail bars in quick succession in Manchester last year – Schofield's and Atomeca – and recently launched a third bar, Sterling, in the Stock Exchange Hotel. The as-yet-unnamed new venture will be their first restaurant, and is pitched as a 'British brasserie' with a kitchen run by head chef Joshua Reed-Cooper, formerly of leading Manchester outfits The French, Where The Light Gets In and Mana.
In an Instagram video announcing the move, Neville said: "It was only a week ago that we announced we were going to be closing the Bull and Bear restaurant from January 1. We'll be open up to Christmas and then in January we would reset and that we'd be looking to bring a new partnership forward in February.
"I'm delighted to say we're announcing a new partnership with the team from Sterling. We opened Sterling downstairs in the Stock Exchange about six weeks ago and we've decided to open up here, in the restaurant, a new concept and I'm really looking forward to it."
Joe Schofield added: "We aim to create one of the best restaurants in the North of England, right here at Stock Exchange Hotel which is a natural next step in our hospitality career. Using the core pillars of our brands, we will transform the former trading floor into a space destined for food and drink lovers, whilst providing an expectation-exceeding experience for the residents of the hotel."