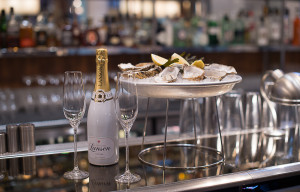 It's September once again, which means three things – school is back in session, the days are already getting shorter and feeling colder, and its native oyster season. To celebrate that last fact we've got the definitive list of restaurants and bars serving the best bivalves in London and across the UK, according to our 2015 survey.
LONDON
Bentley's W1
£82
Native oysters: £2.75 each or six for £16.00
"Sit downstairs and be entertained by the team of charming oyster shuckers", if you visit this handy veteran fish restaurant, a couple of minutes from Piccadilly Circus; there's also a less interesting dining room upstairs.
J Sheekey Oyster Bar WC2
£63
West Mersea native oysters No.2: £3.75 each
Expansion has done nothing to dim the charms of this "fabulous" bar attached to the Theatreland legend, where "simply outstanding fish dishes" are "efficiently" served perched at a stool around the glamorous and supremely "buzzy" bar.
Bibendum Oyster Bar SW3
£60
"For a pop-in lunch or light meal", this luxurious seafood bar, on the way in to the Chelsea Conran Shop, can be ideal; after a recent revamp, the odd purist doesn't like the addition of hot dishes to the menu, but standards remain solid overall.
The Cow W2
£59
"Fresh-as-you-like seafood, among the west London glitterati" – Tom Conran's cramped but "friendly" Oirish boozer, on the Bayswater/Notting Hill border, "is a great pub in its own right", but its Guinness and oysters "make it a pearl!".
Randall & Aubin W1
£55
Native oysters: £22.00 for six
"Just right for Soho"; this "high energy" champagne and seafood bar is a "fun" place in a very handy location; it's "always full".
Wright Brothers (Soho, Borough Market, Spitalfields, South Ken)
£53
Wright Brothers Helford natives £3.80 each.
"Oysters zinging with the taste of the sea" and other "phenomenal" seafood has made a major hit of the "crowded" but "happy" Borough Market original; its more spacious Soho and, now, Spitalfields spin-offs are good too, if not quite so much fun.
Bonnie Gull & Bonnie Gull Seafood Bar (Fitzrovia & Exmouth Market)
£49
Oysters from £2.50 each
Restaurant: "The sort of place you'd expect to find in a coastal town!"; this "cramped" Fitzrovia bistro serves "a genuine range" of "outstandingly fresh" fish and seafood, all with "personal" service and at competitive prices.
Seafood Bar: "Amazing" oysters – loyal customers can even win an Oyster Card, geddit? – head up a menu of "simply prepared and beautifully presented" fishy dishes at this "seaside-style" café.
TOP TIP FOR LONDON
The Richmond E8
Maldon Kumamoto (Essex) oysters: £2.75 each
On the former site of LMNT, a new breed of gastropub from Brett Redman (of Borough Market's Elliot's) and Margaret Crow, dishing up comfort food, snacks and shellfish at Hackney's only raw bar – oysters are just £1 each at happy hour!
OYSTERS AROUND THE UK
Whitstable Oyster Fishery Co., Whitstable, Kent
£58
Half a dozen Whitstable oysters: £16
"Wonderful, but best during the week when there are fewer tourists about"; this "vast and vastly popular" institution – "in a beautiful restored warehouse right on the beach" – "does what it says on the tin", with "the main focus on oysters and seafood".
The Oyster Box, Jersey
£58
Special no.3 chilled oysters: £8.50 for six
A "delightful" beachside bistro, which twins "quality seafood" with an "unmatchable outlook" – "what could be better than sitting on the terrace drinking wine and eating fabulous food in the sun?"
The Oystercatcher, Portmahomack, Highlands
£57
Half dozen oysters available to start as part of their two or three course dinner menu: £29.50 and £36.25 respectively.
In a "small coastal village north of Inverness", this "welcoming and friendly" bistro offers "excellent fresh seafood" and "very reasonably-priced" wine in a "traditional rather than 'designer' ambience" – "perfect!"
The Oyster Shack, Bigbury-on-Sea, Devon
£51
Oysters: £2.40 each or £14 for six.
"It's a shack, it serves spanking fresh oysters (and other seafood), and it's proper brilliant!" – not much to add about this "lovely relaxed" haunt which, with its plastic tables and chairs, "rather resembles a Greek taverna".
Loch Fyne Oyster Bar, Clachan, Argyll & Bute
£49
Caught fresh everyday: £12 for six
"A great place to break a journey"; this "well-run" seafood destination and deli on a remote lochside – which inspired the national chain to which it is no longer related – pleases all who comment on it; the menu, though, is "less extensive than it used to be".
Riddle & Finns and Riddle & Fins on the Beach, Brighton
£48
Loch Ryan Natives: £2.80 each, £16 for six
These "jumping" joints have many fans for their "fresh seafood, well and simply treated"; in addition to the candlelit Lanes original, there's now a beachside offshoot champagne and oyster bar, where the al fresco tables are best – if you must sit inside, make sure you sit at the front.
Ee-Usk (Seafood Restaurant), Oban, Argyll & Bute
£46
Oysters from Loch Creran: £1.95 each, £8.95 for six
"Not just superb fish but also a superb location looking over the harbour and out to the Isles" – this popular restaurant impresses almost all reporters with its "amazing" food; among the highlights – "the best oysters I have ever had!"
Wheeler's Oyster Bar, Whitstable, Kent
£45
"Everyone should have a meal at least once", at this "tiny" (16 seats), "quirky" and "utterly unbeatable" institution, established in 1856; the style is "homely (in a good way"), and the "amazing" seafood is "a fishlover's dream come true"; no licence but BYO with no corkage.
The Italian Club Fish, Liverpool
£45
Half a dozen oysters (or ostriche if you like): £10
"Superb fish and oysters" (with, and without, chips) are on offer at this "casual" Italo-Scottish bistro, near Central Station.
£42
Tipped as a good all-rounder, a "cosy" seafood restaurant which makes good use of "oysters from the Exe and lobsters from Bembridge"; perhaps unsurprisingly, it gets "very busy during Cowes Week"!
West Mersea Oyster Bar, West Mersea
£38
Colchester Natives (No.3s): three for £3
"You do not go here for the (IKEA-style) decor or setting" – a very different ambience from the famous nearby 'Shed' – but rather for the "wonderful" fish 'n' chips and oysters.
Butley Orford Oysterage, Orford, Suffolk
£38
Fresh Butley Oysters £8.30 (half dozen), there's also oyster soup for £6.80
"Unchanging after 50 years, but still without rival" – this "no frills, old-fashioned and quaint" establishment – "basic, but spotlessly clean" – serves "massive, creamy oysters unlike any others", "really special smoked fish" (from their own smokery) and some other "straightforward" fare.
Recent News from Harden's