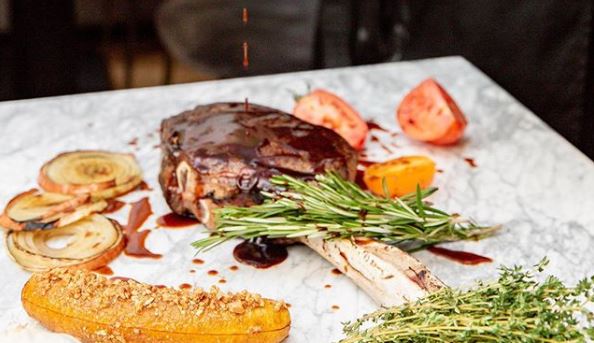 Stork, a new west African restaurant from debutante restaurateurs Michael Adjovi Kalu and Nadina Grigoras, has opened in Mayfair.
The restaurant is one of the more original-sounding openings so far this year, playing on its founders' roots: "Stork is a fresh concept that puts the spotlight on fusion dining at its finest – modern British infused with the essence of West Africa and Eastern Europe."
The menu is eclectic, with starters such as Scottish lobster and steam mui mui, and chicken schnitzel with new potatoes and Berkswell. They might follow snacks like 'chin chin', a fried snack of crispy dough, and 'beef suya', a skewered meat – usually chicken, goat, beef or mutton.
Main courses range from sea bass with leeks to chicken breast with gizzards. Eastern European influences come in the form of casseroles, a heavy use of mushrooms, and saddleback pork.
"The restaurant's concept follows the flight of its namesake, the stork, on its journey from East to West," say the founders.
"The menu's global influences are collected along this journey, gathering taste inspiration and flavours from the countries in the Stork's path. A true migration of taste."
It sounds a little like a posh version of Giraffe. Hopefully it isn't.
Kalu said he felt London needed a greater West African showing: "There is nowhere in London to experience the true flavours of West Africa [what about Ikoyi? Ed]
"Little is known about West African or Eastern European cuisine and Stork brings these global flavours to London. Stork offers a unique dining experience, a true taste sensation from a global cuisine."
Chef Adebola Adeshina heads up the kitchen and menu development at Stork.
"Adeshina has a portfolio of fine cuisine experience, starting work at Aubergine under Gordon Ramsay, followed by Marcus Wareing," an announcement said.
The restaurant is set over two floors, with 120 covers. There's a bar upstairs with regular DJ sets.
Recent News from Harden's