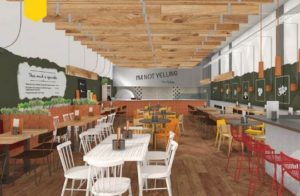 Tonkotsu isn't the only restaurant about to open in Ealing. Dicken's Yard is hot property, and while it might not be a Market Halls in Victoria or a Bloomberg Arcade, it's still attracting names.
Simone Remoli, chef and founder of Pasta Remoli, will be opening a new restaurant in Ealing on November 23, bringing his classic, simple pasta concept to West London.
The family restaurant will be situated on the boulevard at Dicken's Yard, with modern interiors and outdoor space.
The food is simpler still – diners are asked only to choose their pasta, their sauce, and to add cheese at their leisure. On the menu will be dishes such as seafood spaghetti, oxtail agnalotti, antipasti plates, and traditional Italian puddings.
Remoli said: "I am so excited about our new restaurant. Dicken's Yard is such an exciting new location for us, with many shops and restaurants. We're expanding into West London and I cannot wait to create a new family of regular customers there."
The site is the third in a growing brand. Two other locations, in Finsbury Park and Westfield, Stratford, have won plaudits. Pasta Remoli is nothing groundbreaking, but reporters talk "brilliant pasta", and say that "everything's freshly cooked, and there are delicious sauces."
Recent News from Harden's