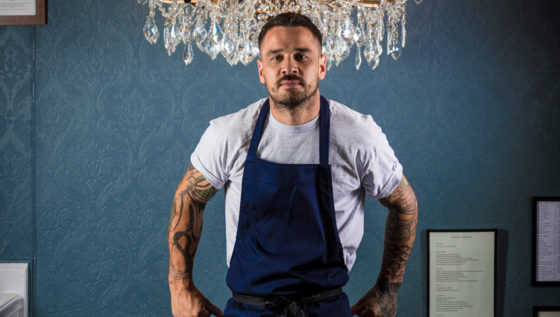 Chef, restaurateur, and crowdfunding powerhouse Gary Usher has broken a world record after raising £100,000 in 11 hours to help open Kala, his sixth venture to date.
Usher announced his plans on Instagram last week, conceding that while he had planned not to crowdfund for Kala, he had "f*cked up" and needed a cash boost to open the Manchester restaurant.
As with his prodigious Sticky Walnut and the other North West restaurants in his burgeoning Elite Bistros empire, Usher pulled it off, and managed it with a dash of panache. Kala became the fasted funded restaurant project in Kickstarter history on Monday.
In three minutes, £13,000 had been raised; in half an hour, £50,000 was in the kitty.
Usher saw support from the likes of Tom Kerridge, while #Kala was soon trending on Twitter. The restaurant is now expected to open in May.
"I am honestly struggling to get my head around last night," he said.
"It's not really about the money – it's the people believing in what we're trying to do at Elite Bistros. The support we have is always incredible and not just from those who pledge, but everyone who we work with on a daily basis.
"We only realised a few weeks ago that we were going to need more money to open Kala and yet we have managed to raise this amount in such a short period of time.
"The sense of community we have at Elite Bistros is really special and something I never take for granted. The money means we can continue with the KALA build, be open by May and we really can't wait. Manchester, we'll see you soon."
The current Kickstarter campaign finishes at 1am on Saturday March 16. It follows Usher's last effort, which saw £50,000 raised for Preston restaurant Pinion in an hour.
Kala, a 55-cover restaurant serving breakfast, lunch and dinner, will be managed by Katy Mills and will feature a separate 15-cover bar space available for customers to enjoy a drink.
Head chef Zhelyazko Zhelyazkov, or 'Jiji', has the likes of Moor Hall and Raby Hunt to his name.
The menu that will feature bistro style dishes such as burrata, beef tartare, and braised featherblade beef.
The city centre restaurant will also offer an all-day menu at the bar, with snacks such as pigs head sausage rolls and pickled eggs.
Recent News from Harden's