Our weekly round-up of what the national and local restaurant critics writing about, for the week ending 10 May 2020; the country remains in lockdown, with restaurants, cafes and bars officially closed due the coronavirus outbreak, possibly until July.
You can still support your local and favourite restaurants; many are offering takeaways or deliveries, or you can buy produce, meal kits, vouchers, cookbooks or merchandise. Check out their social media pages for details (all available via hardens.com)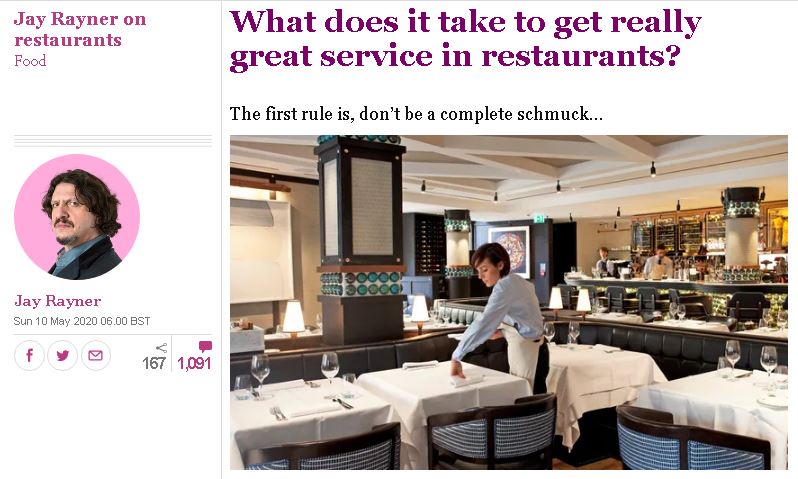 The Observer
"In the depths of lockdown many of us talk wistfully about the restaurants to which we would like to return. Often, we frame it around the joys of a certain dish…. In truth, however, it's the whole package we're after. And front and centre of that has to be service."
Jay Rayner's lockdown non-review this week – on how to get really great service in restaurants – can be summed up in one simple phrase: "don't be a complete schmuck".
He thankfully uses up the rest of his word count to elaborate, starting with: "we first have to understand what great service is".
Sometimes "terrific service is a sleight of hand", other times it's knowing "exactly when to be there and when not to be there", "apologising" when things go awry, watching the room and having empathy with diners.
"First, avoid empty dining rooms. Restaurants function best when they are busy… Secondly, if you really want good service, become a regular… And if something goes wrong, don't sit there fuming about it. Explain gently what's happened as soon as it's happened and see if they can put it right."
---
The Evening Standard
Following Boris Johnson's update to the nation, The Evening Standard reported on Foreign Secretary Dominic Raab's statement that "restaurants and pubs across the UK will not open until July 4 at "the very earliest".
The Standard also reports on Hot Dinners' poll of where diners most want to return to after lockdown: steak chain Hawksmoor topped the bill: Hot Dinners editor Catherine Hanly said, "Obviously Londoners are pining for all that amazing food, but what we're really hearing from readers is that they miss the atmosphere, the banter with staff – all the hustle and bustle of being in a busy restaurant".
---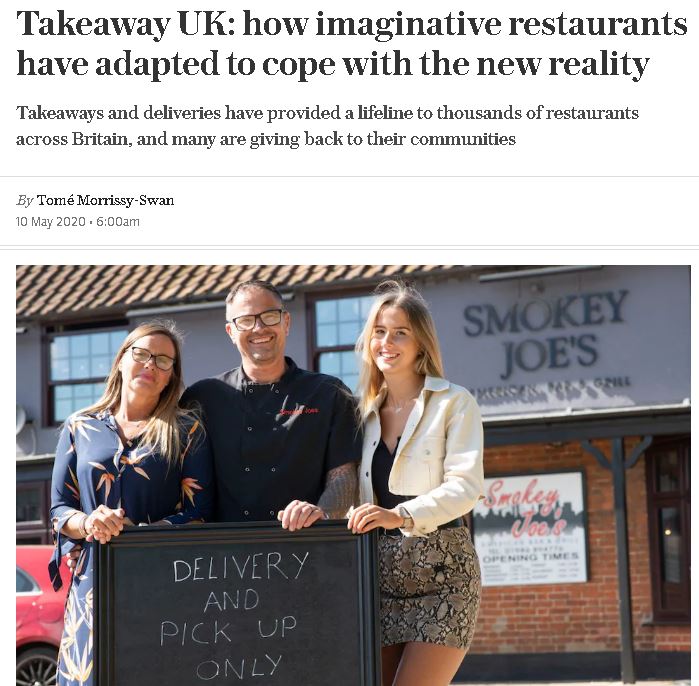 The Telegraph
Tomé Morrissy-Swan's article about "imaginative" restaurants pivoting to delivery and takeaway models featured a 'date night' takeaway from Lyon's in Crouch End.
"We mainly think of takeaway food as limited to a few cuisines, often from delivery-specific locations. Now everywhere from Michelin-starred restaurants to neighbourhood bistros, your local café to your local, is delivering."
---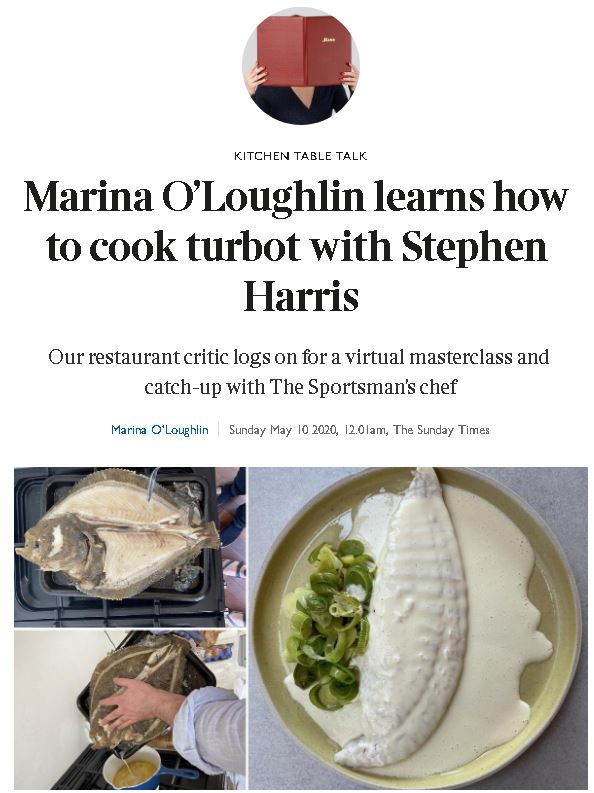 The Sunday Times
This week Marina O'Loughlin enjoyed another celebrity virtual cookery class, this time with Stephen Harris of the Sportsman – and the "muscular, slimy flesh" of a whole turbot.
"Fish wrestling is why God invented restaurants, I complain to Harris and partner Emma Read via screen to their Whitstable kitchen."
They discuss the rise of the turbot as a celebrity ingredient (which has caused prices to inflate massively) – they both blame Brat, and Harris claims "the turbot love is all about visits to San Sebastian". They also cover what Harris is doing with all the "unusable stock" and the "restaurant biz's pivoting initiatives" (Harris is "unconvinced about home deliveries" although he'd be happy to work in a soup kitchen "as long as someone else was organising it").
"The finished turbot is a majestic dish. Even my own efforts. Were I to be presented with this in a restaurant, I'd be happy as a clam." While chatting, Marina also makes a "super-simple" chocolate dessert with just two ingredients – Harris is making both dishes at the same time too, and his 7-year old son enjoyed the pudding.
---
Vanity Fair
An interesting and thought-provoking article in the recent Vanity Fair described what the chefs of Sweden learned from not closing their restaurants during the coronavirus outbreak.
"By and large… restaurants have stayed open throughout the crisis, which means they have a couple months' experience with operating under social distancing measures, worrying about the health of their staff and guests, and adjusting both to the public's tightened wallets and its potentially changing tastes." Numbers of tables and staff members have had to be slashed, too.
Some restaurants have thrived: the two-starred eponymous restaurant of chef Daniel Berlin filled up with locals after all the "international guest" bookings cancelled – they'd previously been unable to get a booking. He admits, "it can be so nice not to have foodies in the restaurant".
Chef-owner Niklas Ekstedt "found a new audience" at his eponymous Stockholm joint too, after reducing costs and redesigning his tasting menu. "Total sales aren't meeting pre-coronavirus levels", but "the restaurant is doing enough business… to make it through the crisis" and "the whole experience has made him rethink some of his priorities" and attracting more Swedish custom.
Others have not fared so well. They have also had to accept "just how profoundly dependent they are on foreign tourists". Stockholm's two-Michelin-starred Oaxen Krog's bookings are down 80%.
There's an interview with René Redzepi, who is also re-thinking what Noma will look like when Denmark re-opens for business. "No one is dreaming of sitting down for five hours over a 10-course meal," he says. "We're dreaming of being out with friends, ordering two bottles of champagne and a big platter of shellfish."
Despite all these pledges to attract more local custom, there's "something ironic about restaurants that are, in the main, known for highlighting the local and the seasonal while catering to diners who are anything but…. And for all the impassioned embrace of organic agriculture and zero food waste, few seem ready to turn away their jet-setting clientele in the name of environmental sustainability."
The Guardian
Grace Dent mulled on the joys of subliminal grazing: "Life is short, so have a KitKat. The feeling of my thumbnail sliding through the silver paper was ever so comforting."
"Being hidden away over springtime has permitted many of us to eat without the annual creeping tyranny of how we should look in time for summer. Wedding invites were cancelled, summer parties scrapped, flights were suspended and, therefore, sod being beach-body ready, frankly."
---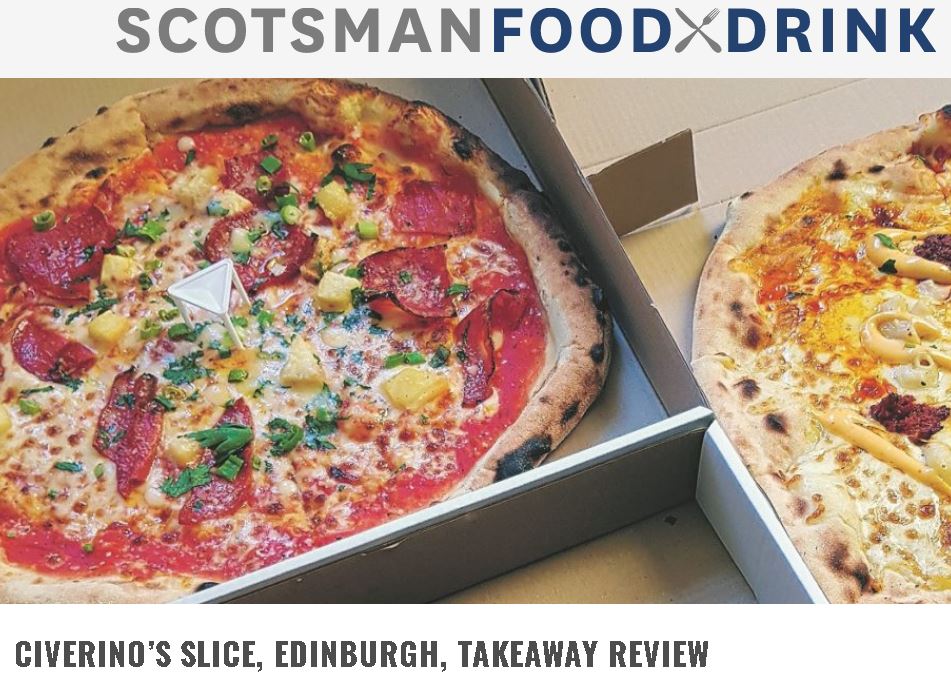 The Scotsman
Gaby Soutar reviewed another restaurant takeaway meal this week, this time from Civerino's Slice in Edinburgh's Old Town (the owners also have a Civerino's in Hunter Square and The High Dive in Newington).
In order to fully appreciate the efforts they have gone to in order to "bringing succour to stress munchers like me", Gaby and her other half ordered "three of their dirtiest sounding 14-inch pizzas". You can also order a 'make at home' kit or "donate an NHS Pay it Forward pizza, £10, for the staff in a local hospital ward".
"Of our selection, the 'return of the mac' was here to rock the show. I've had macaroni cheese in a pie and toastie, but never on a pizza." The 'pineapple express' was a Hawaiian without the ham (adding "mega hot Calabrese sausage" instead), but the 'lowrider' (essentially pulled pork nachos with ALL the trimmings on a pizza) was "maybe a step too far".
She wasn't able to order the "cinnamon and sugar-powdered doughnuts" called zeppole that her sister had become addicted to while pregnant, as they were sold out. Maybe next time. (80%)
And also…
William Sitwell in The Telegraph and Tom Parker Bowles for the Mail on Sunday again published nothing, while The FT posed the lockdown question on everybody's lips (or is it?): "How are you coping without your cleaner?"
Recent News from Harden's