We are but days away from the Glorious Twelfth. Soon, Britain's rural enclaves will be rife with the sound of shotgun fire.
And after Yorkshire's moors and sweeping Scottish hills are punctuated by gunshots, a flurry of feathers and heady glasses of whisky, grouse will be whisked to the country's best restaurants. Game season will have officially begun.
Game is a fine tradition in the Britain. We've long sought after pheasant, partridge, duck, pigeon. And venison, of course. But where's best to enjoy the best of it all?
Here are some game options…
A traditional, lively pub, The Jugged Hare offers a game-centric menu when it can. Chefs will be heading out early on Monday August 13 to grab their share of red grouse and dishing up a five-course feast.
Diners can expect smoked roe deer with whisky and redcurrants, braised rabbit shoulder, and grouse with game chips. Dinner costs £85 per person.
Chef and hunting man Steven Smith shoots his own birds. He'll be serving a classic three-course dinner on August 15 for £65 per head.
There'll also be a fish menu for those less inclined. Smith cooks some of the "finest food in Ribble Valley".
This year, Tom Kitchen will be serving a special grouse dish of bread sauce and lingonberries, which will be available from August 14 in his Leith restaurant.  "They clearly value great produce and know just what to do with it" say our Harden's reporters.
His pub, The Scran and Scallie, will start doing grouse on the 13th, if you can't wait.  According to our reporters, "if you want to see and be seen in Stockbridge, this is the place for you".
At 1 Lombard Street, you'll find roast grouse with game chips and bread sauce. As classic as game season dishes come.
The restaurant is "decent and trusty", and handy for anyone unable to get out of London this coming week with its " great central location".
On the other side of London, Anthony Demetre's agreeably "restrained" (and business-friendly) Mayfair venture  will be doing roast grouse with blackberries and late summer vegetables.  A lighter dish, perhaps? Well, lighter, anyway.
There'll also be a grouse and Armagnac soup with grouse liver tartine and raw cream from September.
Of course the Cotswolds has its fair share of game. And The Wheatsheaf, a 17th century coaching inn is always a prime location for the best of what the season brings. After all, the "welcome is always warm and the food top-notch".
Chefs at the pub are eager to land early birds and start serving quickly. Indeed, other pubs in the area, such as those at Ian Coley Sporting, want to be first to get their grouse with game chips on the menu. The Wheatsheaf will be serving its dish with a large glass of its 'Are You Game?' Shiraz, for £30 per person.
British restaurant Maggie Jones's and Belgravia's French restaurant La Poule au Pot will both be adding the bird to their menu. Grouse will be served alongside celeriac mash, red cabbage with game sauce and will be available in both restaurants from the second week of August.
Maggie Jones's will soon also be serving partridge (September) and pheasant (October), while La Poule au Pot will feature squab pigeon and medallions of venison (September).
10 Greek Street in Soho will be serving a selection of game dishes soon after the first shoot. The restaurant, which is popular with Harden's readers, sources its meat and game from Welsh farmer Mark Jones, with wines courtesy of sommelier Luke Wilson.
Dishes over the next few months include venison wellington, served with truffle mash, girolles and cavolo nero (£26); whole pheasant with brussels tops, roast garlic and tarragon bread pudding (£36 for two); hare, new potatoes, pancetta, creamed leek and spinach (£22) and grouse – ah, here it is – with a potato gallette, kale and grilled plums (£28). Also notable is the fact chef Cameron Emirali makes use of whole pheasant, using pluck for pate, while leftovers are turned into rillettes. Any other off-cuts are used up at their other project The Whitechapel Refectory, a café and wine bar serving small plates at East London's Whitechapel Gallery.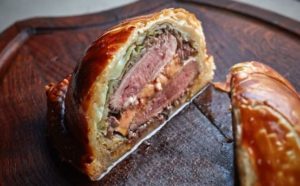 The Glorious Twelfth is always celebrated at Corrigan's Mayfair, where game is integral to seasonal proceedings. As well as grouse, partridge, duck and pheasant, the likes of goose, common snipe and woodcock may also make an appearance on the restaurant menu from August 13. As noted by Richard Corrigan, venison (staggered, gender-specific hunting), wood pigeon and rabbit are available year-round.
Corrigan also pays homage to fish, so expect plenty of fly-caught freshwater salmon and trout, too; you may remember his wild salmon dish on Great British Menu some years ago. Corrigan said: "Game was a big part of my childhood. I have been catching and cooking game since I can remember and I taught myself how to get the best flavour from it, so with Corrigan's Mayfair, it seemed like a natural choice to make – that, and the fact that game is delicious!"
Hot Newcomer 20 Stories in Manchester is getting in on the grouse action from the 19th floor at No1. Spinningfields in the North's 'food capital'.
Chefs will be offering grouse roasted with a paté of the livers and a blackberry sauce from August 13.
Let us know what you think of 20 Stories.
Galvin La Chapelle is putting on a five-course grouse dinner on August 20, complete with fine wines.
The menu will feature pressé of Landes quail and foie gras, pomegranate and apple; poached wild halibut, shellfish emulsion, cucumber and caviar; roast Scottish grouse, boulangère of leg, savoy cabbage and wild mushrooms; and brillat-savarin with late summer truffle, grape chutney and walnuts.
On a closing note, let's hear from chef patron Jeff Galvin:
"Game is a wonderful wild product that tastes like nothing else. It is always varied with different flavour notes which invites exciting wine pairings.

"The red grouse is a completely wild bird unique to Britain and a seasonal delicacy. In the past it was traditional to eat game on the Glorious Twelfth, but we prefer to wait a few days to ensure the birds are in prime condition."
Happy shooting!
Recent News from Harden's