Here is our weekly round-up of what the national and local restaurant critics are writing about, for the week ending 28 February 2021.
England remains in national lockdown, although with a 'roadmap' of dates for restaurants and pubs to re-open from 12 April at the earliest, and then only open to serve single households seated outdoors: https://www.gov.uk/government/publications/covid-19-response-spring-2021/covid-19-response-spring-2021-summary.
All of Wales is at alert level 4, with similar restrictions to full lockdown: https://gov.wales/alert-level-4
Mainland Scotland is also in a national lockdown with guidance to 'stay at home', although schools have returned: https://www.gov.scot/publications/coronavirus-covid-19-protection-levels/
Northern Ireland is under strict restrictions until 1 April: https://www.nidirect.gov.uk/articles/coronavirus-covid-19-regulations-guidance-what-restrictions-mean-you
Please continue to order takeaways, cook-at-home kits, vouchers, merchandise and deliveries from your favourite restaurants if you can (we include links to those mentioned); the restaurant industry and everyone involved in it need our continued support.
*****
The Evening Standard
Lots of feedback and reportage on the roadmap to re-opening restaurants (and the long wait to do so), the Budget and a possible Eat Out to Help Out 2 (both the timing and the health and safety aspects) in this week's Standard.
*****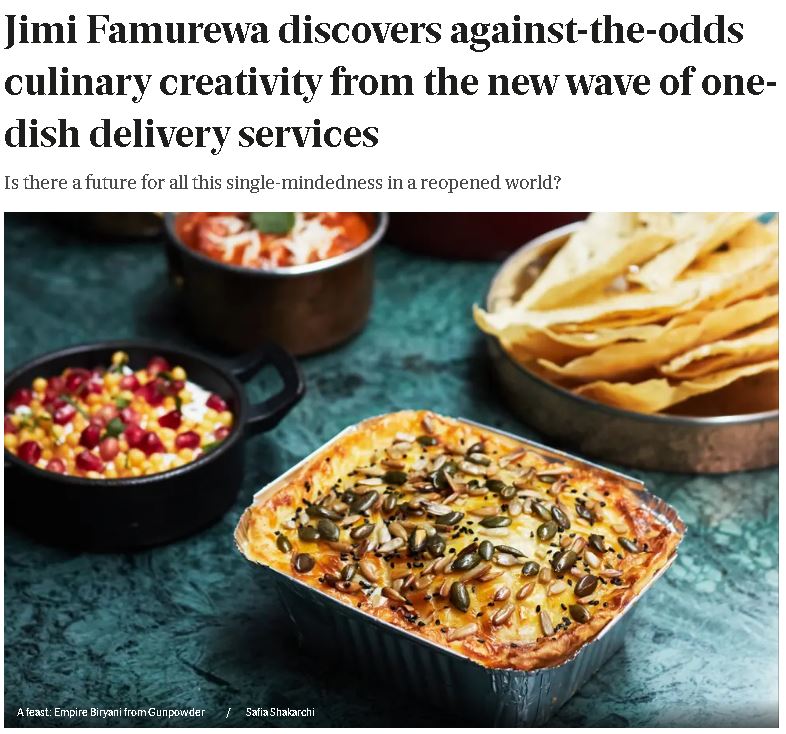 Chief restaurant critic Jimi Famurewa eulogised on the "the supremacy of the single-dish business", from Arrosto with its roast chicken offer to Willy's Pies, created in lockdown by an ex-St John chef, and newcomer ParmoHub "a one-item spin-off operating out of regional steak chain Tomahawk's new Hoxton site" serving nothing but parmos ("that unholy, Teesside-born synthesis of breaded chicken, cheese and a sort of ineffable heavily inebriated desire").
"From big-name groups launching simplified spin-offs to furloughed chefs growing mini empires from their cramped domestic kitchens, it has been one of the most cheering hospitality stories of this cursed year", although he does wonder if the trend will survive the end of lockdown. (He then counter-argues that a Willy's Pie has the "sort of jubilant, against-the-odds culinary creativity [that] feels like a genie not easily crammed back into the bottle".)
In the name of research, Jimi ordered from ParmoHub and received "a chicken escalope of nightmarish proportions, haphazardly scattered with jalapeños, chorizo and a vast, oozing spill of cheesy béchamel. Viewed through sober eyes it was almost comically distressing. But…it had a diabolical effectiveness that was hard to deny." He also sampled the "refreshingly lo-fi, finish-at-home feast" from Empire Biryani.
"The return of restaurant dining will bring a drastic levelling off and reduce kitchen availability. But allied with the game-changing eureka moment of finish-at-home, which has decisively democratised takeaway for those outside prime restaurant delivery catchments, the best of these specialist brands feel like permanent fixtures; habit-forming, unpackable parcels of happiness that have got lots of us through this nightmare."
*****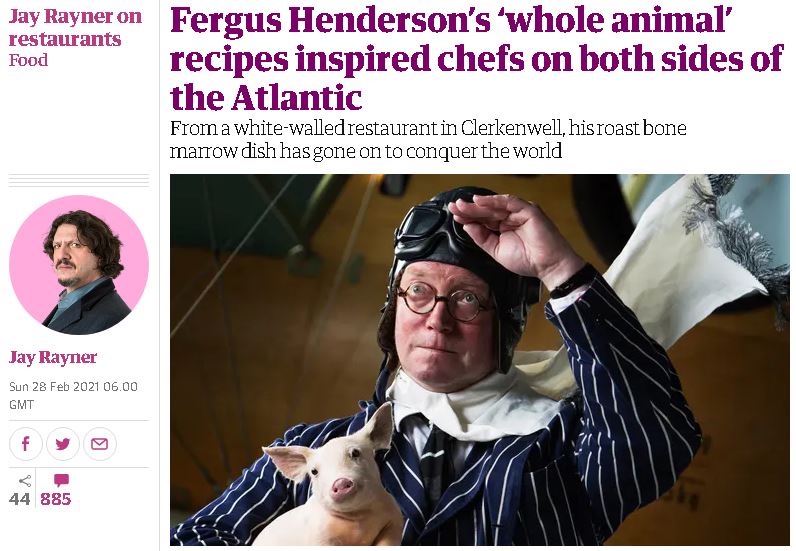 The Observer
"The books featured in this series so far have had a serious impact on legions of home cooks. Nose to Tail Eating: A Kind of British Cooking by Fergus Henderson is different." It's a book you'll find in restaurant kitchens around the world – evidenced by Jay Rayner who found (and ate) the iconic St John roast bone marrow and parsley salad in several establishments in the US.
The 1999 original edition "received great reviews, but it didn't really sell", but the book has since changed publishers and seen a new edition ("with an adoring introduction by the late Anthony Bourdain"), a sequel and a compendium published. Jay quotes several cooks whose careers were inspired or revitalised by it.
"Wilful anthropomorphising is part of the joy" of the writing, and "the book does have encouraging food shots" but also "elsewhere there's a shot of a raw pig's head being shaved with a Bic razor".
As ever, Jay chooses a few dishes to cook – a salad of roasted red onions, chargrilled Jerusalem artichokes and olives, followed by "crisp-skinned duck" in "one of those broths whose depths you could stare into for hours on end". To finish, "I celebrate a dessert I was served at St John which I regard as one of the best: a plate of golden, still-warm madeleines".
"That's the thing about Nose to Tail Eating; it's a book within which you will always find something profoundly comforting."
*****
The Telegraph
The Telegraph has woken from a lockdown slumber and produced three restaurant-related articles in a week, almost more than they have published all year. One summarises the Prime Minister's announcement on Monday 22 February and how the lifting of lockdown restrictions apply to the hospitality industry.
"Pubs and restaurants will open in two stages – first by offering outdoor service only" from 12 April at the earliest; anyone without al fresco space "will have to wait at least another five weeks, when the third step of the roadmap kicks in on May 17, before they can serve customers inside". At both steps there will still be restrictions on the number of households which can meet.
The curfew and "Scotch egg rule" will no longer be in place.
*****
In the second article, "chef Tom Aikens reveals the fine line between success and failure" on the latest episode of William Sitwell's podcast Biting Talk. Possibly poorly timed given that so many very successful restaurants are being forced to close?
According to Tom, there are just three ingredients to success: "Great food, great service, great ambience. If you get those three things right, people will hear about you and will come. And once you have those magic three things you're on the up and up. It's only the restaurants that aren't offering one of those things that always suffer."
*****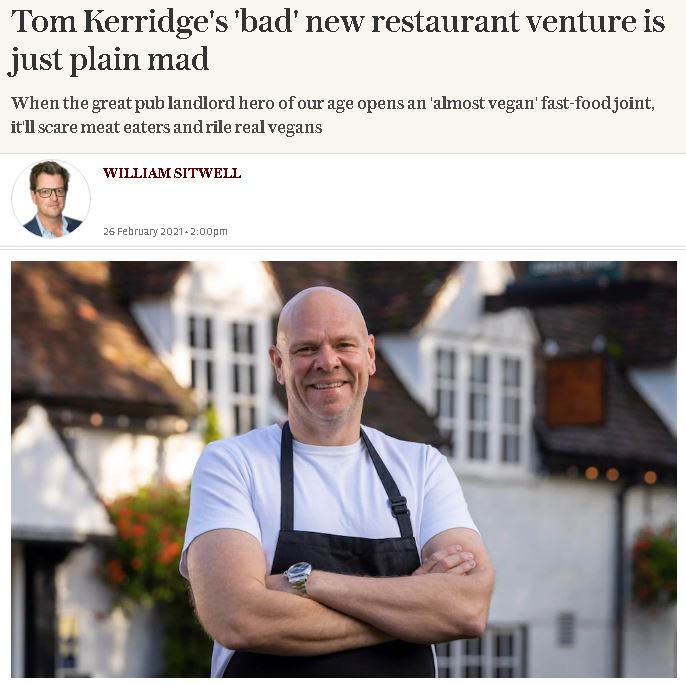 The final Telegraph article was also from William Sitwell, that notorious friend of vegans, criticising the concept of Tom Kerridge's new restaurant Bad Vegan. His points do make sense ("nothing that creates dreaded pitfalls in life than blurred lines") and he's also right when he says a 'mostly vegan' restaurant "comes as both a worry to committed meat eaters and prompts a seriously raised eyebrow among fully-fledged vegans".
It's also "one of the most supremely irritating uses of the word 'bad' in the modern age", seeping "into the food world replacing the equally annoying term 'dirty'" and "back-archingly trendy".
"The problem… is that being vegan is like a religion. And that's not me being flippantly pejorative, it's a fact. A UK court in January 2020 ruled that veganism should be regarded by the state as a philosophical belief."
He worries about Bad Vegan's promise "that it will 'offer non-vegan alternatives'. Which I'm afraid means it will encourage those customers who badge themselves vegan when it suits them." But he's not too concerned about whether it'll be a success – "Tom Kerridge – pub-rescuing hero, Michelin-starred chef, weight loss-inspiration – is as clever as he is a nice guy, and is man who has never turned out a dish that is anything but delicious, he'll probably make a fortune".
*****
The Mail on Sunday
Tom Parker Bowles in You Magazine tried out "two boxes of pure Iberian delight" this week, with the cook-at-home box kits from Spanish Sabor ("Nieves Barragán Mohacho is one hell of a cook. I first tasted her food nearly 20 years back… I've never had a bad bite.") and Portuguese Bar Douro.
Both kits cost £90 plus delivery, and featured "simple dishes, but not the sort you'd usually cook at home".
*****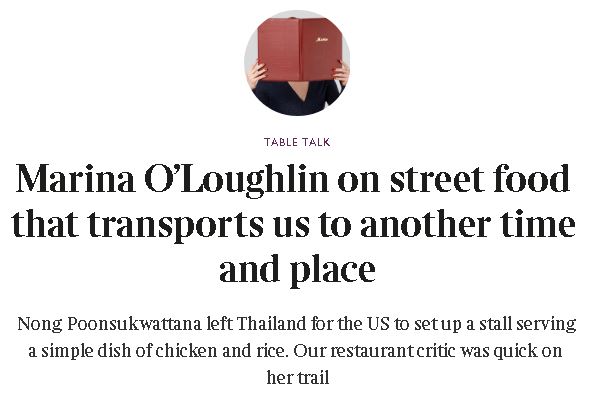 The Sunday Times
In a contrast to her article about The Ivy last week, Marina O'Loughlin takes us (virtually) to Thailand via Portland, Oregon this week.
"During years of travel writing there have been few cities I've fallen for as hard as I did Portland." The street food scene ("my personal nirvana") exploded long before the UK's did. Nong Poonsukwattana's Khao Man Gai outfit, now over a decade old, serves only one dish, chicken and rice with soup and sauce. It "was the first target in my crosshairs when I headed to Portland in 2012, its fame spreading to us food nerds across oceans".
"The whole meal, unwrapped from its butcher's paper wrapping, was culinary synergy, so much more than the sum of its parts. My mind was blown. Taste buds too."
"I hope this is what our restaurant landscape will look like at the other end of this, rapacious landlords and investment-led mentalities pummelled… If this hellscape throws up anything in its wake other than chaos and destruction, I hope it might be this model — of people cooking what they love for people who love what they're cooking."
*****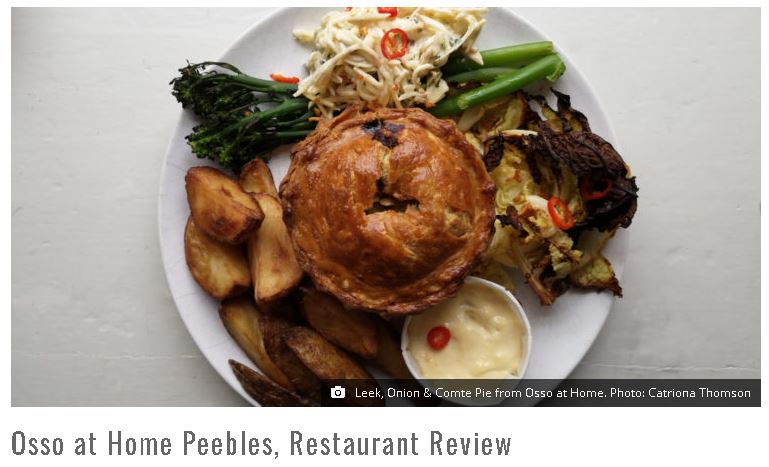 The Scotsman
Catriona Thomson reviewed the three-course vegetarian cook-at-home kit from Peebles restaurant Osso, available for collection only (meat and fish options also available).
"As the kitchen team has done all the hard work for you, a quick squint at the foolproof instructions shows us that boiling water, warming sauces, and turning on the oven are the most taxing tasks required… The only other job is plating up, and a spot of 'micro-waa-ve' as Nigella would say."
"I can't wait to get back out and see how the professionals would plate up in the restaurant but we loved the challenge of giving it a go at home."
*****
The Scotsman also offered up some Scottish virtual event and meal kit gift ideas for Mothers Day (Sunday 14 March).
*****
And also…
In The Financial Times, Nicholas Lander asks how restaurants are coping in lockdown: "even for those who have managed to pivot, the challenges remain substantial and the effect on staff can be great'".
*****
Grace Dent in The Guardian discusses odd food-based religious practices: "Neither my partner nor I is staunchly religious, yet there is enough floating about in our noggins from our respective childhoods to influence how, when and what we eat." For her, this includes Lent (a fail this year) and rolling decorated eggs downhill at Easter.
*****
Birmingham Live lists the restaurants with outdoor spaces open for booking from 12 April.
*****
Recent News from Harden's