Here is our weekly round-up of what the national and local restaurant critics are writing about, for the week ending 31 January 2021; the first few round-ups of the year are often short due to reviews being replaced by articles on Veganuary and Dry January, but reviews are especially thin this year with so many restaurants closed.
There was lots of chatter (not all of it positive) about the Michelin awards last Monday – for a breakdown of the awards, have a look at our article. Apparently poor Thomas Carr was left off the event's list with his new eponymous Ilfracombe restaurant, but he received a star too.
England is now in a further national lockdown, with restaurants and pubs closed (many are operating a takeaway or delivery service): https://www.gov.uk/find-coronavirus-local-restrictions.
All of Wales is at alert level 4, with similar restrictions to full lockdown: https://gov.wales/coronavirus-regulations-guidance#section-48600
Mainland Scotland is also in a national lockdown with guidance to 'stay at home' https://www.gov.scot/publications/coronavirus-covid-19-protection-levels/
Northern Ireland is under strict restrictions until 5 March: https://www.nidirect.gov.uk/articles/coronavirus-covid-19-regulations-guidance-what-restrictions-mean-you#toc-9
Please continue to order takeaways, cook-at-home kits, vouchers, merchandise and deliveries from your favourite restaurants if you can (we include links to those mentioned); the restaurant industry and everyone involved in it need our continued support.
*****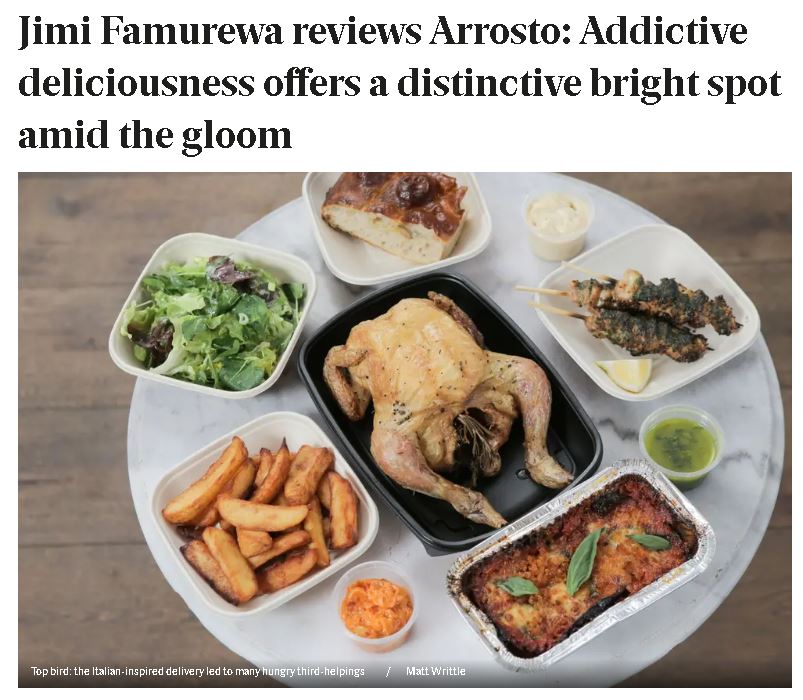 The Evening Standard
"An inspired, distinctive bright spot amid the gloom."
Chief restaurant critic Jimi Famurewa reviewed Arrosto, "the new delivery-only, roast chicken operation from the Quality Chop House team".
He described the new operation as an "Italian-inspired, deceptively simple brainwave from chef Nick Bramham" that "brings cultural specificity and, yes, the sort of addictive deliciousness you may well have to forcibly remove yourself from". The "thick, enticing scent of garlic, rosemary and sizzled fat" filled his house.
The "whole, spit-roasted chicken… was a worthy centrepiece" to the meal, "but it was the galaxy of accompaniments and add-ons that turned dinner into a frenzy of happy grunts and hungrily grabbed third helpings".
The only downside? The delivery area reaches just 3.5 miles from QCH's front door.
*****
Jimi's week in food column included the "crazily popular lamb mince, potato and zataar pasties from Will Lewis (aka Willy's Pies)" which he had to set an alarm in order to get hold of. "Extremely silly. Completely worth it." He also had a delivery from Chubby Dumpling and visited the Deptford branch of Mousetail Coffee.
*****
Also in the Standard, an article from David Ellis on the "open letter to Boris Johnson and Rishi Sunak" from the Soho Business Alliance, stating that "if Soho dies, London dies", and calling for a hospitality recovery fund, "an extension to VAT cuts, business rates holidays and grants for struggling businesses" and support in landlord/tenant negotiations.
*****
An article by Jim Armitage spells out the devastating effect that the three lockdowns have had on London's hotels and restaurants, in interviews with Marcus Wareing and Michael Bonsor, general manager of the Rosewood Hotel: "Industry figures this week showed restaurants across the UK are losing more than £1 billion a week of revenues."
*****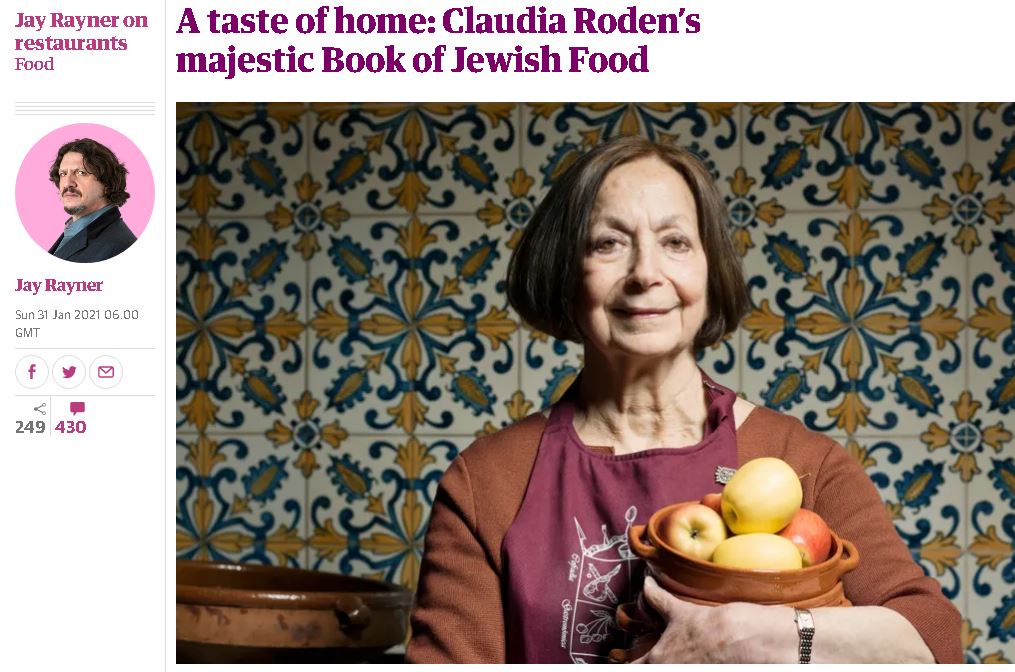 The Observer
The second in Jay Rayner's new series of articles, "thumbing through his most-beloved cookery books", focuses on Claudia Roden's The Book of Jewish Food, which he describes as "not really a cookbook at all" – he first consulted it in order to argue with his mother on a "point of cultural practice". (Simon Schama similarly describes it as "the first great encyclopedia of Jewish life".)
Yotam Ottolenghi praises the book's "thoroughness" – "a function of Roden's reluctance to stop researching. The book was 16 years in the making and was only eventually published because of an intervention by her American editor."
Two-thirds of The Book of Jewish Food were devoted to the "vivid, sunlit food" of the Sephardi from Spain, North Africa and the Middle East, which were more flexible and geographically fluid than the "hefty salt beef, chopped liver and chicken soup traditions" of the European Ashkenazi.
"These recipes aren't just nice things for dinner; they illustrate the ornate and detailed stories of everyday Jewish life which surround them." Many of the book's recipes – including orange and almond cake, a Roden family recipe – have appeared in restaurants, and are responsible for "the resurgence in Sephardic cooking, exemplified in Britain by places like Honey & Co, Palomar or Bubala".
"That's the thing about Claudia Roden's Book of Jewish Food. It is a volume that spans the world. It goes everywhere. But in the end, it always takes me home. "
*****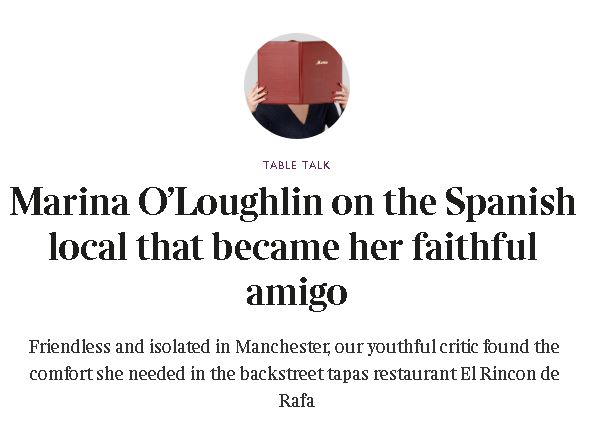 The Sunday Times
"It felt like family, like friendship, like home, the absolute definition of the role that good local restaurants perform in their communities."
Marina O'Loughlin took another trip down memory lane with a recollection of El Rincon de Rafa, a tapas joint "in a cavernous basement behind Deansgate" that she discovered while working in Manchester on Coronation Street for Granada in the mid-90s. It's still going, should you wish to visit.
"As the antidote to my lonely Manchester life, everything about it was ambrosial."
It was "the most unreconstructed of tapas joints" with a "lengthy menu" full of "all the old clichés". ("This was long before the Hart brothers launched their influential Barrafina and nobody was remotely interested in emulating Cal Pep in Barcelona.")
"I remember Rincon as a sanctuary and an escape, another country accessed by knowing its hidden backstreet."
El Rincon "taught me the many pleasures of being a regular. In a culture of neophilia, it's easy to lose sight of the benefits this can bring: being shown to a favourite table, always being able to get a booking, staff who know your likes and dislikes and are genuinely pleased to see you."
*****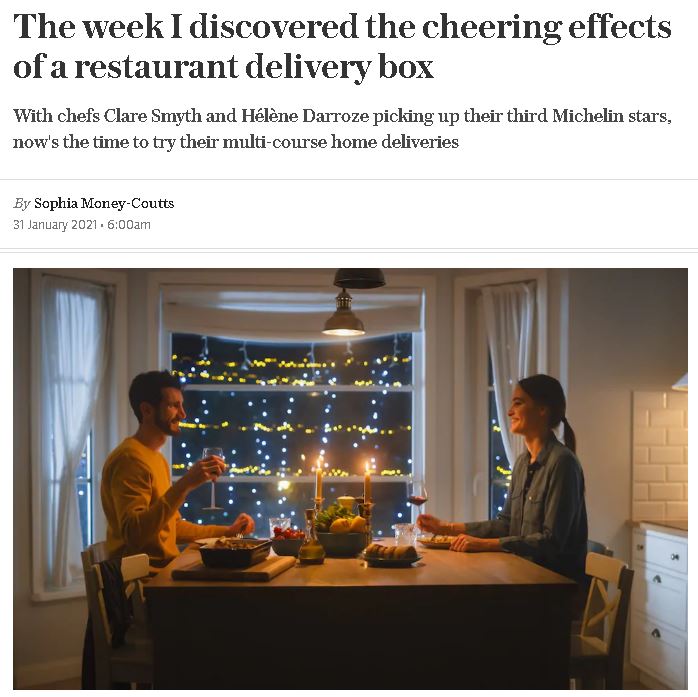 The Telegraph
A friend staying with Sophie Money-Coutts ordered the £125 delivery kit from Hawksmoor as a 'thank you' present.
"Dressed in our thermals owing to last week's cold snap, we open it, shrieking like characters from Little Women." There were martinis to sip while preparing the porterhouse steak, beers, wine, side dishes and a sticky toffee pudding for dessert (which they couldn't finish so "that remains in my fridge for whenever our arteries feel up to it").
"It was among the best evenings that I've had in the past year. Deliveroo is all very well, but this was restaurant-level food, which required the perfect amount of effort on our part: a bit of novelty bone-scraping, but not so much that it felt as if we were cooking yet again."
"One cannot gorge like this every night, but I was genuinely surprised by its cheering effect."
*****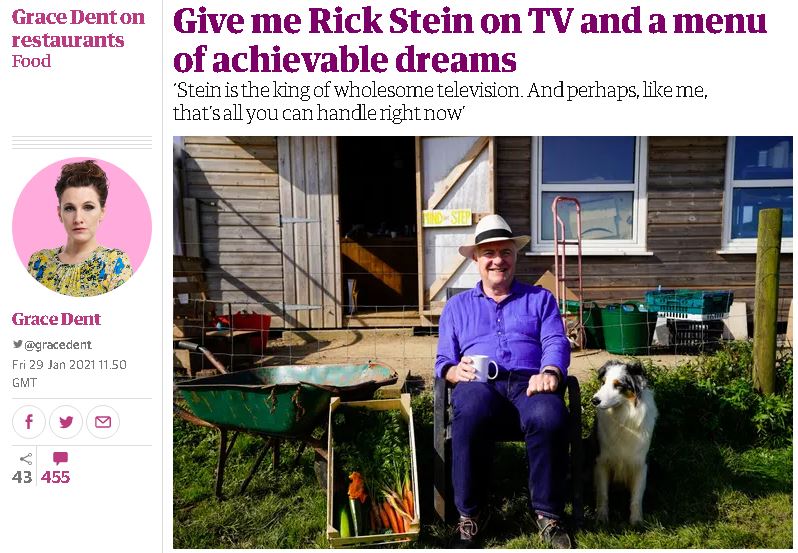 The Guardian
"Perhaps, like me, wholesome is all you can handle right now: some gentle, non-complex cookery, a little light travelogue."
Grace Dent is watching unchallenging television this lockdown, spearheaded by "the king of wholesome television", Rick Stein (although interchangeable with Micheal Portillo and Susan Calman on their various travel shows).
"Give me television with a purpose, albeit the slenderest, non-cerebrally-taxing sort; just a menu of achievable dreams for when lockdown lifts – a train journey, say, or a tearoom and a National Trust building with flapjacks."
*****
And also…
The Scotsman led with the new delivery and collection service from Edinburgh's Fhior, and reviewed both the new "upmarket restaurant experience" of a Further Afield delivery from Grazing by Mark Greenaway ("beautifully packaged", "very special" and apparently delivered by James Bond, 80%) and a takeaway from "South Asian inspired" Mamasan in Glasgow ("Banish January blues with a posher than your average takeaway", 75%)
*****
Bristol Live reviewed the delivery weekend brunch for two that Rick Stein's Padstow establishments are offering: at £43, it's a price to pay for breakfast, but it was a high quality, locally sourced Full English Breakfast (minus tomatoes and mushrooms, and baked beans if you like those), with a bit left over for tomorrow", although it does "end up with that age-old Stein conundrum… great for Cornish food, but too much to pay for most Cornish people."
*****
Recent News from Harden's