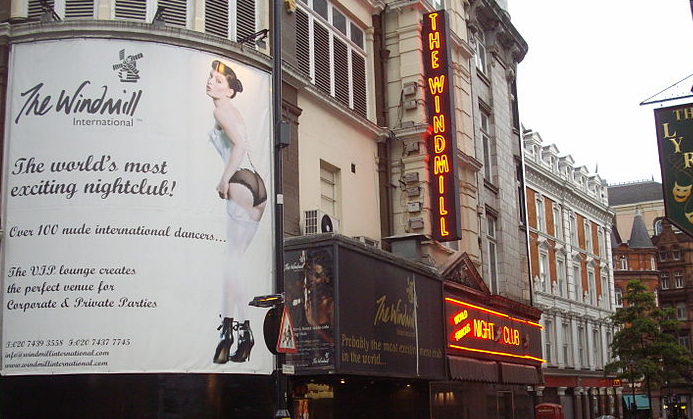 Following a £10m revamp to restore the site to its former glory, The Windmill Soho – one an icon of sleazy old Soho – will reopen in June as an "exciting 350 capacity, spectacular dining concept and bar".
Even the old, lurid "TABLE DANCING" neon signs have been re-engineered, although they are now designed to fuel nostalgia rather than inflame the desire of passing punters.
The venue will feature cutting edge variety acts showcasing unrivalled never-seen-before performances throughout the evening alongside high-end food and drinks.
An announcement said The Windmill Soho "aims to be the city's beacon of nightlife once again, bringing it back to life with excitement and electricity". It is a legendary venue, but will be hard-pressed to remedy past failings and renew its old magic. Maybe it will. The neon sign is coming back.
Chef Andrew McLeash – of Chapter One in Locksbottom, Kent – has been tasked with the food. The a la carte menu will feature lavish sashimi platters and caviar alongside ceviche and tuna and black sesame tacos.
There'll be truffle pasta, crab spaghetti, whole grilled Dover sole, wagyu sliders (obviously), and a roast rack of lamb.
Andy Mil from Cocktail Trading Company and Murder Inc has designed "intricate vessels" for drinks, which sounds more Mayfair than Soho, but we welcome any bold new ventures, especially in such dark times.
Amrit Walia, the co-founder, said: "In the 1930's Laura Henderson famously broke conventions and challenged norms to create the famous institution known as the Windmill Theatre.
"Our audacious vision is to continue her legacy and elevate this iconic venue for the next generation of Theatre goers and 'bon viveurs'. Our ambitious refurbishment and our unique-to-London innovations make the Windmill a must-visit attraction. Mrs Henderson memorably refused to close the Windmill throughout the Blitz and in this same spirit our dedicated team has worked through the Pandemic making this landmark site the home of theatre reimagined.
Ryan Bishti, Founder, Cream Group said: "I founded CREAM Group, one of London's best nightlife entertainment and hospitality groups, with an intent to provide unique experiences and to shake up the hospitality industry. I feel like we are doing just that with The Windmill Soho and it will be a unique venue that London has not seen before."
More to come…