Our weekly round-up of what the national and local restaurant critics are writing about, for the week ending 25 October 2020.
Restaurants and bars in England now have a 10pm curfew on top of the 'rule of six' guidance, and the new tier system is affecting many areas; London is under Tier 2 lockdown, which brings new restrictions but offers no financial support.
Check with your local and favourite restaurants before heading there; many that are open are operating strict timings due to curfew, reduced cover numbers and social distancing requirements, with reduced menus and booking systems (even if they didn't take bookings before); look at their social media pages for details – all available via hardens.com.
Please consider ordering takeaways or deliveries from your favourite spots if you can; the restaurant industry and everyone involved in it are going to need continued support for some time to come.
*****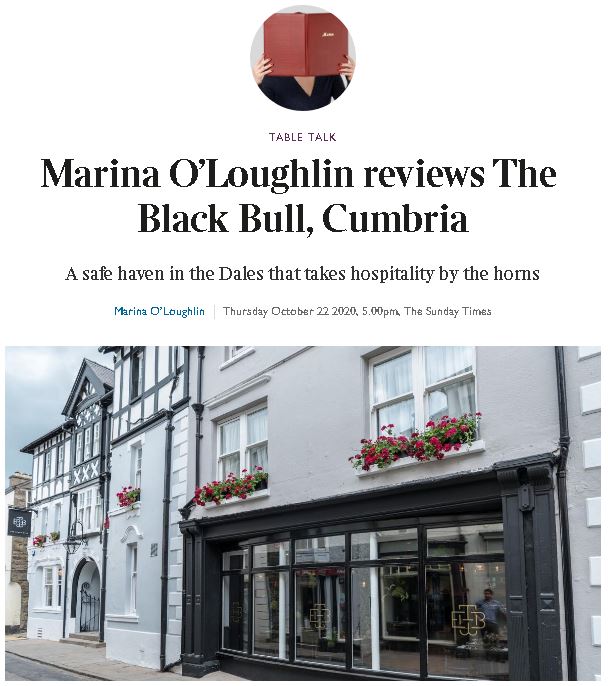 The Sunday Times
Marina O'Loughlin was in Sedbergh, Cumbria, a small country town that's a "honeypot for hikers and twitchers, for the bookish and for lovers of English heritage", to visit The Black Bull, a "handsome former coaching house that looks as though crafted by set designers to be Perfect Small Town Boozer with Rooms".
"You think you know what you're in for with this kind of place… a good community all-rounder. And yes, the Black Bull fulfils this role… but it's also so much more."
The first clue that the Black Bull is "something special" is the wine list packed with "cool and recherché bottles"; snacks served with drinks are "perfectly good" boozing fodder, but it's in the dining room that "things get a whole lot more interesting".
Chef Nina Matsunaga's Japanese-German heritage "glints through" the menu (but there's always steak and chips if you're feeling less adventurous), but there's "no tiresome grandiosity, just cleverness with fine ingredients"; nothing is "overworked or overplayed". "Her cooking is understated, unpretentious, no smears or foams or tweezers, while still nailing it in terms of provenance, creativity and technique."
Marina uses descriptions like "flawless", "thrilling", "ravishing", "electrifying intensity" and "exhilarating talent" to get across the message that this is no ordinary place;
The Black Bull is "an idyll of a place that marries everything a food nerd could wish for to a real sense of hospitality, all open fires and generosity". And as "chefs continue to bolt from the impossible cities, there's every possibility that small towns will be the future for ambitious independent restaurants".
*****
In a separate article, "certified food snob" Marina revisited Greggs's cheese and onion slice (following on from last week's review of Subway's "gloopy" chicken tikka sandwich), a favourite from her "poverty-stricken" days. She found it " blandly splendid", and even admitted to being "a bit of a fan of the pastry soggy bottom". "Greggs is a raging success story for a reason: cheap, filling, unchallenging food that sometimes hits the spot you had forgotten you even had." (The comments are worth a read if you have the online version; Times-reading foodies discussing Greggs in the most earnest manner.)
*****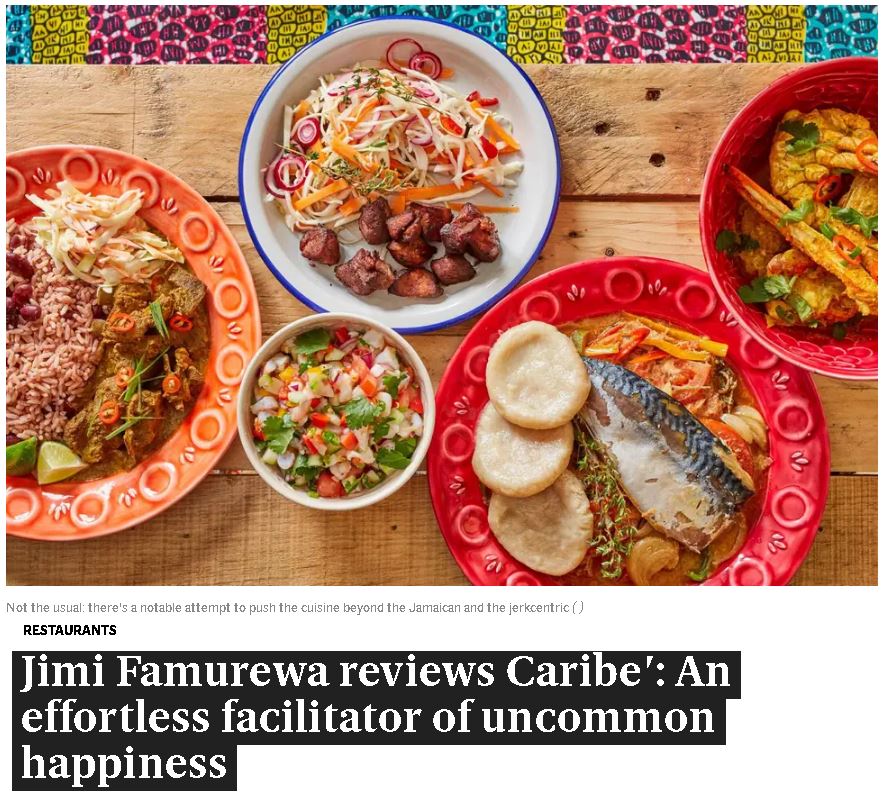 The Evening Standard
"It felt like all the giddy contentment of an idealised day at Carnival had been hooked to my veins."
Jimi Famurewa headed to the "increasingly bedraggled wilds of Pop Brixton" for his review of Caribe', a Caribbean shipping-container restaurant in a "hidden, first-floor eyrie heralded only by discreet signage and the drifting sound of roots reggae".
Before this review, his "most memorable Caribbean food experiences" had always "happened well outside the context of a traditional restaurant" (home kitchens, "deceptively knackered-looking neighbourhood takeaways", etc). Chef-owner Keshia Sakarah's Caribe' changed this view, with a "tiny, joyous Brixton restaurant that delivers both the expressive, diverse potency of Caribbean food and the sort of atmospheric sunshine that makes you want to linger for hours".
Jimi found "a notable attempt to push the conception of this cuisine beyond the Jamaican and the jerkcentric" with a meal that was "a building series of highs" (saltfish accra fritters, curry goat, "thoroughly likeable sides" and whole sea bream, with Supermalt ice cream to finish).
"Caribe' celebrates the reality of having a foot planted in two different cultures — and it does so with skill, heart and an admirable disdain for soothing clichés or easy culinary wins." But while it is undeniably "culturally important and rare" as a black-owned business, it's also simply an "effortless facilitator of uncommon happiness".
*****
Also in the Standard, an article on the "working business lunch" loophole to the tier 2 restrictions, being actively encouraged by the owners and directors of Caprice Holdings, D&D London and Jason Atherton's Social Group – a handy list of the current lunch deals on offer is included in the article.
*****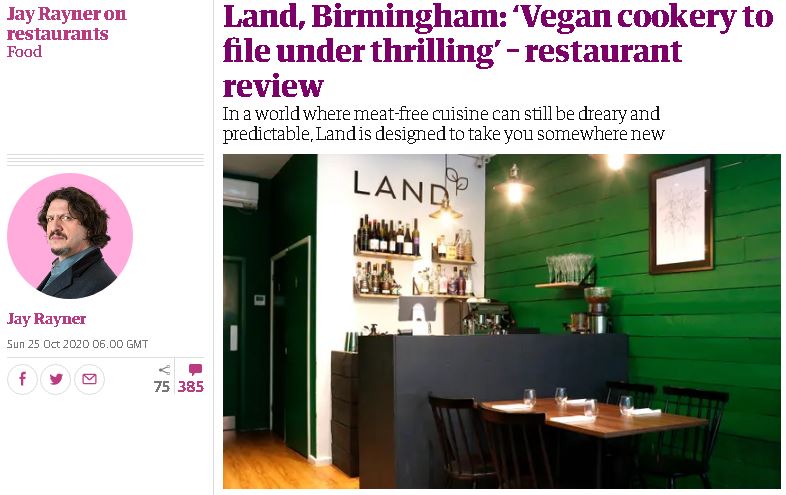 The Observer
"I would encourage as many cooks as possible to get to Birmingham right now to see what chef Adrian Luck is doing there."
Jay Rayner had a "terrific lunch" at Land in Birmingham, a small vegan restaurant "tucked away in… [a] Victorian shopping arcade"; it struck him early on "how many clichés are still present in non-meat cookery in so many British restaurants. And how many of them are completely absent here." The ubiquitous mushroom risotto, heavy use of carbs, aubergine and cauliflower found on vegan menus across the UK are missing at Land.
Luck's menu of "almost entirely vegan cookery is short – just three choices at each course – but it should be filed under thrilling". "There's enormous, nerdy attention to detail alongside a precise understanding of both acidity and spice that lifts the seemingly humble far beyond its origins."
Jay is less enthusiastic about the desserts, but quick to forgive "because of the brilliance that has gone before"; "even the wine list is calculated to encourage experimentation". Land has been around for three years now, but Jay is "delighted" to have found it.
*****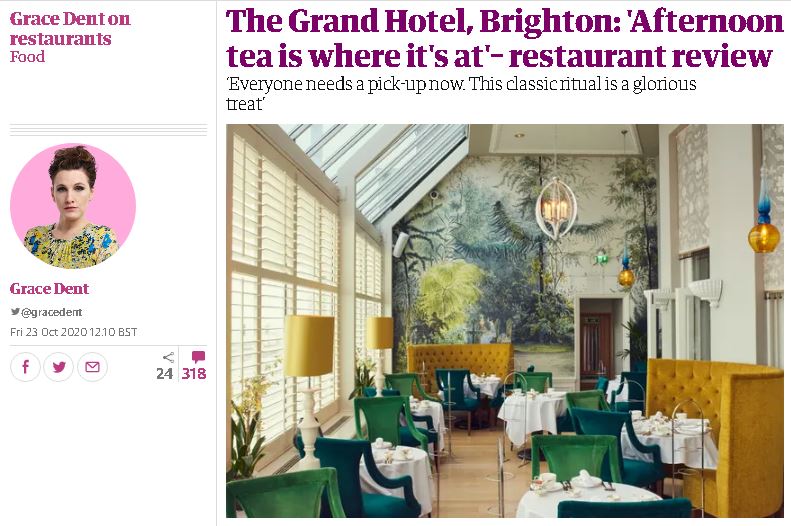 The Guardian
"We all need an emotional pick-up right now; especially ones we can have mid-afternoon, to be safely off home before the 10pm Covid fairy looms. Perhaps, these days, afternoon tea is actually where it's at. "
Grace Dent chose Brighton hotel The Grand for her "emotional pick-me-up" where she was served in the "rather pretty Victorian terrace lounge overlooking the prom", resplendent with " bottle-green velvet chairs offsetting a tropical mural"; it all "felt gloriously adrift from the unfolding news cycle".
"Bad afternoon teas rankle me more than poor dinners or lunches because I need them so badly to be good" (there's been a "litany of opaque booking systems, sullen staff, dry scones, leaky teapots, miserly jam and bills for £75" at her attempts to take her mother out for afternoon tea).
At The Grand, they are doing "lots of little things right", starting with an "enormous, nerdy tea selection" and service that's "prompt and chipper". For Grace, the savoury starters paled in comparison to the "delicious, warm scones" and "stonking" cakes (enough for leftovers at bedtime).
*****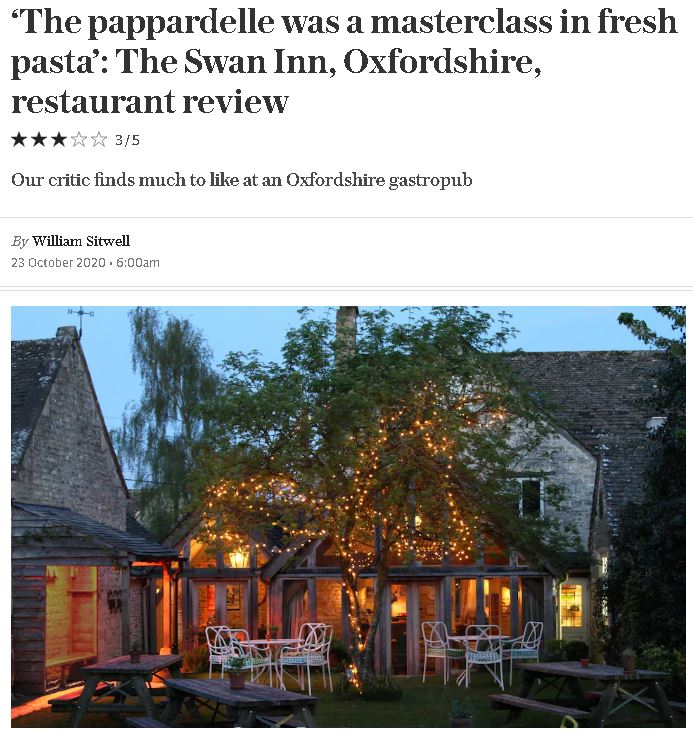 The Telegraph
William Sitwell paid a visit to The Swan in Swinbrook ("a Cotswold gem of stone houses"), a village he has "a soft spot for", as it was home to Eleanor Fettiplace, who, in 1604, "wrestled cooking from the medieval period and dragged it into the 17th century" by writing "one of the greatest cookery manuscripts of all time" (including pairing "roast beef with Yorkshire pudding").
The village inn has been thoroughly modernised since Eleanor's day and now offers a "vast and meandering" ("too-large" in William's opinion) menu of "gastropub-style dishes". In a review heavy on swan metaphors, his starter (parfait) and pudding (chocolate pot) were too cold but his main (pappardelle with girolle mushrooms) was an "utter triumph", a "masterclass in fresh pasta and its cooking". (***)
*****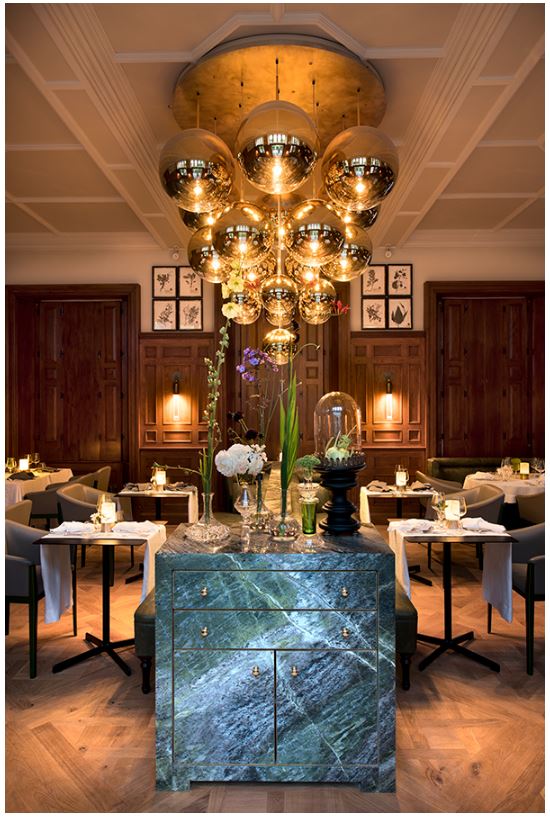 The Mail on Sunday
"What could be garishly over-the-top turns out to be warm, charming, and blessedly unpretentious."
Tom Parker Bowles (in his new column with wine expert Olly Smith) in The Mail's YOU magazine was in Somerset at The Newt, the "rather magnificent" hotel that was "an epic seven years in the making" by South African businessman Koos Bekker and his wife, Karen Roos.
The main restaurant, known as The Botanical Rooms, is a "wood-panelled dining room, all discreet marble curves, soft leather seats, and framed pressed flowers"; "most of the produce comes from the farm" and "looks as good as it tastes".
"There's a bracing freshness to each dish, an absolute precision of flavour, with innate understanding of texture and acidity… head chef Ben Champkin is a talent to watch."
*****
And also…
No review – understandably – from The Scotsman this week; readers of this (and Scotland on Sunday) can console themselves, order takeaway and make plans while restaurants are closed with this list of the 20 best meals of 2020 ("an annus horribilis for hospitality and eating out") from Gaby Soutar.
*****
Recent News from Harden's