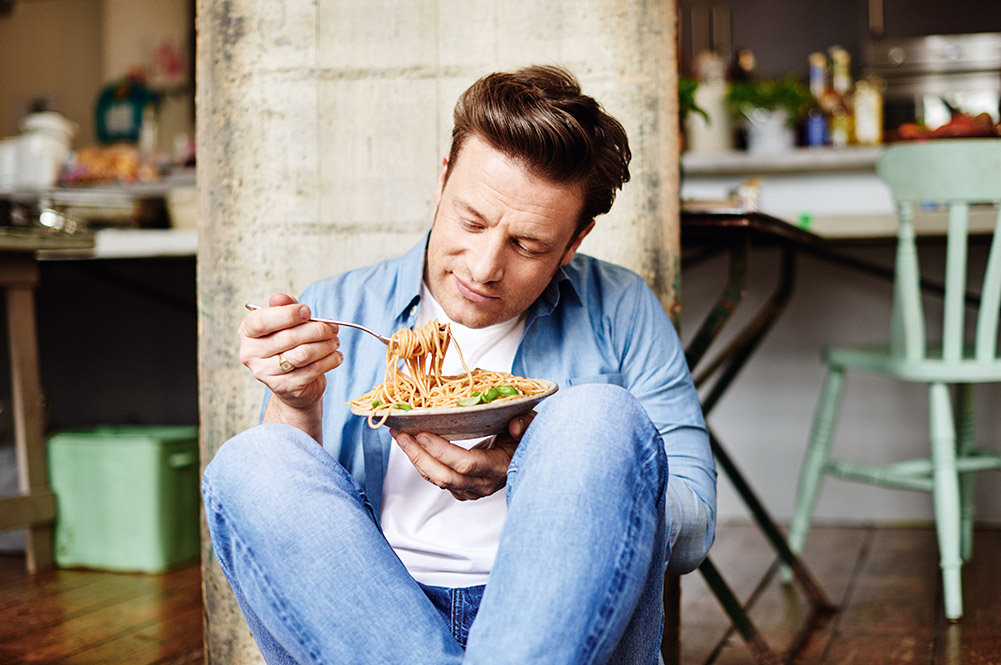 Jamie Oliver's restaurant empire is no more. The group entered administration on May 21 and within hours all but three of the celebrity chef's locations were closed.
The company announced the board had appointed KPMG to oversee the restructuring process on Tuesday, and confirmed in a statement that approximately 1,000 members of staff would be made redundant.
The announcement was precipitated by the collapse of talks with a German Private Equity who had seemed set to rescue the situation. Aurelius Group, a Munich-listed investment firm, was set to acquire a majority stake in a deal that would have given the business up to £10 million of new funding, according to The Times.

In explanation, Will Wright, partner at KPMG and joint administrator, might have said (but didn't):
"Jamie has run out of road in trying to milk his media profile via a fairly dire mid-market Italian restaurant chain which has seldom benefitted from much in the way of day-to-day involvement from the Naked chef".
What he actually said was:
"The current trading environment for companies across the casual dining sector is as tough as I've ever seen.
"The directors at Jamie Oliver Restaurant Group have worked tirelessly to stabilise the business against a backdrop of rising costs and brittle consumer confidence.
"However, after a sales process which sought to bring new investment into the business proved unsuccessful, the team took the incredibly difficult decision to appoint administrators.
He continued: "Unfortunately, with insufficient funds available to be able to trade the business in administration, all but the Gatwick airport restaurants have now closed. Our priority in the coming hours and days is to work with those employees who have been made redundant, providing any support and assistance they need."
Jamie, who founded Jamie's Italian to much fanfare in 2008, expressed his sadness at the news. Not only was Oliver losing Jamie's Italian, which has for many years failed to impress – woefully so – but also his Barbecoa steak brand, and his two Fifteen sites.
"I am deeply saddened by this outcome and would like to thank all of the staff and our suppliers who have put their hearts and souls into this business for over a decade," said Oliver.
"I appreciate how difficult this is for everyone affected.

"I would also like to thank all the customers who have enjoyed and supported us over the last decade, it's been a real pleasure serving you.
"We launched Jamie's Italian in 2008 with the intention of positively disrupting mid-market dining in the UK high street, with great value and much higher quality ingredients, best in class animal welfare standards and an amazing team who shared my passion for great food and service. And we did exactly that."
Until Tuesday, the Jamie Oliver Group employed 1,300 staff across 25 restaurants across the UK, including 22 under the Jamie's Italian brand. The three Jamie's Italian sites left standing are continuing to trade as normal, though it is not clear what their long-term future is.
Harden's understands Oliver is particularly keen to retain Fifteen, but it might be in hope more than expectation.
Following a spate of closures over 2017-18, and Jamie Oliver injecting £13m of his own fortune – saving the business from bankruptcy at the last minute – the Jamie Oliver Group had been looking for potential investment, and even an outright buyer.
But little interest materialised, and ultimately Oliver's Jamie's Italian failed to escape the dining crunch, which finally called time on a business that had received dire feedback from reporters for the last six years. Any other chain of similar poor quality would likely have folded years ago had it not one of the most famous chef's names above the door.
Despite an ongoing serial failure to please customers over many years, Jamie remains a hero to many, otherwise perfectly sensible folk in the restaurant trade.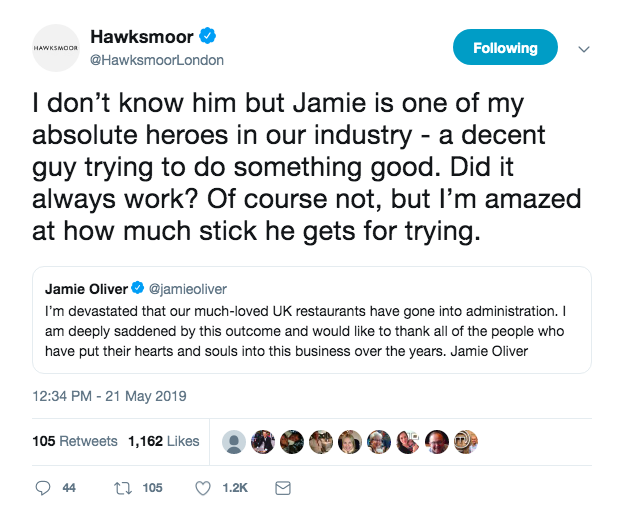 We'll leave the final epitaph to our 2004 review of Fifteen (which continues to trade) as reported at the time in The Caterer.
"Jamie Oliver is taking the piss at his amateurish made-for-TV Hoxton venture, where average food comes at Gordon Ramsay prices; just because it's a charity doesn't give them the right to rip people off".
Peter Harden, co-editor of the guide, said: "Jamie is a classic example of the phenomenon of a restaurant that gets booked out simply because he's on telly. I don't think I've ever seen quite such a mismatch between what people think they're getting and what they get."
He added: "It's not much of a surprise, really. It's only a surprise if you get plugged into celebrity culture and don't think they can do anything wrong."
More from Hardens