Here's our regular round-up of what the nation's restaurant critics were writing about in the week up to 21 May 2023.
*****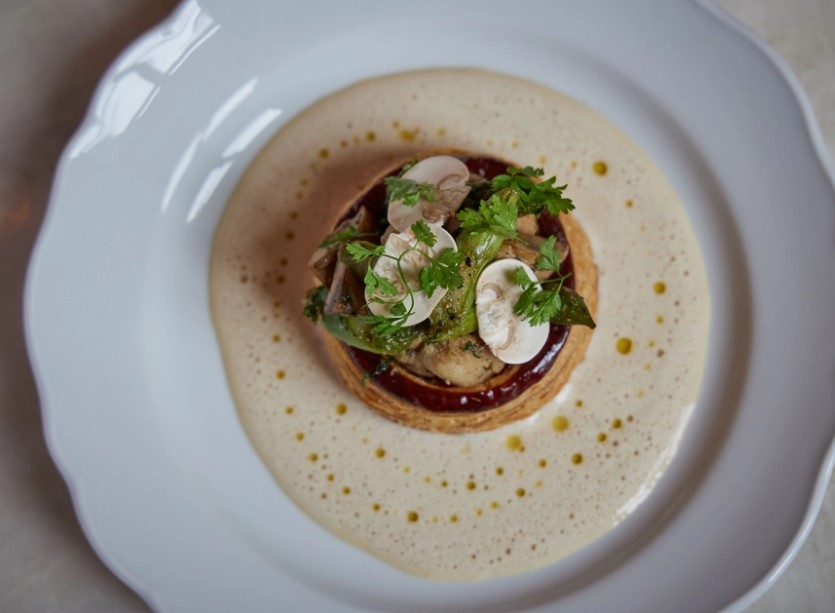 The Evening Standard
"Decadence done right is a welcome addition to King's Cross revival."
Jimi Famurewa reviewed the "unabashed grandness" of the Midland Grand Dining Room, the "an all-new flagship restaurant within the neo-Gothic bulk of the Renaissance Hotel" at St Pancras, replacing Marcus Wareing's The Gilbert Scott.
The "double-height main room" boasts "gilded cornicework, marble columns, softening bursts of foliage, vast textured mirrors and, lamentably… slight stiltedness of atmosphere". But "happily, the enlivening play and mischief of the food (two words: octopus Gilda) more than makes up for it".
Chef Patrick Powell's hallmarks – "light kitsch, impeccable details, intricate presentation" –  are all present, as is a potentially ruinous bill ("prices… can take you whistling past the £100 a head mark without even really trying").
"Blowouts still exist and this is a better place to have one than most." (****)
*****
Also in the Standard this week, a round-up of London's best sandwiches in time for National Sandwich Week; "from mortadella rolls to plump egg sandos, London has a sandwich culture to rival any in the world".
*****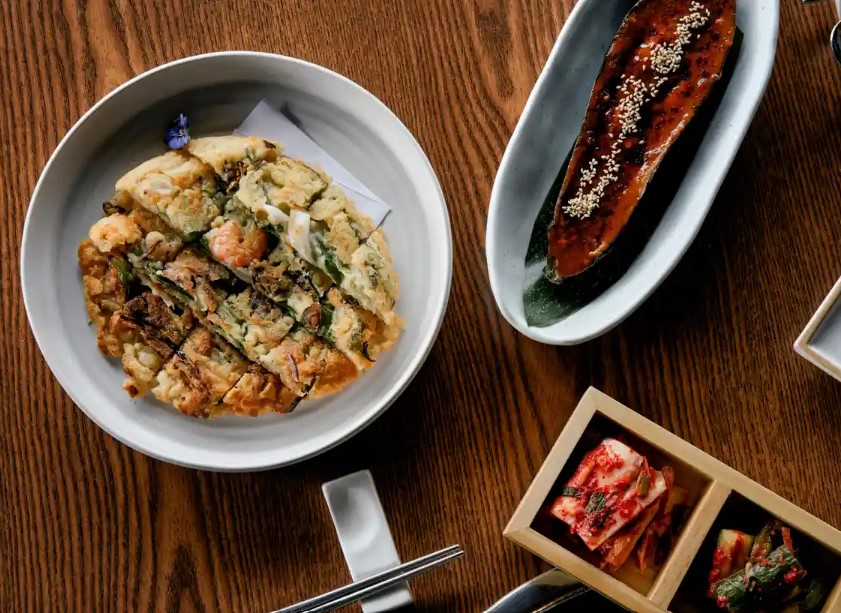 The Guardian
"One of those cheap and cheerful, but decidedly good places that's nothing to look at from the outside."
Grace Dent found herself in New Malden, home of a large Korean expat community and an "umami-drenched patch of extreme deliciousness" where there's "upwards of 20 more-than-decent Korean restaurants".
Cah Chi is a "family-run spot that has changed venues a few times over the years and opened here only a month or so ago, but has retained a loyal fanbase for its simple yet delicious taste of home".
Grace had been "tipped off that they served a very good pajeon" (spring onion / seafood pancake, pictured), and the one she ate at Cah Chi was "very good. Perhaps a little thicker than the slender, elegant versions available at the likes of Yori in London's fancy West End, but all the more luscious for it."
"Cah Chi isn't trying to change the world; it's just quietly representing skilful Korean cooking and creating a haven for hungry passers-by. Consider me a fan."
*****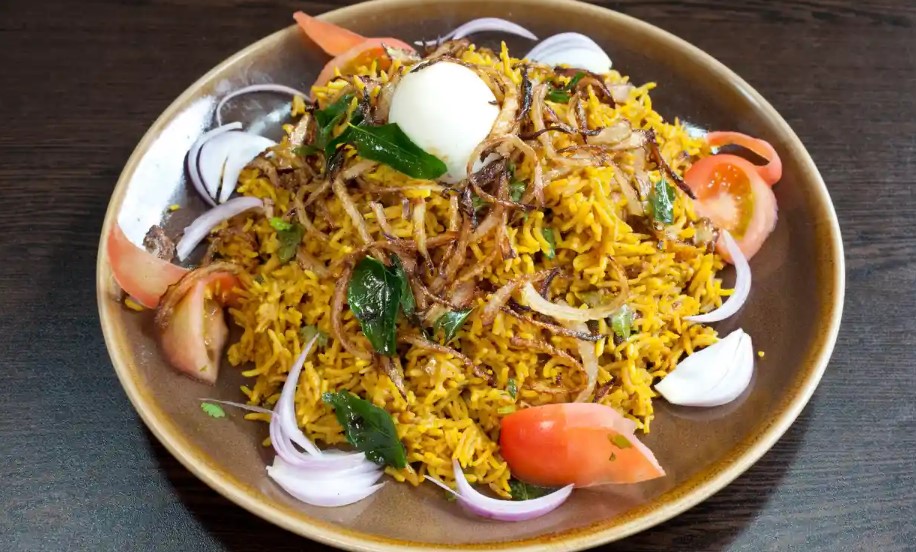 The Observer
"Much loved by locals, but the cooking is so gorgeous that outsiders make the journey too."
Jay Rayner took a trip out to Lewisham to review Everest Curry King, a Sri Lankan and south Indian veteran that's been feeding south east London for over 20 years; he'd had a booking at Sri Lankan Borough Market newcomer Rambutan but they suffered a flood and he was on a deadline, so took up the recommendation for "a very different take on Sri Lankan food" from his lunch companion.
("It had also been recommended to me over the years by a number of fellow south Londoners. It's a simple place, they said, but oh so good.")
The beetroot curry could "silence even the most intimate of conversations" with "an all-engrossing, soothing power". Jay also enjoyed the "snacks of so many gods" – mutton rolls, dosa, hoppers – and got "boxes of sweets to take away".
"Expect not to pay very much at all, for really quite a lot" and "portions are large".
*****
The Sunday Times
Chitra Ramaswamy was in Glasgow to see if local legend Stravaigin is "still its glorious self" after a takeover: "It was Glaswegian to its bones but now it's run by Greene King".
She also pondered on restaurants characterised as "much-loved institutions": "Let's be clear. For a restaurant to really fit the bill, it must have been loved for decades, by many different generations, in many different ways. Modern capitalist life doesn't much allow for longevity, let alone greatness over time. How many such restaurants are still around?"
"Stravaigin is one… It's genuinely impossible in well-heeled West End circles to describe it any other way than as a Glasgow institution."
*****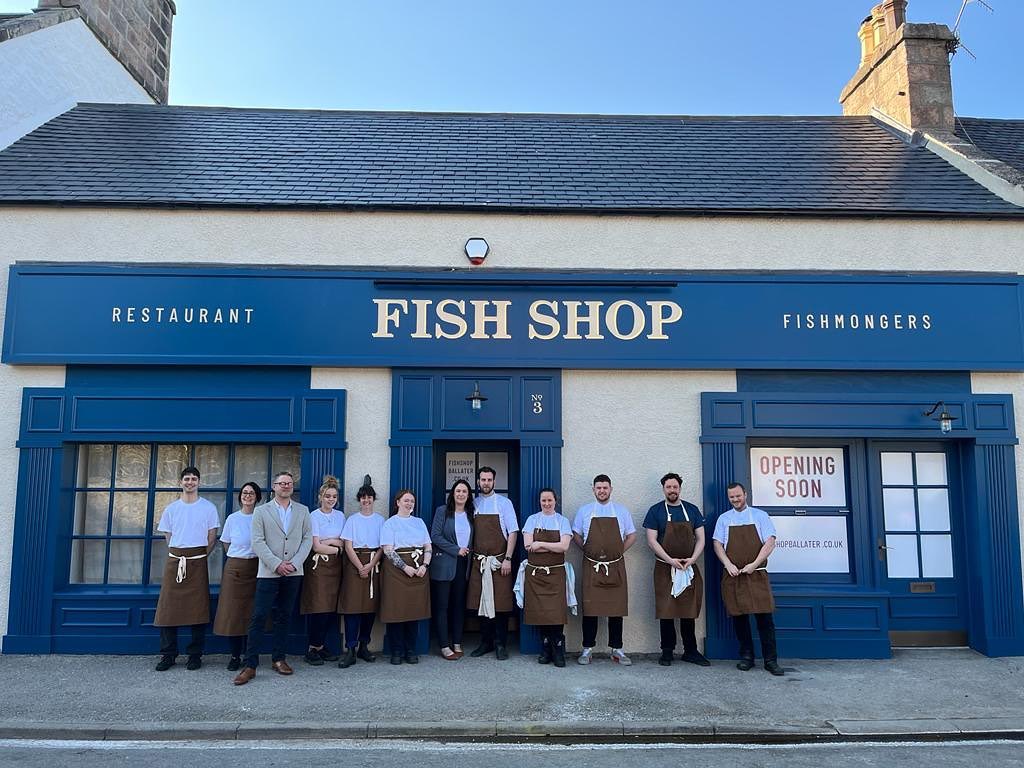 The Scotsman
"An impressive and immersive place that you won't forget in a hurry, and the same goes for the food."
Rosalind Erskine visited The Fish Shop in the "small village" of Ballater (it replaced the Rothesay Rooms in April 2023) where she enjoyed "fresh seafood in stylish surroundings", which becomes more understandable when you find out that "at the helm of this new venture is Jasmine and Marcus Sherry, who worked at the Fife Arms in Braemar" up the road. (The Fish Shop is actually another Artfarm venture, and was visited by HM The King and Queen even before it opened.)
"The menu only has sustainably sourced fish and shellfish from Scotland and around the British Isles and the restaurant supports the Ocean Recovery Project." Despite the pedigree, The Fish Shop is "in no way stuffy, with diners encouraged to share dishes, which are listed by size and are served when ready" – Rosalind's choices were "light, fresh, local and unfussy".
"Everyone we'd spoken to about the restaurant before we arrived had recommended that lobster crumpet, and this sweet, buttery morsel did not disappoint" and desserts were "sublime". (18/20)
*****
Also in The Scotsman, Gaby Soutar reviewed Lucky Yu, a Broughton Street newcomer serving "Asian fusion small plates" from head chef Duncan Adamson (formerly of Gardener's Cottage restaurant); the owners relocated the concept from Bruntsfield earlier this year.
"It's great for people watching, and selfie-taking, under their new pink neon sign."
"None of the food here is anodyne. We're talking big fun favours, lovely staff and the sort of space you want to linger in" – plus tatties "I haven't enjoyed this much in ages." (17/20)
*****
And also…
William Sitwell for The Telegraph reviewed the "bright, cheery and smart" Harbour Beach Club in Salcombe, "the country's most expensive seaside town": "Thank God for decent, sensible cookery." Here, "common sense prevails, and it's happy holidays all round". (****)
*****
In the FT Magazine, Tim Hayward reviewed Rambutan in Borough: "the food is so good it could heal wounds. But is it possible for a restaurant to be less than the sum of its parts?"
*****