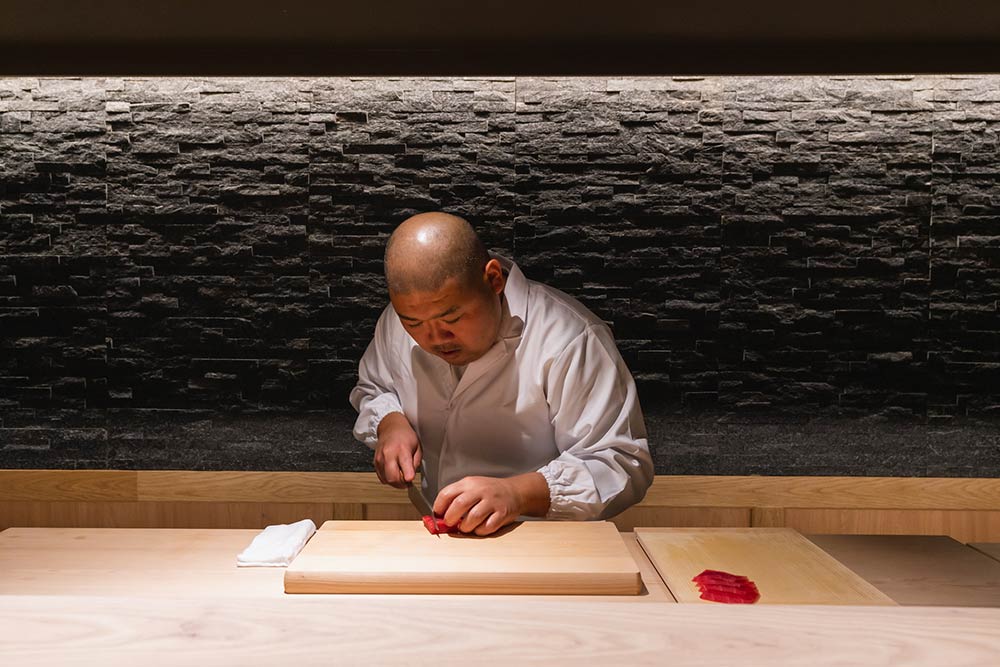 A new ultra-high-end sushi restaurant opened in Mayfair this week, with lunch starting at £180 a head for 17 courses and evening menus at £280 and £380 for 20 courses. Taku, in Albermarle Street, showcases the skills of sushi master Takuya Watanabe, formerly of Jin in Paris, which became the first sushi omakase restaurant to nab a Michelin star ten years ago.
Chef Taku began his training at the age of 19 and works in the traditional 'edomai' sushi style – developed by street sellers in old Edo, now Tokyo – in which fresh fish is cured in vinegar to bring out umami flavours.
He said: "Bringing an omakase restaurant to London has been a dream of mine for some time now due to Britain's access to the high quality local fish and crustaceans available on UK shores – an integral element for sushi making. I am delighted to be sharing my dishes with the people of Mayfair in such an intimate dining experience."
The new venture is backed by restaurateurs Geoff and Lucas Leong, whose family is behind Leong's Legend and Dumplings Legend in Chinatown and the Zen group.
Lucas said: "I met Chef Taku in December 2021 when I visited Jin Paris for lunch. I had heard many great things about Chef Taku, but my meal surpassed my expectations. In my perspective any good sushi chef can make good sushi, but what separates the good from the best are the refined details in each piece. Chef Taku's rice is unique to him, as it consists of his own vinegar and salt composition. Each piece of sushi is crafted with the perfect rice, vinegar to salt ratio and Chef Taku's own blend of soy-sauce, making Chef Taku's sushi distinctive and memorable. After chatting we formed a friends – this is when the idea for Taku began".