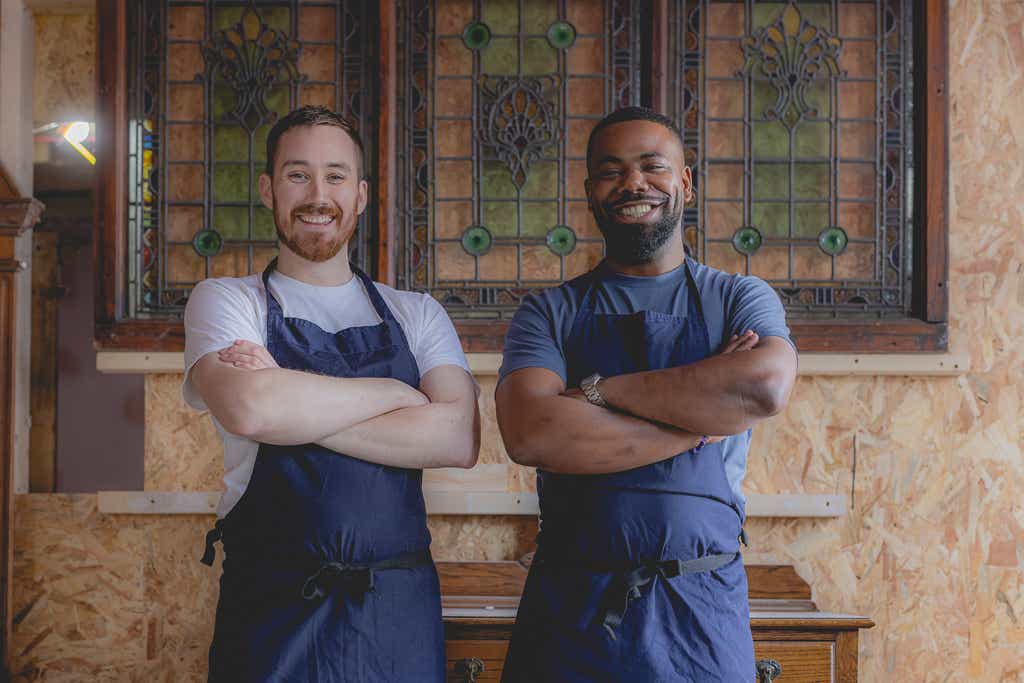 An ambitious new dining pub fronted by two former Brat chefs and operated by the team behind Camden's Jazz Cafe opens next Thursday (23 March) in Kentish Town.
The Parakeet has taken over the premises of the landmark Oxford Tavern in Kentish Town Road, and will feature seasonal British ingredients cooked over wood fire on a custom-built grill and served alongside low-intervention wines.
The head chef is north Londoner Ben Allen (pictured right), whose CV includes a stint at Vienna's Steirereck, which placed 12th in the 2021 World's 50 Best Restaurants list. His sous chef at Parakeet is Ed Jennings (left), with whom he worked at Brat.
Ben said: "We're hugely excited to be able to put our own creative stamp on the menu here at The Parakeet with our seasonal menus. Each season has its own unique benefits – spring is exciting with new shoots like wild garlic, the short asparagus season is a favourite. We both love autumnal flavours with comforting cold weather food and the challenge of being creative with limited variety in winter and the abundance of summer."
The Parakeet was conceived by Steve Ball and Riz Shaikh, co-founders of the Columbo Group of music-based venues, who wanted to have a good dining room on their doorstep.
Steve said: "We live locally in Highgate and Camden, and with The Parakeet, we want to build something that gives back to our neighbourhood, and that fits the description of somewhere we'd want to hang out with our family and friends.
"It's great to have Ben Allen on board as head chef — he's someone we really admire, and we can't wait for visitors (and ourselves) to sit down and have a taste of the seasonal menu he's created."