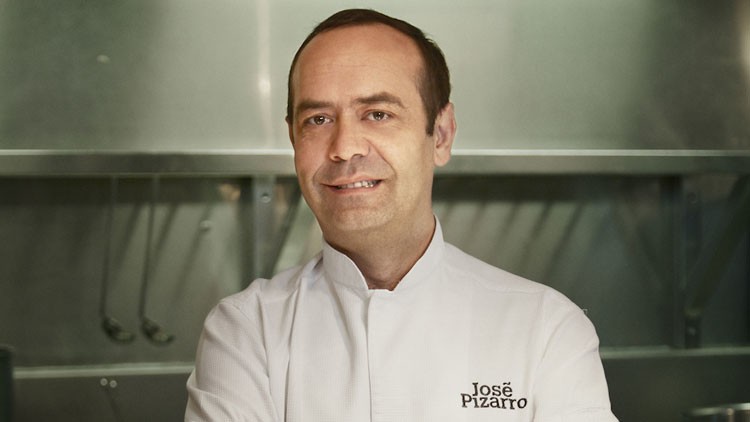 José Pizarro is to relaunch The Swan Inn in Esher, Surrey. The much-fêted Spaniard is taking over the pub from French chef Claude Bosi, nowadays best-known for his tenure at that modern classic, Bibendum.
Bosi, together with his brother Cedric, has been in charge at The Swan for three years. It reopened in 2016 after an extensive refurbishment, and reporters have always deemed the spot credible, if a touch uninspiring.
Pizarro will be making his own mark. After a two-week closure, the chef will open the pub in March with a transformed menu featuring breakfast dishes, tapas, and an a la carte offering. The five bedrooms will remain, as will the 55 covers in the dining room.
Guests can expect classic Pizarro at the pub: there'll be the croquetas, tortilla plates, and Jamón Ibérico the Spanish chef has won plaudits for at his eponymous flagship in Bermondsey – as well as his Broadgate Circle and Canary Wharf (slightly corporate) iterations.
Also at The Swan Inn will be classic pub dishes with a "regional Spanish twist". What these might be we don't yet know, but we do know they'll use local Surrey produce.
Pizarro told Harden's: "The menu will be Spanish food, but of course we are going to have Sunday roasts.
"This is my first pub and was something I had in mind before, I really like the idea of community as this is what I understand as a pub, a family.
"Esher reminds me of the small town where I come from, called Talaván. The idea of gathering everyone in the same place is amazing; like I used to do with friends a long time ago in Spain.
"I am so excited and happy with this new project. It's come in a year where I'm celebrating my 25th anniversary as a chef and my 20th year living in the UK."
The real ales, draught beers, and wine list will continue to be extensive, though the latter will now have a Spanish leaning, understandably. Pizarro last opened a new venue in 2017: the Little Jose snack bar at Street Feast's Giant Robot in Canary Wharf.
Recent News from Harden's