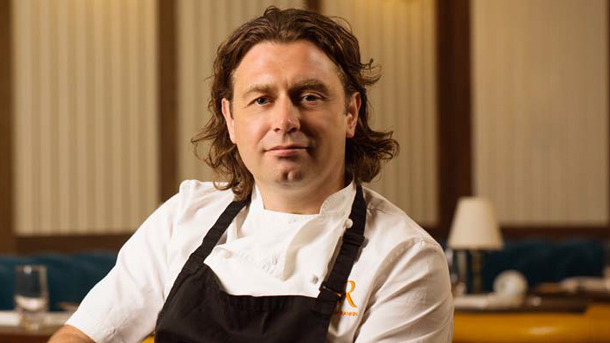 Shaun Rankin is to open a fine dining restaurant at a new luxury hotel and wellness retreat in Yorkshire. Grantley Hall, near Ripon, is currently undergoing extensive refurbishment.
The chef will continue to oversee proceedings at the "extremely original and exciting" Ormer Mayfair, but will give most of his attention to Grantley Hall, which is due to open in the spring in his native North: a homecoming of sorts.
Perhaps Grantley Hall, will provide a cheerier backdrop than Ormer's home at Flemings, where the ambience was dubbed a little "hotel-y" on more than one occasion.
The 38-cover restaurant will be tucked into a Grade II-listed 47-bedroom property near Fountains Abbey. The menu will largely comprise ingredients grown in the kitchen garden, though the only dish we've seen so far is a Yorkshire rhubarb crumble soufflé with rosehip and iced clotted cream.
Ormer Mayfair, born in 2016 thanks to a £15m refurbishment at Flemings, has been Rankin's most recent focus, but he spent several years cooking on Jersey, where from 2013 to 2017 he steered the restaurant's first site. Before, the chef worked in kitchens in France, Australia, and Chicago, US.
Rankin also took over the kitchen at members' club 12 Hay Hill in London in 2015. It hasn't made much of a splash since and Rankin isn't currently listed on the club's website. (Harden's has asked whether he still has any involvement).
As well as Rankin's own flagship, Grantley Hall will also feature a pan-Asian concept, an all-day dining room, a drawing room for afternoon tea, and a spa room serving snacks and light bites.
The multi-million pound development is owned by the Sykes family and is situated on a private island that also boasts a listed Japanese garden.
Recent News from Harden's