Summary
Somewhat more mixed feedback this year on Shaun Rankin's "smart" two-year-old tenure at this Mayfair dining room. For the most part, reports continue to extol his "extremely original and exciting cuisine" (even if it's "seriously expensive"), but service can hit the wrong note, and the "rather hotel-y" basement setting "could be more cheery".
* Based on a three course dinner, half a bottle of wine, coffee, cover charge, service and VAT.
Summary
Star Channel Islands chef, Shaun Rankin "brings Jersey flavours to the heart of London" at this year-old venture: the new occupant of a classically smart, basement dining room of a Mayfair hotel. It's one of the highest-rated openings of recent times: "the food looks fabulous but even better is its exceptional flavour".
* Based on a three course dinner, half a bottle of wine, coffee, cover charge, service and VAT.
Summary
Star Jersey chef, Shaun Rankin, has oversight of the 85-cover dining room at this Mayfair hotel, following its recent £14m revamp – it opened in mid-summer 2016.
Owner's description
Ormer Mayfair was featured in the BBC MasterChef show and invites you to book a table for a fine dining experience! "I have built my reputation believing passionately that sustainably sourced, locally-foraged and seasonal produce is absolute. My dishes are simple in their approach to highlight the wonderful flavours and beautiful quality of these ingredients. This passion, combined with the wonderful bounty of the Channel Islands and British fare, is at the heart of my cooking here at Ormer Mayfair."
Michelin starred chef Shaun Rankin received his first Michelin star at Bohemia Jersey in 2005. He held his star for eight years until the opening of Ormer Jersey in 2013. There he was awarded a Michelin star just four months after opening, maintaining it again in this year's newly published Michelin guide 2018 for Great Britain & Ireland.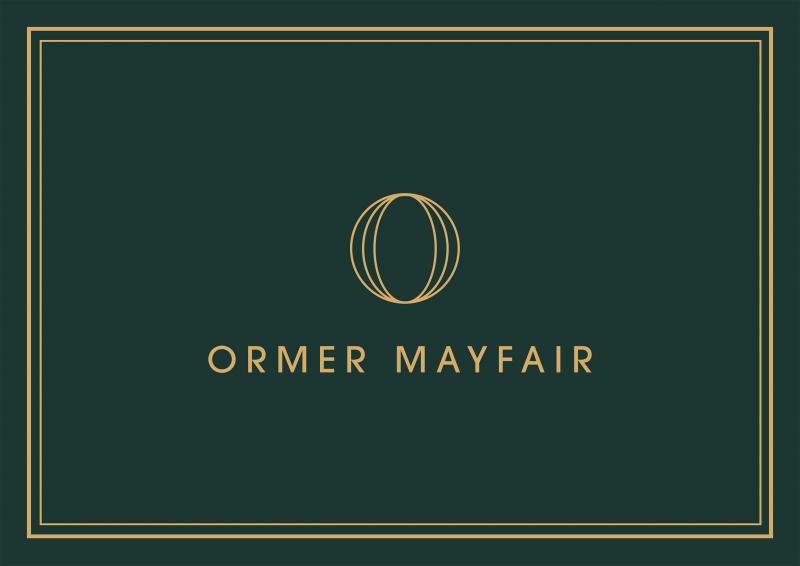 Restaurant details
Yes
20, 12
No shorts
85
Yes
The chef
Shaun Rankin
The fresh taste of Jersey brought to the heart of Mayfair.
He describes his food style as a new style – his own take on classical with a modern twist, his vision and passion is island based cooking – nearly all produce is sourced from within Jersey, especially in the summer season where nearly 90% of his produce is local.
Shaun has people growing, rearing and catching fresh produce for him every day. He knows them personally; you will find them in his kitchen at times. As Jersey is closer to France than England, Shaun also sources game from France.
Private dining
There is no better way to experience Shaun Rankin's exclusive menu at Ormer Mayfair than to book one of the unique private dining rooms.
The ideal location for a special occasion or celebration, client entertainment or an elegant company dinner.
Ormer Mayfair Restaurant Diner Reviews
Reviews of Ormer Mayfair Restaurant in W1, London by users of Hardens.com. Also see the editors review of Ormer Mayfair restaurant.

Paul A
The dining room is in the classic hotel sty...
Reviewed 4 months,
"The dining room is in the classic hotel style and the welcome properly matched this. Shaun Rankin's tempting tasting menu offered an interesting mix of four starters, a fish course and a meat course, plus a pre-dessert and dessert, and the wine list was certainly up to Mayfair standard, with some very good wines by the glass and in half bottles. The obligatory sourdough bread came with nice herb butter, and our first taster was some delightful smoked haddock foam with cubes of potato. We found the first starter very refreshing, the super olive sorbet delightfully matching several varieties of beetroot and a goat's cheese topped with truffle honey. What was entitled tuna sashimi was notable for a brilliant scallop ceviche, a lovely avocado sorbet and an all-round mixture of flavours. The beef tartare was not quite as convincing, having a vinegary side which took a while to die down and allow the smoked oyster mayo to come through. Somehow the crunchy toast element did not work either. We were struck immediately by the lovely aroma from the rabbit loin wrapped in pancetta, and the flavoursome meat was enhanced by some delicate truffle oil along with herb gnocchi, interesting coco beans and tasty girolles. Our fish course was the king of fish, perfect turbot with a superb nut crust accompanied by a variety of sea herbs and different textures of cauliflower, but we were not convinced by the pickled cockles. The main was Scottish venison, which was nice and tender but not medium rare as promised, along with sweet parsnip, dates and a chocolate smear. The delightful pre-dessert came in the form of dehydrated strawberry crunch, watermelon and a creamy foam, and this was swiftly followed by coconut mousse in white chocolate as well as a coconut sorbet with pineapple and mango providing a nice counterbalance. Generally an enjoyable experience and one that we would hope to repeat."
Report this comment

Victoria J
Have deducted marks for it being in a basem...
Reviewed 10 months, 3 days ago
"Have deducted marks for it being in a basement with little light. Crab starter was generous and outstanding. Not cheap but worth it for a special occasion."
Report this comment
Have you eaten at Ormer Mayfair?
Post your own review of Ormer Mayfair and contribute to our annual restaurant review guide.
Post your own review
Half Moon St, London, W1J 7BH
Make A Booking
Number of Diners:
Required Time:
Powered by OpenTable
Opening hours
| | |
| --- | --- |
| Monday | CLOSED |
| Tuesday | 12 pm-2:30 pm, 6:30 pm-10:30 pm |
| Wednesday | 12 pm-2:30 pm, 6:30 pm-10:30 pm |
| Thursday | 12 pm-2:30 pm, 6:30 pm-10:30 pm |
| Friday | 12 pm-2:30 pm, 6 pm-10:30 pm |
| Saturday | 12 pm-2:30 pm, 6 pm-10:30 pm |
| Sunday | CLOSED |
What social media is saying