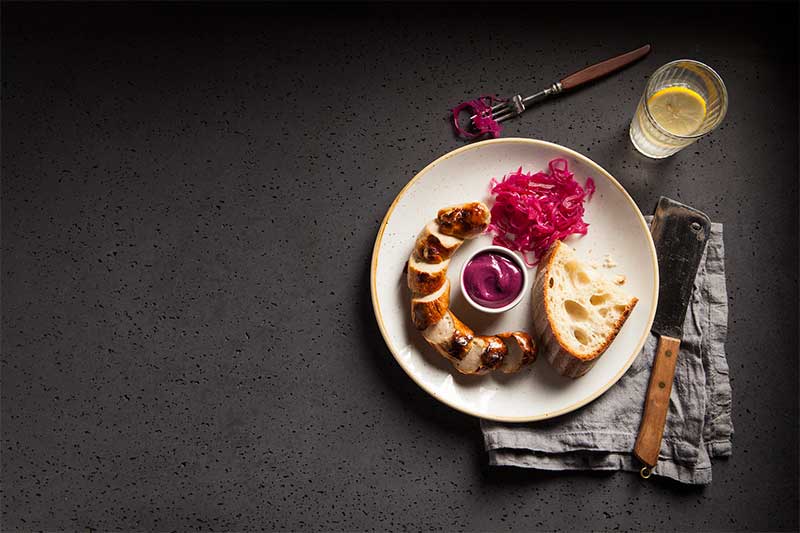 A new Islington restaurant on Upper Street will be entirely dedicated to sausages.
X-Upper will "serve Europe's finest gourmet sausages", all of which will, apparently, be "curated by top chefs".
"Sausage is the new burger," the PR spiel continues. If so, will X-Upper become the new MEATliquor?
The restaurant, which is set to open in February, will be a 40-cover dining space celebrating one of the world's simplest, tastiest foods.
The X-Upper team apparently visited 14 European cities to find the best sausages around. Those chosen are from local butchers' shops, and the menu includes the likes of Olma bratwurst, a protected Swiss variety served with purple mustard and pickled cabbage, the Austrian Käsekrainer, and a smoky Polish kielbasa.
The sausages will be priced between £8 and £12 and are served with sides and sourdough bread. Of course, there'll be a "curated drinks menu" too, largely centred around craft beers from FourPure brewery.
Chef James Tanner, from Ready Steady Cook and Saturday Kitchen, has led the menu development with the help of Francesco di Marzio, who was formerly executive chef at the two-Michelin starred restaurant The Greenhouse – recently dubbed "exemplary" by reporters – and finalist of the San Pellegrino Young Chef Competition.
Managing director Mariam French said: "We're so excited to be launching X-Upper. Forget what you think you knew about sausages! Sausages, in their many forms, are loved and consumed by millions of people.
"Through our travels around Europe, we uncovered a set of amazingly delicious and high-quality sausages and I can't wait for Londoners to be exposed to the richness of our yummy products.
"Our mission is to completely re-invent the perception of sausage through serving authentic, high-quality, local provenance sausages that are true delicacies."
Recent News from Harden's