A happy week for the majority of the critics, with pork pies, new experiences and old friends. Only Marina O'Loughlin's trip to West Sussex ("England by Disney")  and Ed Smith's visit to Bagatelle ("nothing to swerve for") were disappointments.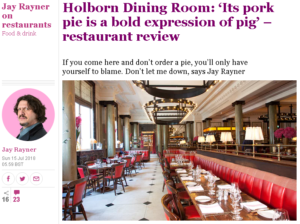 Continuing from last week's homage to the dumpling and pastry-encased leftovers, Jay Rayner in The Observer declared his undying love for the noble pork pie (and his mother's deep-fried gefilte fish). So his visit to Holborn Dining Room, with its "dedicated pie room" was a dream come true, when he got to try one fresh from the oven.
" I must give thanks for chef Calum Franklin and his pie-fetishising menu".
The pie in question had a filling that was "a bold expression of pig", served with "a light gravy that speaks loudly of reduction, calves' feet and care". For completion (and "because I take my job seriously"), Jay also sampled the curried mutton pie and the award-winning Scotch egg: "all done perfectly", followed by "a perfect Paris-Brest".
"If you came here and didn't order a pie, you would be a complete idiot." That says it all, really.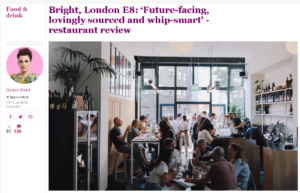 Grace Dent for The Guardian analysed the concept of cool, comparing last week's visit to much-hyped Neptune (cool as decided by PR, born of "the murky world of London restaurant hype") with this week's visit to Bright in Hackney, which is "chef-scene, actual "foodie" cool" and received an impressive 27/30.
It's "a place hewn by young men" with "the kind of hospitality pedigrees that cause earnest food bloggers to clutch their faces like rapt Victorian cherubs".
Bright might not attract the Insta-hungry foodie crowd, but the "ever-changing, single-sheet menu of painstakingly pondered-over snacks, shellfish and pasta" should gain a loyal, real following: "ideas are unfamiliar, challenging – and beautifully executed".
It will also intrigue but ultimately baffle the tyre men, being " future-facing, lovingly sourced and whip-smart".
"At Bright", Grace continues, "I found a new way of looking at things." Despite heavy objection to the very concept, she enjoyed a "breathtaking, pond-like puddle of cold courgette soup", followed by an epiphany with pesto – here, a "sensuous body rub" rather than "Satan's snot" (from "tiny supermarket jars"). Even dessert (wafer-thin chocolate sprinkled with sea salt and coriander) was different: "nothing about this as a pudding… is remotely normal, but Bright can get away with it, because it has the swagger".
She declares that Bright "made me enjoy things I thought I hated and gave me tastes I'd never imagined before". Pretty damn cool.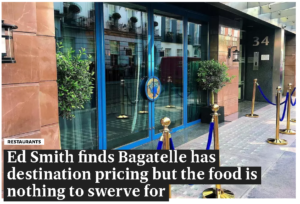 There was a bumper crop of reviews this week in The Evening Standard, starting with guest reviewer Ed Smith, who was disappointed by "destination pricing" and food that's "nearly delicious" but "nothing to swerve for" at Bagatelle  (5/10).
Like previous reviewers, he notes that "credit card catnip" of excessive amounts of truffle and caviar on the menu and the " timeless 'did you furnish this in 1988 or 2018?' Côte d'Azur style" of the decor. One main course, while "intense, flavourful and finger-licking " was almost £50. For three prawns. However "massive" they were, that's "staggering" in anyone's book.
His verdict? " Bagatelle will not become the place to be seen."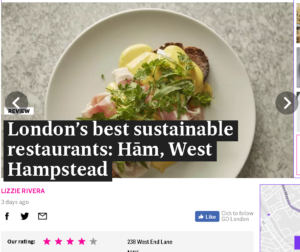 Lizzie Rivera visits Ham ****, "everything you would want in a local neighbourhood restaurant, offering personal, friendly service in a relaxed environment".
The "thoroughly British ingredients with international flavours" are "guaranteed to keep the regulars interested"; "you feel like you are in someone's living room." Add in top eco credentials and a weekend brunch that has them queuing "out the door from 10.30am" and is no surprise that it's "constantly busy".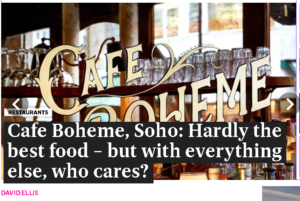 Also in the Standard, what can only be described as a love letter from David Ellis to the gently revamped Soho veteran Café Bohème and the joy of "too-close tables and flirting with your neighbours", "impeccable Manhattans for a tenner, omlettes for less", "being open until 3am " and "wine sold by the carafe, so you can convince yourself you're having a quiet one before ordering another ".
It "doesn't serve the best food in Soho" but Bohème is still "rather glamorous" – and certainly "impossibly, improbably busy"; " there are few plans more satisfactory than calling into this French bistro for a Croque Monsieur and half a bottle of Champagne".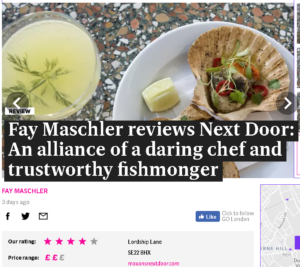 Fay Maschler in The Evening Standard went Next Door  (****) to fishmonger Robin Moxon's latest venture. Even in south London she manages to plug her sister's Hampstead pub (so we won't).
Once back on topic, Fay praised the "brilliant assembly, simultaneously daring and docile" of a dish of deep-fried cod tongues and a lemon tart with a flavour that's "fervent, impressively deeply citrusy".
"Service is charming and sensible" and "the timing of food delivery is ideal" – helped by "a seasoned chef at the helm" – Paul Holmes, formerly of Salon and Odette's.
Fay's regular round-up of her week included pithivier at Portland, goose rillettes at Club Gascon's Le Bar, fritto misto at Alto by San Carlo on the roof of Selfridges and prawn brioche at BaoziInn, in between cultural trips to the Barbican and Glyndebourne.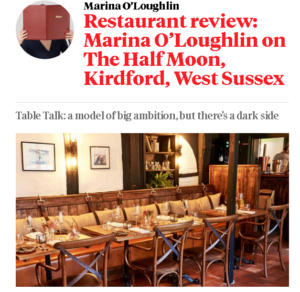 In The Sunday Times, Marina O'Loughlin headed out into the "deepest countryside" of West Sussex, to The Half Moon, a "beautiful" pub owned by model Jodie Kidd. Inside, the decor is "a carnival of chalky heritage colours and equestrian touches".
Marina's interest was piqued when a new chef was brought in – Johnny Stanford, who she remembers from "his exquisite food at Pascere in Brighton".
The Stanford magic doesn't seem to have travelled well, however – "there are so many hiccups, it's hard to believe it's the same guy", despite ingredients of "truly fine" quality. The deconstructed cheesecake ("an extraordinary, complex piece of architecture involving tubes of both delicate tuile and blackberry jelly") was the final straw: "I've never eaten a deconstructed anything that was a significant improvement on the original".
Some people may find the place "utterly enchanting", but Marina's conclusion?
"So manicured, so England by Disney… I'm considerably less wowed than I expect to be."
Micheal Deacon in The Telegraph reviewed Bucket ("pronounced as in Charlie, rather than Hyacinth") a fish and seafood spot in Bayswater whose name is "meant to evoke memories of the seaside". The food is all served in "buckets – literal buckets".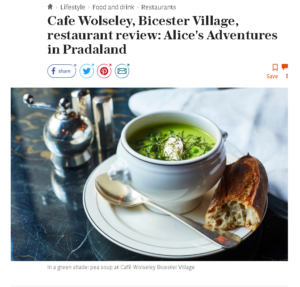 Also in The Telegraph, Kathryn Flett experienced a "retro comfort-lunch" at the newly-opened Cafe Wolseley (***) in Bicester Village.
"We are not in a gorgeous building on Piccadilly but a pimped-out pretendy
Cape Codder", but the "super-warm" service is there, as is a menu" full of the classic Corbin and King Eurohits you'd expect".
In fact, according to her friend who was simultaneously texting from a disastrous meal at the original Wolseley, she seemed to have got the better deal. Amazingly, and quite at odds with what you'd predict, the place "makes perfect sense".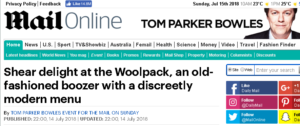 It's Cider with Rosie country for Tom Parker Bowles in The Mail on Sunday with a visit to Slad's "handsomely ramshackle" pub The Woolpack Inn (****). Laurie Lee's "spirit still lurks by the bar, with his collection of old beer bottles", but it's no "trite tourist trap", instead filled with regulars, locals and an "eclectically eccentric" crowd. Many are actually there just for the food, from a menu that's, "a quiet marvel, one that mixes pub staples with dishes of a more modern flavour" and the chef Adam Glover who "has the confidence to let the ingredients shine".
Tom's starter of Mozzarella and peach salad is "one hell of a dish, both simple and slyly sophisticated, pub grub with an Elizabeth David tan", followed by a cheeseburger that's "a work of hand-held beauty". All with " service is as warm as it is wonderful";  The Woolpack Inn is "an old-fashioned boozer with a discreetly modern menu, a place of pilgrimage, with cooking to adore" – go for the heritage, but stay for the food.
In The Financial Times, Nicholas Lander enjoyed free Champagne at Le Noailles restaurant in Bordeaux.