Jay Rayner in The Observer finds a place that can pull off ramen alongside tacos – Upstairs at No. 1, Cromer
"The menu Upstairs at No 1 is genuinely troubling. Who the hell can do ramen alongside tacos alongside a fish-finger sandwich? The answer is, they can… operated by Galton Blackiston… In an area like this… You can't just phone it in. So he doesn't.
"Downstairs at No 1 is a classic chippie… in the pastel-coloured dining room upstairs… things get interesting.
""Baja fish taco", with pea mole, pickled chilli and lime mayonnaise… are as good as any I've had in this country. They are nutty and insistent. Cromer has fabulous brown crabs, but sophisticated, modern, restless, hungry people cannot live by dressed crab alone.
"Upstairs at No 1 offers most things to many people who would otherwise have to make a massive effort to get it… the view at dusk… is swoon-worthy."
Grace Dent in The Guardian finds Ollie Dabbous's new venture Hide ridiculous – but she likes ridiculous things…
"…the most ruminated-over opening of 2018 [in fancy London]… basically a whopping, glass-fronted luxury car showroom with Ollie Dabbous at the stoves. Ridiculous, but I like ridiculous things. I am one myself. 
"…the journey to the loo is like swirling around inside an enormous acorn.
"Hide is what occurs when umpteen billion Russian mobile-phone shop roubles collide with a talented, albeit baldly whimsical wunderkind chef.
"… we whipped through £420 on two £95 tasting menus. I'm still not entirely certain if Hide was a good time, but I feel relieved that I've witnessed it.
"The religieuse pudding… was heart-flutteringly splendid. We eat and eat, as is often the way in such places, without really eating at all."
Ben Norum in The Evening Standard gives four stars to Delamina (from the folks behind Strut & Cluck)…
"…vibrant and creative Middle Eastern cooking… similar to its Shoreditch sister [Strut & Cluck] but a touch more elegant and evolved.
"Fresh and aromatic small plates that pack a punch"
"…signature turkey shawarma … wonderfully juicy and richly flavoured…make the most of the varied and vibrant flavours at this stylish spot."
Susannah Butter in The Evening Standard enjoys pasta from the masters at Lina Stores…
"…the deli is a Soho institution — it's been there for 74 years.
"London has an appetite for pasta … Lina Stores taps into this — taking pride in what it produces but serving it unpretentiously and in a democratic, non-intimidating setting.
"…pasta starts at £6… The pasta is perfect. Lina Stores, with its noble mission of feeding people good quality, affordable dishes could be the future of Soho."
Kathryn Flett in The Telegraph also reviewed Hide, and loves it just as much (if not more) than Grace Dent…
"The name is also clearly ironic …Seated at my table in front of a floor-to-ceiling window … there is, quite literally, nowhere to hide.
"Hide's confidence isn't to be confused with Sexy Fish swaggery or Park Chinois smuggery… an experiential something-for-almost-everyone offer… the way forward for clever high-end dining.
"…with a total absence of bling, Hide looks gorgeous… slow roast goose with birch sap and crisped kale… a smear of miso drop-kicked an already-great dish through my metaphorical goalposts to make it the best single dish I've eaten in over a year.
"It takes a special kind of genius to create a magnificent space like this and then to bring it alive with warmth and inclusivity. Hide is perhaps most notable for its zeitgeist-surfing lightness of touch."
Michael Deacon in The Telegraph gives three stars to Abd el Wahab: "Bring a van for your leftovers."
Tom Parker Bowles in The Daily Mail reviewed Murmur in Brighton
"…a strange choice of name for a jolly Brighton seafront restaurant… sun pouring through the windows… lovely, breezy staff… it feels more of a holler than mere murmur.
"Still, inside Murmur all is calm.
"…the new place from Michael Bremner, the deeply talented chef behind the superlative 64 Degrees. Beautifully understated, it shows innate culinary intelligence… wonderfully bosky lobster croquettes, with an oozing centre every bit the equal of those at Barafina or Sabor.
"Pudding returns to the stellar heights of the starters… service is as lovely as the cloudless sky outside… entirely without pretension… a merry, family-friendly seaside restaurant with some very good starters and puddings.
"The problem is that with Bremner's name attached, you expect, if not perfection, then steadfast consistency. Even at somewhere as laid-back at this."

Emma Henderson in The Independent reviewed Omar's Place…
"The cuisine covers a huge variety of locations with – wait for it – more than 20 countries featured.
"Mediterranean-inspired. People are starting to know [Omar] Shabaan by name …and drop in for a drink and a bite…interiors of the Grade II-listed building … a modern Moroccan feel.
"Each serving dish – which certainly cannot be called a plate – is handmade in Spain…as avant-garde in its interior as it is in its menu… at its heart… well designed and beautifully cooked food."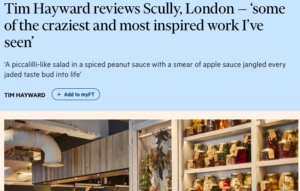 And Tim Hayward in The Financial Times reviewed Scully (the new solo restaurant from Ottolenghi protege Ramael Scully)…
"…some of the most inspired work… A piccalilli-like salad in a spiced peanut sauce with a smear of apple sauce jangled every jaded taste bud into life."
More from Hardens