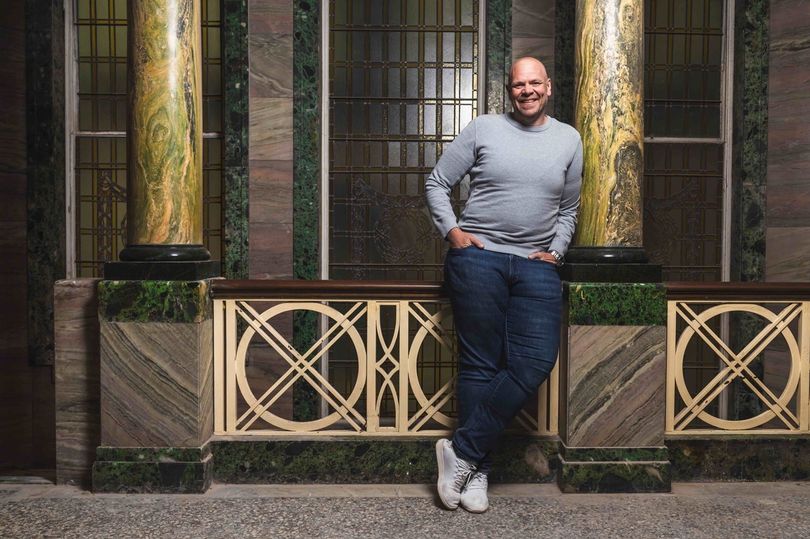 Celebrity chef Tom Kerridge has come aboard for one of Manchester's most high-profile openings of recent years. He steps into the shoes originally destined for Michael O' Hare: impresario behind Leeds phenomenon, Man Behind the Curtain.
The Hand and Flowers founder will look after the food and beverage operation occupying one of the city's landmark buildings – its ertwhile Stock Exchange: an imposing Portman stone-clad Edwardian edifice in the heart of the city-centre. Having been through a number of owners, the edifice is under conversion into the Stock Exchange hotel, a new launch planned by GG Hospitality, which is backed by former Manchester United stars Gary Neville and Ryan Giggs.
In 2016, Michael O'Hare was drafted in by the United clebs to underpin their schemes for restaurant expansion in the city, and was the name originally linked to this site. The original team parted ways a year ago, however. Bringing Kerridge onto the team echoes the earlier strategy of putting a major name at the heart of the project.
Kerridge said: "This is a really exciting opening for us. The hotel is going to be stunning and we're very happy to be working with GG Hospitality. We can't say much at this stage, but I can say that we'll be bringing a bit of Marlow up to Manchester.
"We are very much looking forward to being a part of the city and joining the exciting and vibrant Manchester food scene."
Little is known about the plan, but Kerridge hinted that the opening will be inspired by his acclaimed batch of Marlow restaurants.
Winston Zahra, CEO of GG Hospitality, said: "We are especially happy to have partnered up with Tom on the food and beverage side of the hotel and are very much looking forward to working with Tom and his team in Manchester."
The Stock Exchange will be Kerridge's second brand-extension into hotel restaurants, and follows on from the launch of Kerridge's Bar and Grill at the Trump family's new favourite hotel: the Corinthia near Embankment. Manchester has sometimes proved the graveyard of northern expansions by well-known names from 'daan sarf'. With his major commitments in Marlow and London, it remains to be seen whether Kerridge can buck that trend.
Recent News from Harden's