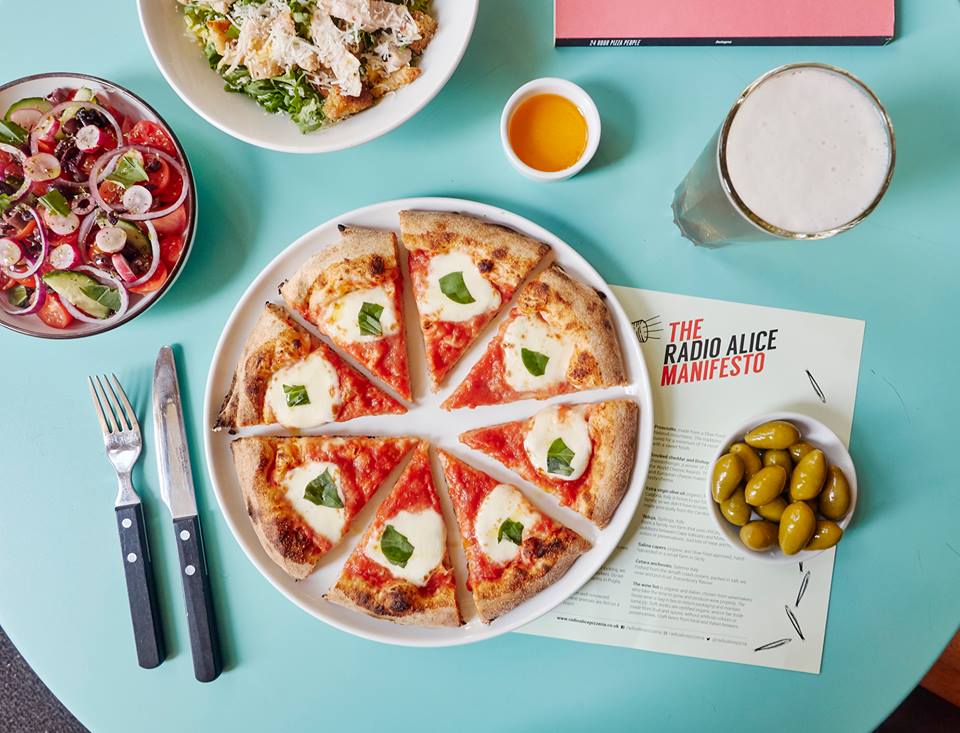 Radio Alice, the Bologna-born pizzeria founded by brothers Salvatore and Matteo Aloe will launch a third site in Canary Wharf. The brand currently has two London sites, Hoxton, which opened in 2016, and Clapham, which opened a year later.
The business was forged in Bologna in 2010, where the Aloe brothers opened Berbere, the original Italian iteration of the concept. As well as UK expansion, the team is also scaling up across the north of Italy, with restaurants in Milan and Turin.
It was after meeting Emma King, co-founder of GAIL's bakery, that the Aloe siblings sought to bring their sourdough pizza to London. All three make a big deal about being particular and meticulous with sourcing, with anchovies coming from the fishing village of Cetara on the Amalfi coast, proscuitto and speck from their own family butchers in Bologna, and tomatoes from Puglia.
The Aloe brothers and King say they hope to evoke a sense of place in each of their restaurants. In London, the best of British produce supports the hyper-local food shipped over from Italy.
"With each pizzeria, from Milan to Rome to Hoxton, we've always wanted to get to grips with the neighbourhood," Salvatore said.
"We're really looking forward to getting to know a new corner of London.
"Since we opened in 2010, there's been a shift towards the importance of organic and sustainable ingredients on restaurant menus, and London has been an early pioneer in this."
Matteo added: "We've worked closely with the Soil Association and recently discovered some fantastic British producers so look forward to incorporating these alongside our Italian friends in Canary Wharf."