Here is our weekly round-up of what the national and local restaurant critics are writing about, for the week ending 11 April 2021.
England now has a 'roadmap' of dates for the re-opening of restaurants and pubs, which are allowed to re-open from 12 April to serve single households seated outdoors: https://www.gov.uk/government/publications/covid-19-response-spring-2021/covid-19-response-spring-2021-summary
All of Wales is at alert level 4, but the stay-at-home restrictions have been lifted, and further restrictions will lift on 12 April: https://gov.wales/coronavirus
Like Wales, in mainland Scotland, the stay-at-home restrictions have been lifted, and further restrictions will lift on 12 April https://www.gov.scot/publications/coronavirus-covid-19-protection-levels/
Northern Ireland is under 'stay at home' restrictions until 15 April: https://www.nidirect.gov.uk/articles/coronavirus-covid-19-regulations-guidance-what-restrictions-mean-you
Please continue to order takeaways, cook-at-home kits, vouchers, merchandise and deliveries from your favourite restaurants if you can (we include links to those mentioned); the restaurant industry and everyone involved in it need our continued support.
*****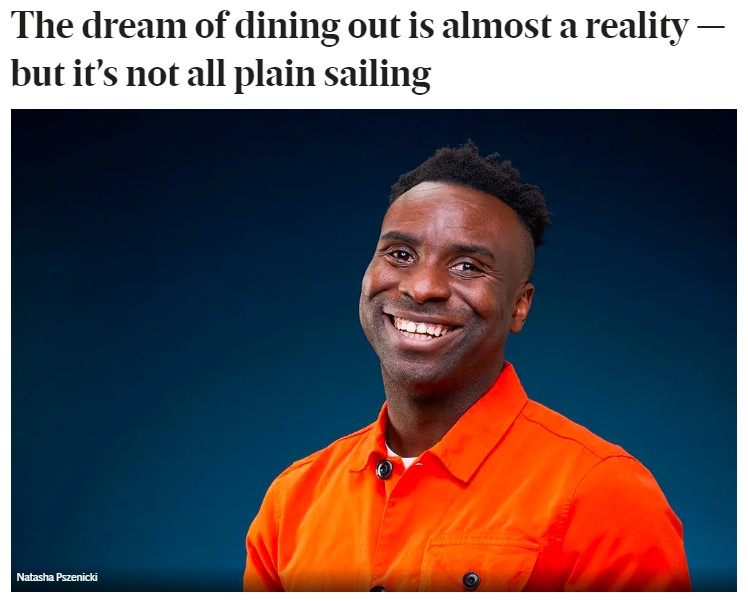 The Evening Standard
The Evening Standard's chief restaurant critic Jimi Famurewa associates April with the London Marathon, which he finds an appropriate metaphor for the re-opening of restaurants for outdoor eating, as we will all be needing "mental fortitude, pluck in the face of adverse weather conditions and a cavalier, Paula Radcliffe-ish attitude to outdoor weeing".
Jimi is excited about London re-opening, and seems to have several reservations in the diary; "I'm excited about the city, which for so long has seemed a shrunken, sickly version of itself, getting some colour back in its cheeks".
He notes that it's not all good news; tourist numbers are low, "alfresco opening isn't viable for all businesses" and there's still a lot of financial uncertainty for London's restaurateurs, with the rent moratorium ending for good on 30 June. "Restaurateurs have shown resilience, creativity and grit to get to this point, and the precipice of some longed-for normality. A little extra help wouldn't go amiss."
"We are not yet at June 21's promised Covid endpoint. But in the coming days and weeks, as masked hospitality staff welcome beaming regulars back, it will feel that we have rounded the corner."
Jimi also reported on the baked goods he's been finding on social media during this lockdown, from Bao's steamed dough penis (not a typo) to "intensely squidgy, Aussie-style Anzac cookies" from Smor in Sydenham; "this gruelling third lockdown has coincided with what feels like a glittering epoch for restlessly inventive, highly Instagrammable pastry cooking".
"After the lumpen home bakes of last spring, it is pastry lust as a kind of collective coping mechanism"; another positive note is that it "isn't just Eurocentric baking traditions garnering attention".
*****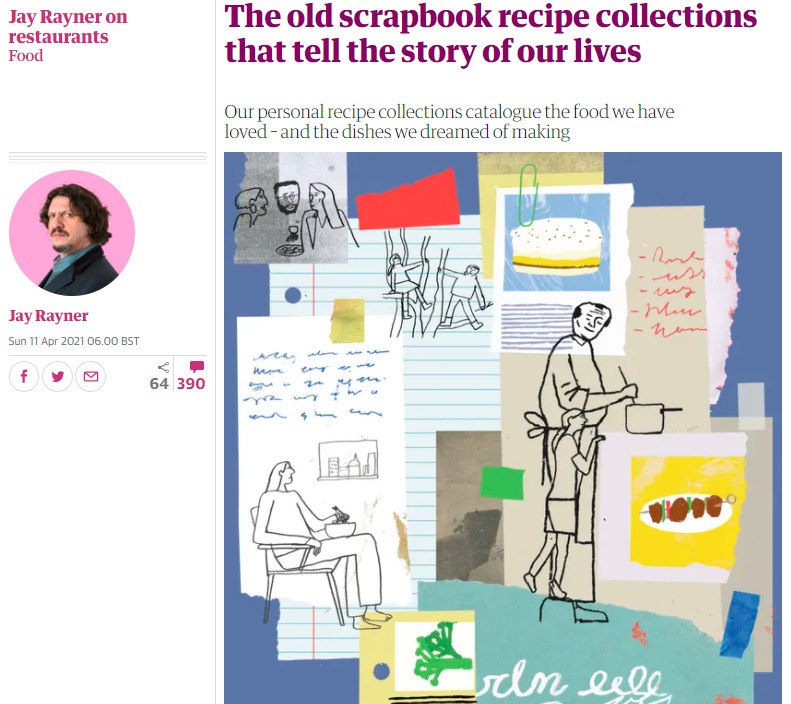 The Observer
In what will hopefully be the last week before Jay Rayner returns to restaurant reviews, his article featured the recipe book that we all have – our own "collection of recipes cut from magazines and newspapers, photocopied from a friend's book or scribbled down by a relative".
"It is an unplanned collage of a good life, or a feverish attempt at one, measured out in ingredients, volumes and oven temperatures."
"Unsurprisingly, lots of the collections I studied include contributions from some of our biggest name writers, slumming it in periodicals." But when he asked Nigella, Nigel and Yotam, not one of them had a personal recipe book, whether hand-written or full of magazine clippings. (Ottolenghi sometimes even Googles his own recipes if he wants to recreate them.)
In fact, so many of us now search online for recipes or rely on website collections that we are at risk of losing "a significant slab of our shared cultural, and edible, history. Future historians will not be able to work out our life stories through the dinners we dreamed of making. That would be a crying shame."
*****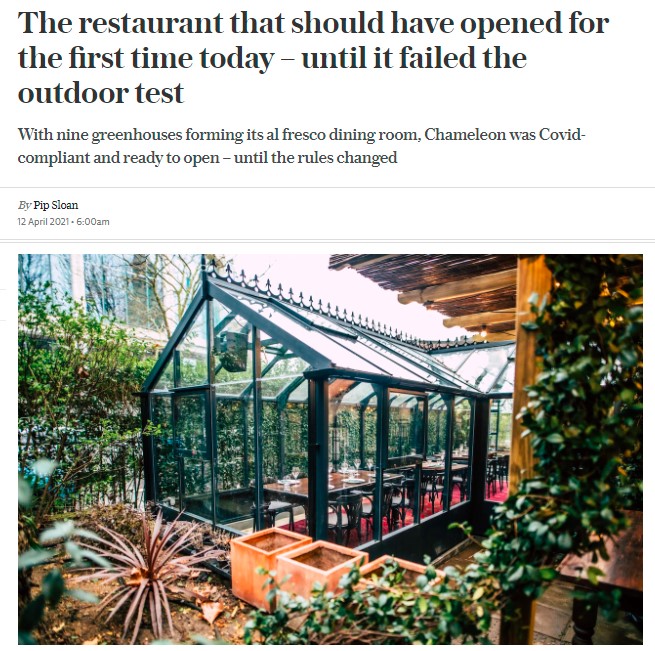 The Telegraph
Pip Sloan reported on a sad tale from the April 12 planned re-openings. Chameleon, the new Tel-Aviv inspired restaurant and "self-styled "multi-experiential" pleasure palace inside One Marylebone" was due to open for the first time on April 12, and had "nine beautifully decorated, heated and air-conditioned greenhouses specially commissioned to form an entirely outdoor dining room".
Unfortunately, "the rules regarding what constitutes an 'outdoor space' altered to fall in line with those of outdoor smoking areas, meaning that at least 50 per cent of the walls now have to be open-air", meaning that Chameleon is unable to use them until later in the year.
There is a happy ending, as the bar hadn't yet been built, and so the team were able to create "a new dining space, its tables entirely al fresco, that will open to customers on April 23".
Several other restaurants, including The Terrace in Yarmouth, IOW and The Marlborough in Wiltshire have similarly invested heavily in chalets, greenhouses and Covid-safe structures that no longer qualify as outdoors.
*****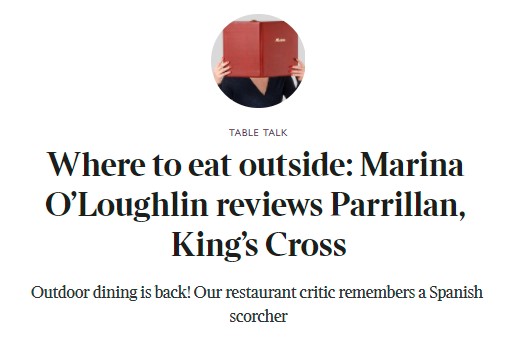 The Sunday Times
The week before restaurants in England re-open, Marina O'Loughlin remembered an outside meal from just before Christmas 2020 at Parrillan, the fully outdoors, "sort of punkier sibling to Barrafina" from "the clever brothers Hart".
Even on a "freezing evening" in December she was "toasty under the pergola, suffused with warmth from every direction", including the parrillan grills on which she cooked "dish after excellent dish". The bills mount up quickly but right now she would "pay whatever to whoever brought me oodles of delicious food and quantities of chestnut negronis".
She's not entirely sure how she feels about the re-opening of restaurants; "is there such an emotion as fearfully jubilant? Timorously joyful? Anxiously ecstatic?" But she's definitely happy about sitting in restaurants again ("or, at least, restaurant-adjacent"), but is carefully checking all their Covid arrangements, while understanding that they absolutely have to be in place.
"I'm furious at the constant and continuing punitive measures handed out to hospitality when even the most engineered graphs and statistics can't quite manage to pin the Covid tail accurately on the restaurant industry donkey."
*****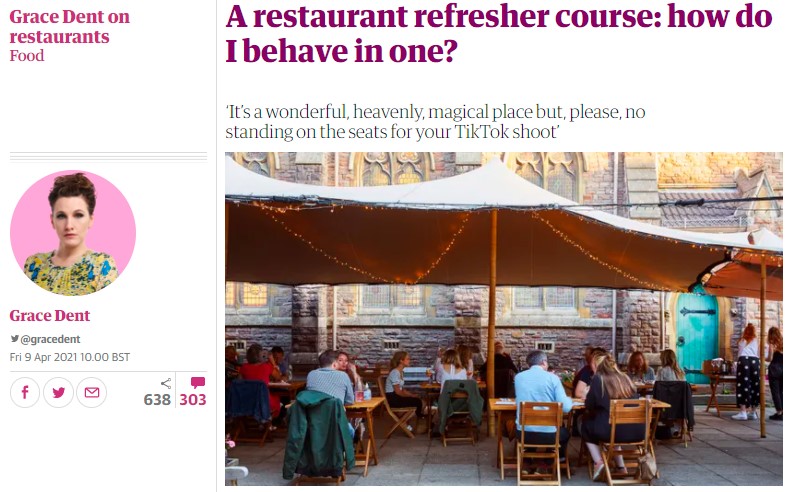 The Guardian
"As 12 April nears, it may be time to have a refresher course on restaurants. It's been a long old while. What, actually, is a restaurant, and how do I behave in one?"
Grace Dent reminds us what a restaurant is, how "magical" they are and "why the world has felt like a barren, dystopian landscape without them".
"A restaurant is a place that isn't your home where you can eat dinner. It's someone else's home, in a sense, because it's run by a dysfunctional family who live there practically 24/7."
Diners get looked after, fed, plied with drinks – and at the end of it, "all the ferrying of plates, machine-loading, washing and stacking is somebody else's woe".
She also reminds us of what a restaurant isn't (a creche, a "magical sticking plaster over your terrible relationship" or "a back-up plan if your other plans fall through" – no-shows are unforgiveable).
"So, to sum up: show up on time, be nice, tip your server. Restaurants are open for business, and by gosh we've missed them. We won't take them for granted again."
*****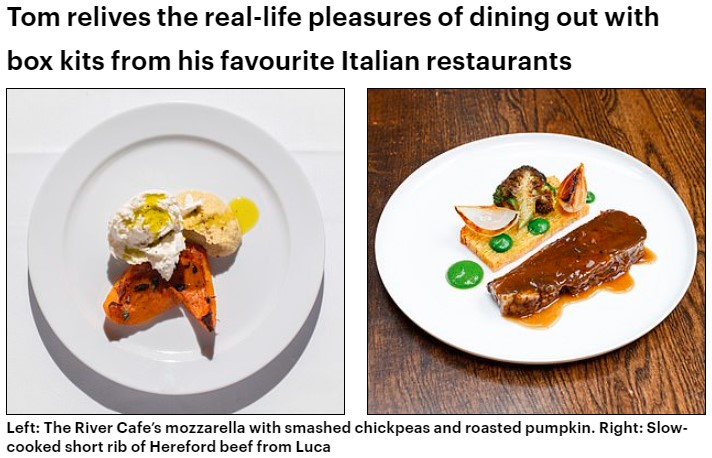 The Mail on Sunday
Tom Parker Bowles for YOU Magazine is still comparing meal kits; this week it was the turn of Italian restaurants The River Café and Luca.
The kit from The River Café (shoptherivercafe.co.uk, £140 for two) contained three courses and was predictably "simple but peerless", albeit "not cheap, but worth every penny".
East London's Luca (luca.bignight.app, from £90 for two) delivered a kit that was "simple to make, joyous to eat" and was "a riot of tastes and textures".
"This is box food of the highest order. For us, a lockdown luxury. But for those restaurants working so hard to stay afloat, it's nothing short of a lifeline."
*****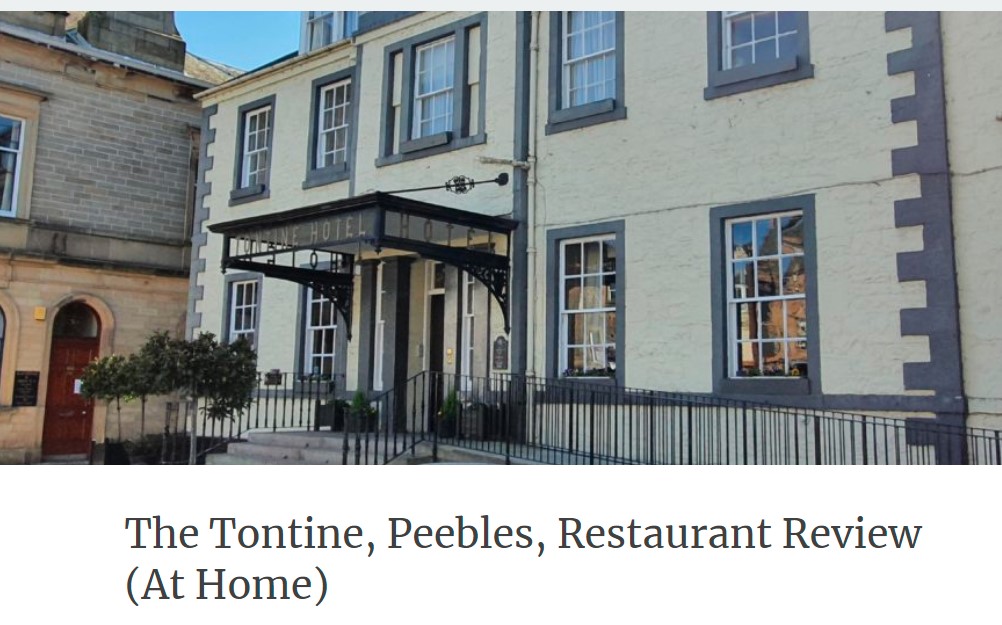 The Scotsman
Catriona Thomson reviewed the cook-at-home kit from The Tontine Hotel in Peebles; "during lockdown, I have been following their meal offerings as they whisk their customers off on a globe-trotting food adventure. They take inspiration from a different country or region with a new menu featured each week".
The kit that Catriona ordered contained roast dinners for Easter, one veggie, two carnivorous. They arrived in substantial "Borders portions" that saw them through two dinners and was so tasty that "if there had been a pattern on the plate it would have been scraped off".
And also…
Birmingham Mail reported on the eight major changes that visitors returning to the city centre will see, including the 'parklets' designed to protect outdoor gatherings from traffic fumes.
*****
Recent News from Harden's