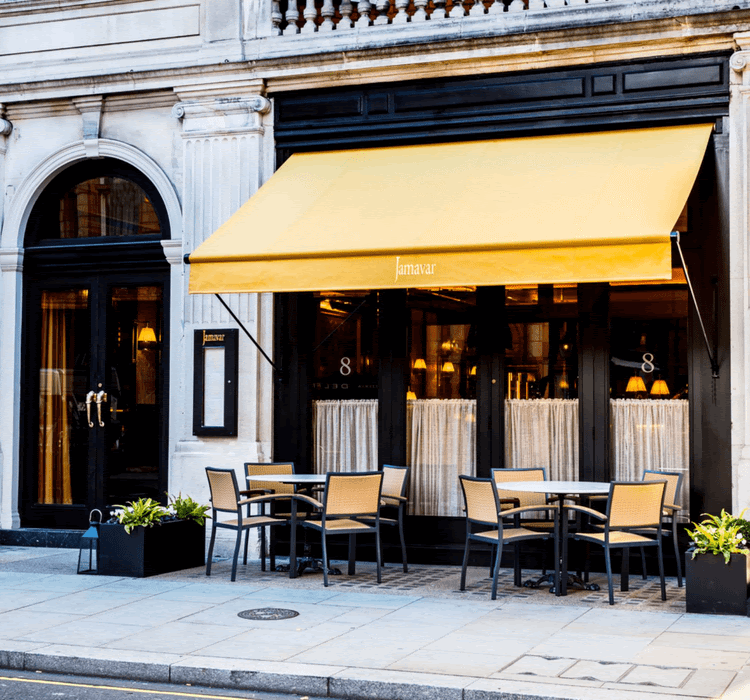 Jamavar, one of Mayfair's roster of high-end Indian restaurants – "not as memorable as some… but definitely a favourite" – will launch a new summer terrace, squeezing tables and chairs in front of the restaurant.
True, countless restaurants up and down the country are doing the same. Between April 12 and May 17, only outdoor dining is allowed, but such is the eagerness for chefs to cook again, and customers to dine out, every inch of available outside space is being used for hospitality. Councils across the country have been largely accommodating (not always, but mostly).
It is more interesting to see outfits like Jamavar PR this aspect of their operation because it is such a detachment from their normal emphasis – usually, formal, indoor settings are in focus, with classy service and intricate food, not to mention expensive decor.
We wonder whether it will impress? Will the relentless tide of hungry diners substantiate such an efficient use of space, and these brisk, risky manoeuvres? More casual restaurants, or those kitted out to serve on a terrace – Ivy brasseries, Corbin & King spots, any number of big money guys in King's Cross – are well suited to alfresco. Jamavar's terrace is not new, but to predicate a grander experience solely on sitting outside might have appeared a little rogue, two years ago, we suspect.
Still, this is necessary even if it's bold. And very welcome. We want all of hospitality to open and we hope businesses' suffering ceases. Jamavar has every right to launch a terrace and no doubt tables will be snapped up quickly.
Maybe the terrace, which looks out onto Tadao Ando's water feature, 'Silence', will prove endlessly popular while it's warm. We expect so. Queen Anne revival style architecture is all about it, and it sits next to neighbours Balenciaga, Christopher Kane, and James Purdey.
There is also the exclusive edge: "Enclosed with box hedging and period railings, then covered with a grand mustard yellow awning, the terrace will have seats for just eight guests. There will be heaters and soft throws to keep away the chills on those cooler summer nights."
The terrace will be led by culinary director Surender Mohan, with a new menu exploring pan-Indian flavours. Dishes will include Indica salad with poached pear, asparagus, kale and kokum dressing; Kathal bhel made of jackfruit cutlets, puffed rice & date-tamarind chutney; and Bhatti ka octopus with black pepper, coriander seeds, Kashmiri red chilli and southern corn salad.
Co-founder Samyukta Nair said : "After a tumultuous 12 months, my team and I cannot wait to launch The Jamavar Terrace.
"Surender and I have all been working hard throughout lockdown – developing new ideas and dishes for the year ahead, and we are longing to welcome back our patrons to enjoy our new additions alongside classic favourites."