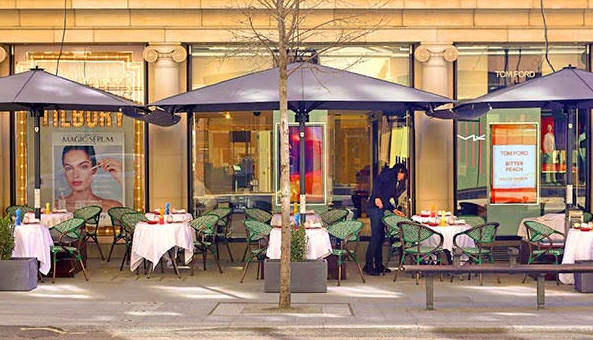 The esteemed and notably plant-based chef Alexis Gauthier will open a new fully vegan casual dining restaurant at Fenwick, Bond Street, on April 12.
The new opening, titled 123V, will be "casual dining restaurant" situated on lower ground floor of the building and with an outdoor terrace.
123 will feature an all day menu, lunch specials, and a broader a la carte, though has very much been positioned in the accessible side of dining, with two courses for £22, and three for £26.
Gauthier's eponymous Soho restaurant, which isn't exclusively vegan but moving that way, is much higher-end. This, then, is yet another sign that plant-based dining is moving well into the mainstream.
123 will be surrounded by similar plant-based ventures, such as the big bucks, Lewis Hamilton-backed burger brand Neat Burger, the painfully posturing Deliciously Ella, and By Chloe. Mayfair, a world of veganism? Who knew.
At least we know Gauthier's food will be impressive. It sounds promising indeed, if a little daunting thanks to the number of cuisines involved in the inspiration for dishes – Mexico, LA, Thailand, and the South of France.
Glazed roasted aubergine, cous cous, beetroot, almond; Quesadilla verde with leeks, chard and rocket; California cheeseburger with a Beyond Meat pattie in a soft bun. Nothing if not curious.
"Fenwick straight away were on the same page," said Gauthier.
"They got the idea, in fact I think they were dreaming of something very similar.
"Their idea to redevelop their lower ground floor into such a modern and exciting space shows their agility, vision and willingness to adapt to the changing expectations of the modern retail customer".
Recent News from Harden's