Summary
"Boldly flavoured" nouvelle Indian cuisine served in a "dark and clubby", colonial-theme setting puts Leela Palace's Mayfair two-year-old in London's premier league, if not perhaps quite at the top of the table: "not as memorable as some top names, but definitely a favourite". But while it's "a good attempt at taking Indian cuisine to the next level", it lacks the stunning verve fans recall from when it first opened: "a fun evening out, but it will need to do better again to match the best of the best".
Summary
"Having been to Jamavar in Bangalore, I tried their London restaurant and was most impressed" – Leela Palace's "plush", colonial-style yearling ("I'm not sure the decor is very PC!") is "a great addition to Mayfair" and wins ecstatic praise from many reporters for its "super slick service" and "fabulous and spicy" dishes that "strike a balance between the traditional spicing and flavours of Indian cuisine, but with high-end presentation and gastronomic flourishes!" No hiding, however, that it was a blow when they lost founding chef Rohit Ghai in January 2018, with ratings in this year's survey at laudable levels, but miles away from the giddy heights achieved in year one.
Summary
Leela Palace's "stunning" newcomer in Mayfair's most fashionable restaurant row has immediately established itself as "the best Indian restaurant in town, indeed it's amongst the best restaurants of any cuisine". Ex Gymkhana chef, Rohit Ghai's "expert" and "exquisite" dishes are "genuinely top class" (while "still remaining properly authentic to the flavours you might find in New Delhi or Mumbai") and the interior (modelled, apparently, on the Viceroy's House of New Delhi) is a picture of "elegance and sophistication". STOP PRESS: In December 2017 a sequel, Dabbawala is to open at 29 Maddox Street (formerly Hibiscus, RIP).
Summary
'Jewel in the crown' of the Leela Palaces Indian hotel chain, Jamavar London will open in November 2016, under executive chef Rohit Ghai (Gymkhana, Benares).
Owner's description
Jamavar was first conceived in the late nineties by Dinesh Nair, co-chairman and managing director of The Leela Palaces, Hotels and Resorts.
Responding to a close friend's lament, that diners could not get a fine north Indian dining experience when living in the South, Nair decided to give his friends the real deal. He brought master chefs from New Delhi, the capital city, to oversee the North Indian cuisine, and from Chennai, located on the coast of the Bay of Bengal, to look after the South Indian menu. Secret recipes of his mother Leela, after whom the luxury hospitality chain is named, were included in the menu.
Jamavar opened in 2001 at The Leela Palace Bengaluru to rave reviews. Garnering almost as many accolades for its lavish design as for its menu, it was named among the World's Top 10 Power Dining Spots by Forbes USA. Over the next few years, it expanded to other internationally acclaimed Leela properties in New Delhi, Chennai, Goa and Mumbai.
Inspired by his travels and love for food, Nair went on to successfully bring iconic international restaurant concepts to The Leela, including the first Asian outposts of legendary New York restaurants Le Cirque and MEGU. Jamavar London, however, is his first foray overseas. He, along with his daughter Samyukta Nair, will play an integral role in driving the latest addition to the portfolio towards excellence in every aspect.
Jamavar London will showcase a wide array of flavours from across India. On the menu are dishes from the Royal Kitchens of the North along with succulent options from the shores of the South. The kitchen team is led by Executive Chef Rohit Ghai who is of revered culinary pedigree having lead several Indian Michelin starred kitchens, including most recently Gymkhana, Trishna and prior to that, Benares. The menu tasting plates are inspired by his travels to India, and the signature Jamavar dishes, are based on his deep dive into the culinary wealth of The Leela, with its Corporate Chefs de Cuisine.
Jamavar London is the culinary jewel of The Leela Palaces, Hotels and Resorts. It is the sixth restaurant within its family and the first outside the majestic sub-continent.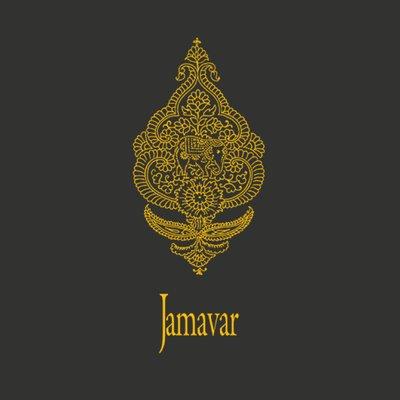 Prices
| Drinks | |
| --- | --- |
| Wine per bottle | £35.00 |
| Filter Coffee | £4.25 |
| Extras | |
| --- | --- |
| Bread | £9.00 |
| Service | 12.50% |
Private dining
At Jamavar London we offer exclusive spaces and personalised services to help create the most memorable experiences for you and your guests.
The private dining room, nestled at the end of the main dining room on the ground floor, can accommodate up to eight guests. It comes with its own wine vitrine and views of a beautifully planted private garden. The charming space is a tribute to the rich heritage of natural indigo dyes of India, and its royal blue hues add luxurious warmth to the setting.
Our lower ground floor seats up to 32 guests can also be used as a semi-private dining area. A private mirror-embellished bar, designed to showcase Indian textile techniques, is dedicated to this area for exclusive use.
Our culinary team would be delighted to curate the perfect menu to fit your requirements, and our Sommelier, happy to assist you in selecting just the right wine to match.
For enquiries, please contact our reservations team at 0207 499 1800
or e-mail us at reservations@jamavarrestaurants.com.
We look forward to seeing you soon.
8 Mount Street, London, W1K 3NF
Make A Booking
Number of Diners:
Required Time:
Powered by OpenTable
Opening hours
| | |
| --- | --- |
| Monday | 12 pm‑2:30 pm, 5:30 pm‑10:30 pm |
| Tuesday | 12 pm‑2:30 pm, 5:30 pm‑10:30 pm |
| Wednesday | 12 pm‑2:30 pm, 5:30 pm‑10:30 pm |
| Thursday | 12 pm‑2:30 pm, 5:30 pm‑10:30 pm |
| Friday | 12 pm‑2:30 pm, 5:30 pm‑10:30 pm |
| Saturday | 12 pm‑2:30 pm, 5:30 pm‑10:30 pm |
| Sunday | CLOSED |
What social media is saying