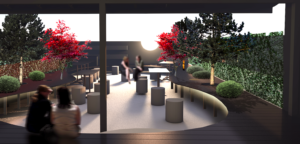 Drinks supremo Tony Conigliaro will partner with Japanese beer brand Asahi Super Dry to launch the 'Moon Garden' at his Dalston restaurant and bar, Untitled, this summer. Opening on Friday 18 May, the Asahi Moon Garden will be a 20-cover outdoor area accessible to the rear of Untitled, giving guests the chance to enjoy al fresco dining and drinking during the summer months.
The garden will offer a dedicated Asahi Super Dry bar, serving the premium Japanese beer on tap, as well as an extended sake list and garden cocktail menu. Each weekend the garden will host a Japanese-style yakitori open-grill. Meat and vegetable skewer options will be available (as well as a vegan option), from 6-10 pm every Saturday and Sunday.
On select Sundays throughout the summer, guest chefs from some of London's leading restaurants will take the reins of the open-air grill to serve a one-off yakitori skewer menu in the garden; alongside options from Untitled's talented executive chef, Rob Roy Cameron (ex-El Bulli). Restaurants in the confirmed line-up for the yakitori Sundays series include Soho ramen favourite, Koya and Peckham's trendy neighbourhood restaurant Aside, with more names to follow.
And on 10 May Rob Roy will once again serve his monthly tasting menu in the restaurant. The five-course seasonal feast includes a welcome drink and some 'surprises'. Tickets are £45 pp, booking essential. The tasting menu is also available in the Moon Garden, weather permitting.