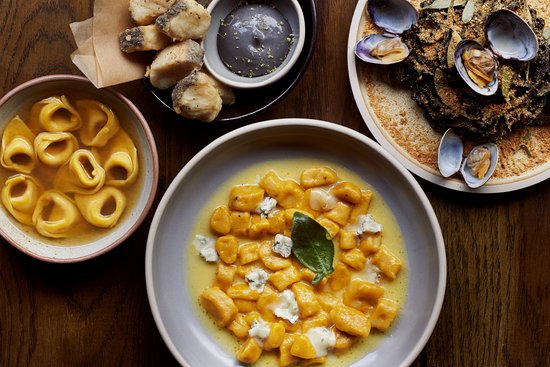 London's on-going love affair with handmade pasta has received a double boost with the launch of two new live-action operations offering slightly different takes on Italian comfort food.
Spagnoletti, part of the St Pancras Hotels Group on the Euston Road, describes itself as an "Italian flour lab" over two floors, with chefs Manuele Bazzoni and Girolamo de Gennaro knocking up pasta, bread and pastries in an all-day restaurant downstairs with a craft bar upstairs.
It is named in honour of Charles Spagnoletti, a 19th-century engineer of Italian extraction who invented a telegraphic signalling system for the Metropolitan line which was taken up across the nation's railways.
Meanwhile, Officina 00 opens its second branch, in Fitzrovia, offering rustic-stye dining as well as hands-on pasta-making workshops for those wanting to eat their own fresh pasta at home. Elia Sebregondi and Enzo Mirto opened their first branch in Old Street three years ago.