Our weekly round-up of where the national and local restaurant critics are reviewing and what they are recommending, for the week ending 5 April 2020; the country is in lockdown, with restaurants, cafes and bars closed due the coronavirus outbreak. You can still support your local and favourite restaurants, though – many are offering takeaways or deliveries, or you can buy produce, meal kits, vouchers, cookbooks or merchandise. Check out their social media pages for details (all available on hardens.com)
In these difficult times for the hospitality industry, we salute those establishments offering free or discounted meals for NHS staff and keyworkers.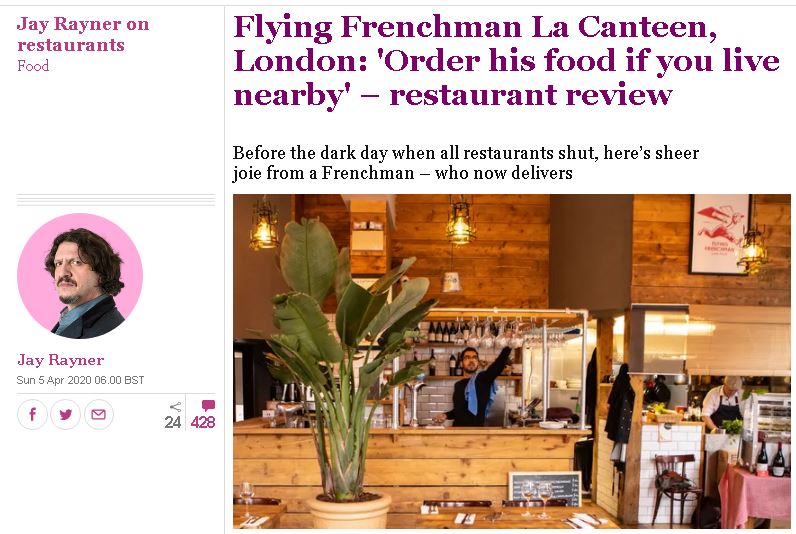 Jay Rayner for The Observer is down to his last review of a meal eaten out before the restaurants were closed. "From next week this will be a rather different sort of restaurant column."
He was in north London, at the new-ish home of chef-owner Guillaume Desmur, a French cook ("not a chef" in his own words). It's a "small restaurant on a corner site" that's charmingly wonky, despite being in a new build. "It's dinner in Wallace and Gromit's shed."
Desmur "wears his non-genetically modified, free-range heart on his artisanally woven sleeve" and stands for "quality, sustainability, good practice and honesty" (as do all restaurants, hopfully). He also riffs on traditional recipes, but "underpinned by the fundamentals. He is cooking from a recipe book that just happens to be in his head".
Jay ate a coarse pork terrine that was "a masterclass in the charcutier's art", French onion soup "ripe with soft, gently caramelised onions and a profound, nurtured stock", an "assembly" style cassoulet with "mighty" homemade sausage and "a winningly insistent broth" ("comforting"). The Merguez shepherd's pie was a "bold, culinary mashup". For dessert there was poached pear and "crème brûlée, because not to have one at a restaurant like this would be an arrestable offence".
By now, La Frenchman will have moved to a delivery model of a few of Desmur's dishes. "Please order his food if you live nearby. Indeed, support as many of your locals as you can."
---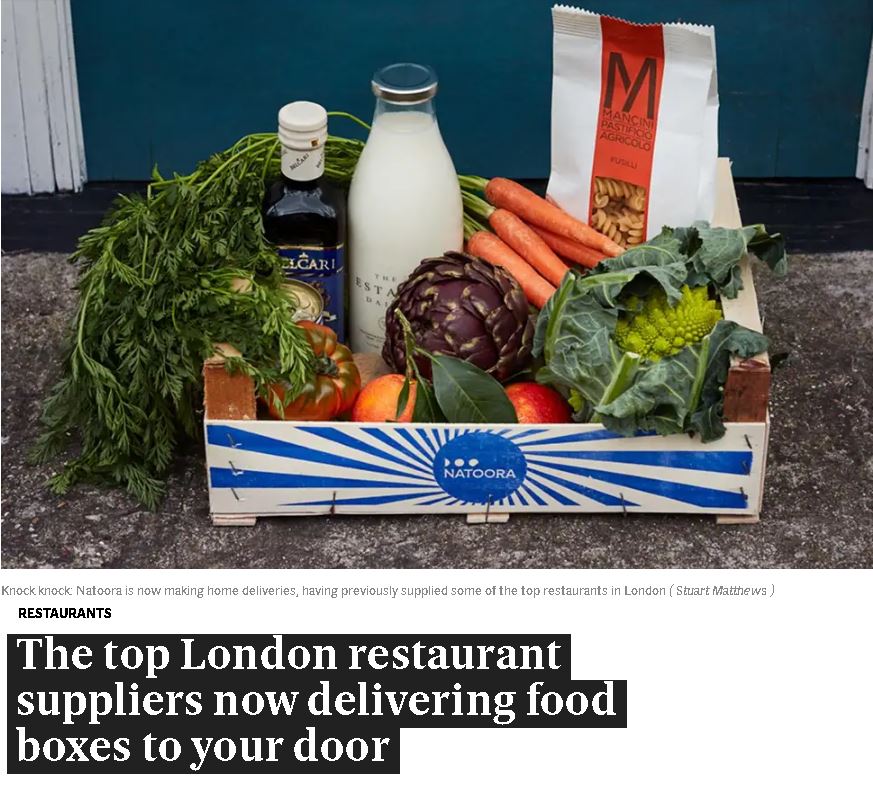 The Evening Standard
Jimi Famurewa from The Evening Standard reported on a selection of the London restaurant suppliers and wholesalers who are delivering direct to customers, including Natoora, Covent Garden wholesalers and London Dairies.
The London paper also published a tantalising article describing what "three of the capital's top chefs cooked this week" at home, and a round-up of the online masterclasses and video tutorials being made available to watch by "some of London's chefs, bartenders and wine experts".
---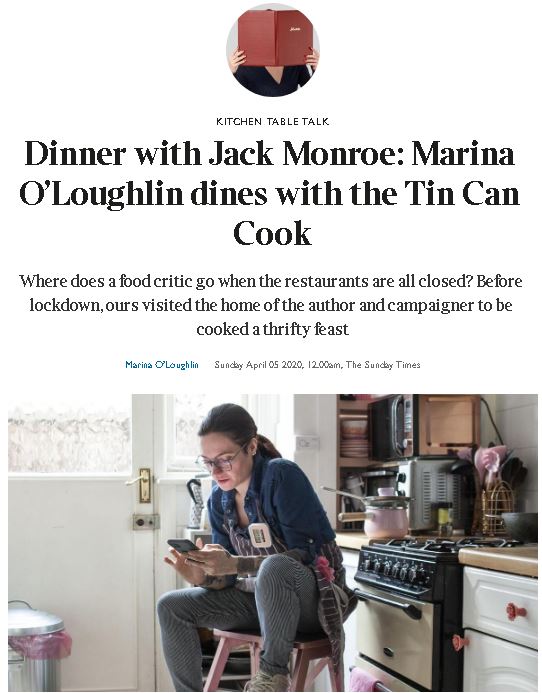 The Sunday Times
"If you've got fillet steak and Beaujolais you can make something delicious, but if you've got a can of meat and some corner shop merlot you've got your work cut out to make something that tastes good."
Just before lockdown, Marina O'Loughlin for The Sunday Times went to a very timely lunch with Jack Monroe, "poverty campaigner, activist and food writer" (author of A Girl Called Jack and five other titles), who cooked her a "multicourse meal of cheap ingredients and tinned food", including the "19 substitutions" her online supermarket shop had delivered. Lunch was, of course, "fully social distanced", at either end of a long table.
From bisque made with salmon paste ("Ugh, I think, until I taste it: thrumming with ginger and coconut milk and preternaturally smooth") to a stew fashioned from tinned steak ("decanted from its tin and slow-cooked for 12 hours with red wine… herbs and her favourite measurement, "a shitload" of garlic"), the meal is "excellent: not just good, excellent". "What astonishes me is how luxurious her food is, how she makes "shitty ingredients" taste like fine ones."
"In this weirdest, most unsettling of times, when supermarkets have been denuded of everything from tinned tomatoes to marmalade to mince, what she's doing isn't just intriguing, it's essential."
From 14 April 2020, Monroe and Matt Tebbutt are hosting Daily Kitchen Live on the BBC, offering tips and guidance to families struggling with limited resources.
---
The Times
Giles Coren's new column in The Times is co-written with his wife, Esther Walker. This week they engaged in a not-terribly-funny discussion on whether they should sit out the lockdown in their London home or their second home in Gloucestershire, maintaining his relevance to the miniscule percentage of the nation who are suffering the same dilemma, and just irritating the rest.
---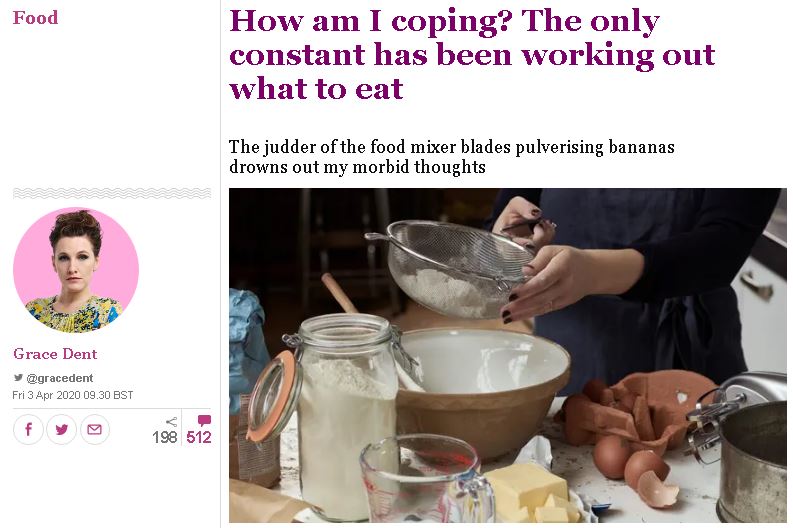 The Guardian
Grace Dent for The Guardian has been making banana bread with the wrong flour and worrying about her friends and family.
"Perhaps, like me, your Covid-19 crisis persona shifts through several gears each and every hour, from calm to terrified to brave to depressed to jolly, via gallows humour and so on. The only constant has been working out what to eat at a time when many ingredients we once took for granted are scarce."
Readers might like to pass the time on lockdown with The Guardian's quiz on national dishes.
And also…
The Financial Times reported on the "drastic Darwinian environment" faced by UK restaurant chains: "Carluccio's was first main casualty of lockdown but others are on shaky ground". Another article bemoaned the "lost belle époque of the restaurant" – "ahead of us is a dining desert that could last a generation".
The Scotsman reported on chef Nico Simeone's move to the home delivery of his Six by Nico tasting menu concept in Glasgow and Edinburgh. Home by Nico launches on 10 April.
Recent News from Harden's