Here is our weekly round-up of what the national and local restaurant critics were writing about in the week ending 29 November 2021.
*****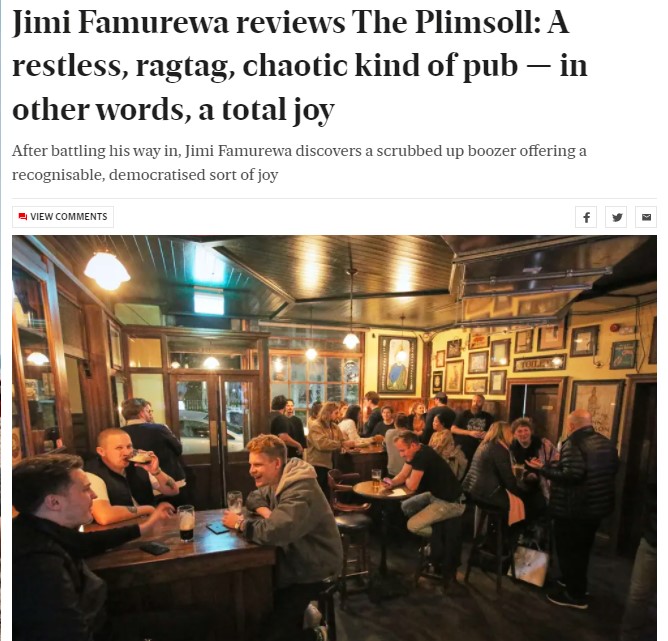 The Evening Standard
A busy week at Evening Standard HQ, with seven noteworthy articles to review! Jimi Famurewa reviewed The Plimsoll, the new home of Four Legs chefs Ed McIllroy and Jamie Allan.
It was hugely busy and booked out the night he turned up without a reservation, but a no-show meant he could stay and eat – and he was glad of it, "because the food and experience… — vivid, full bore flavours and potent mix of informality and adventurousness — is probably worth the clenched bunfight".
Jimi has been a fan since he wrote a review of The Compton Arms that was a "long, slobbering marriage proposal to their legendary cheeseburger" (there's another paragraph devoted to it in this review – it "still delivers a scarcely believable rush of pleasure"); the Dexter is still on the menu, which otherwise changes at pace.
"Their reluctance to stand still, repeat, or endlessly refine a single idea is both superpower and, perhaps, slight Achilles' heel."
The venue is "an old campaigner given a good scrub" with a "newly built, gleaming open kitchen jutting into the main dining room". The team "may not have reinvented the pub. But they are making this creaking, frequently misunderstood institution move to their own idiosyncratic beat".
*****
Also in The Standard, David Ellis revealed news of three new restaurants: a "new neighbourhood restaurant" from The Oystermen team, Walter's (opening January 2022); former Tredwell's chef-patronne Chantelle Nicholson's new restaurant, the hyper-seasonal Apricity, set to open in March 2022; and gave us a first look at the revamped Booking Office 1869 in the St. Pancras Renaissance Hotel.
In 'other news', reviews of the celebrity cookbooks of 2021, the best bread in London's restaurants, and a report that Benares was voted top central London Indian restaurants – and Shampan Bromley the best in outer London – at the British Curry Awards.
*****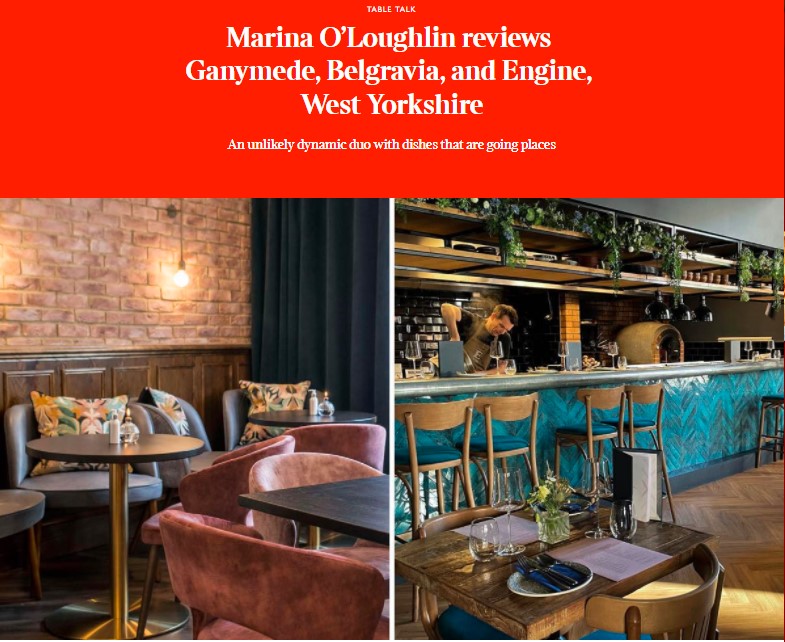 The Sunday Times
Marina O-Loughlin submitted a double review this week, of two places that seem to be in entirely the wrong location, but "instead of withering, they're flourishing".
"One is a country pub that seems to have landed accidentally in a chichi part of central London; the other the sort of place that belongs in Dalston…but has wandered off to a small, cosy-looking West Yorkshire market town by mistake."
Firstly, Ganymede, "occupying what used to be the burgundy-soaked Ebury Wine Bar in Belgravia"; she's unhappy with the new owners for ripping out the old décor, but "very good cooking gets me over it", thanks to ex-Chez Bruce chef Daniel Mertl's talents in the kitchen.
"What the vanilla makeover lacks in loucheness is offset by a menu that goes for it full tilt."
Marina was "dragged" to Engine in Sowerby Bridge by a pal who "eats there almost weekly"; ex-El Gato Negro chef Mark Kemp and manager Wil Akroyd "have cooked up something entirely unexpected" with "an almost punky energy, a what-the-hell swagger".
"It makes you gawp and wonder where Lee & Perrins caramel has been all your life" – "ingredients that should never be seen together come out to play in a mad caper" in a menu that seems "messy and incoherent, but it lands hit after hit after hit".
"Location is everything? These exceptions are blowing raspberries to the rule."
*****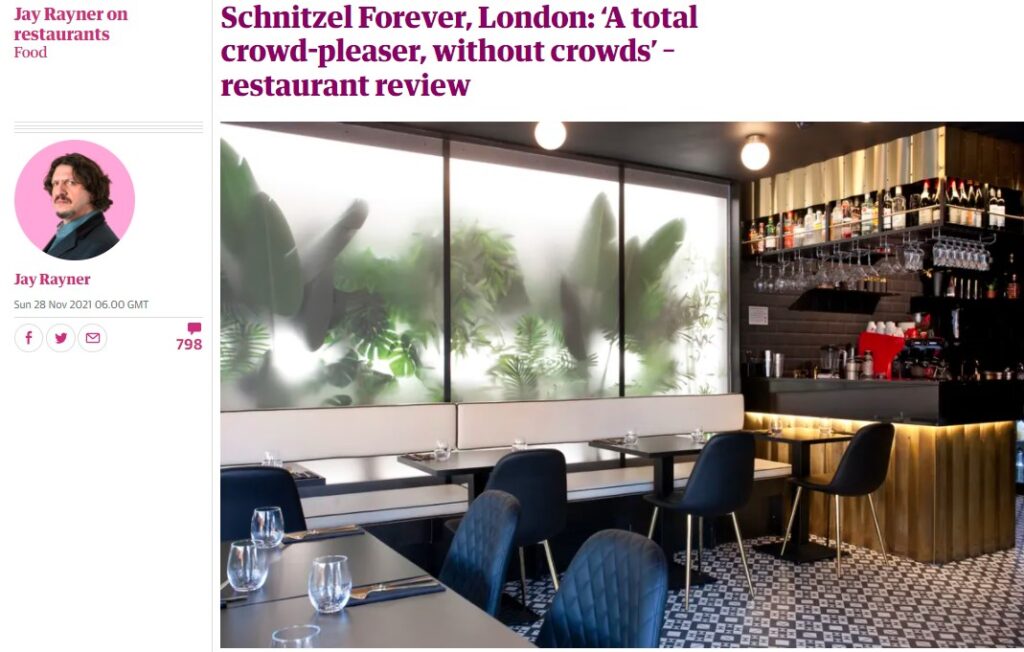 The Observer
"The cornerstone of a blossoming high street chain with many outposts across the country. It just doesn't quite know it yet."
Jay Rayner reviewed Schnitzel Forever, a restaurant that sounds like it was invented just for him: "a small standalone restaurant serving flattened things, which have been bread-crumbed and fried. Crusty, golden, fried foods are, as we all know, the good foods."
Jay loves schnitzel so much that it (or rather weiner Holstein) was a central plot point in his 2007 novel The Oyster House Siege.
"It's a good idea, well priced and well executed. That extends to the restaurant design" where "a modest space has been cleverly worked over, with elegant black and white tiling." We'd be surprised if he hasn't already offered to personally crowdfund this restaurant into expansion.
Mr Rayner also makes mention (cheers, Jay) of the launch of Harden's London Restaurants 2022 and the key highlights of our survey cogitations.
Also, exciting news for fans of the al fresco, beachside Riley's Fish Shack in Tynemouth; a bricks-and-mortar site has opened, Riley's Fish Shop, just up the road from the shack, complete with deli and wet fish counter.
*****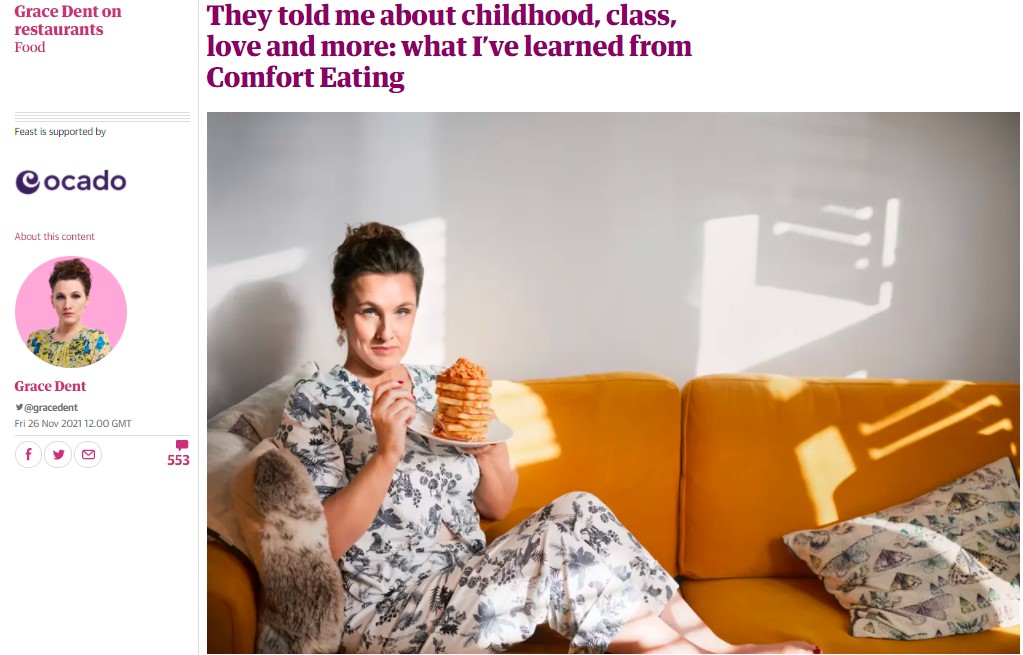 The Guardian
In lieu of a restaurant review, Grace Dent's article was about her Comfort Eating podcast and the secrets she's learned about what celebrities eat when no-one is watching.
"If a celebrity reveals to me the snack they eat on a quiet night in… they'll end up telling me more about their childhood, their social class, their love life and their body confidence than they would in a dozen red-carpet interviews."
*****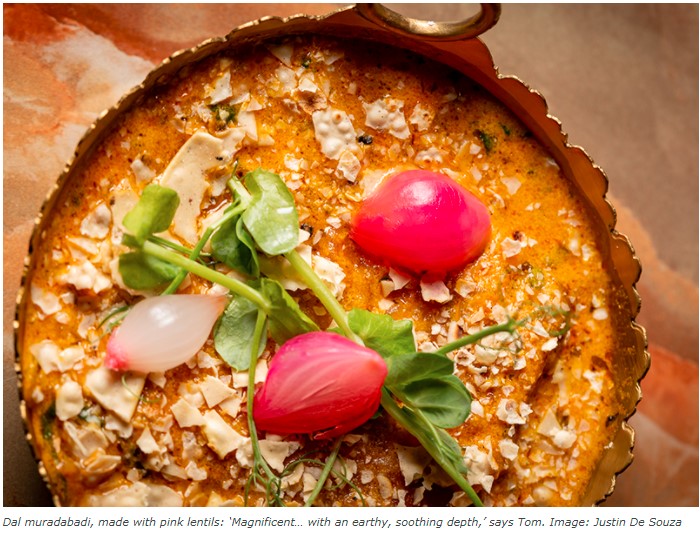 The Mail on Sunday
"Assured, artful cooking from across the subcontinent, with a deep understanding of texture, balance and technique."
Tom Parker Bowles for YOU Magazine visited Manthan, the new Mayfair Indian from Rohit Ghai, "formerly of the good Jamavar and the great Gymkhana" (and also Kutir).
It didn't start too well (they called to ask where he was – and he was already seated at his table), and the service was friendly but had kinks that definitely need ironing. The food made up for this (just). Classic TPM dish descriptions include "richly wobbling bovine might" and "that all-important bone-juice grunt".
"For all the undoubted skill of the cooking, and warmth of the staff, I'm not rushing to return." Gymkhana remains "the one to beat".
*****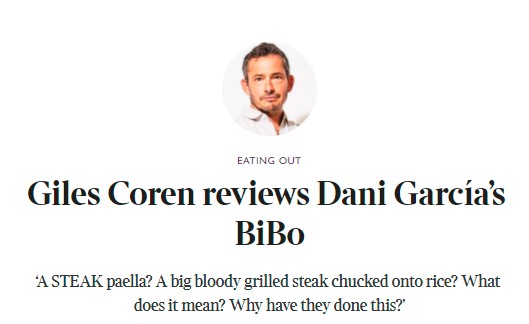 The Times
Bibo by Dani García was the venue for Giles Coren's review this week; it's "the first London restaurant from the celebrated Spanish chef" who is "A Big Deal" (Giles copied that bit from a website) in Spain, with three stars from the tyre men for his Marbella joint.
He's also opened in Doha, which Giles charmingly refers to as "that foetid totalitarian death pit" where "every tinpot, overextended celebrity bag o'shite restaurant has a branch".
You enter "through one of those confusing worky/relaxy-type, Soho House-ish spaces that everything in Shoreditch is these days", then downstairs "into a big, well-lit, quite busy room decorated in [a] sort of rustic Andalusian style".
After a "perfectly serviceable starting bite" of shrimp, he tried a 'meat brioche' ("what Dani G is most well-known for, they said") and a "boring" paella ("Dani's biggest thing of all, apparently") in which "none of the ingredients spoke to each other in any way". (19/30)
*****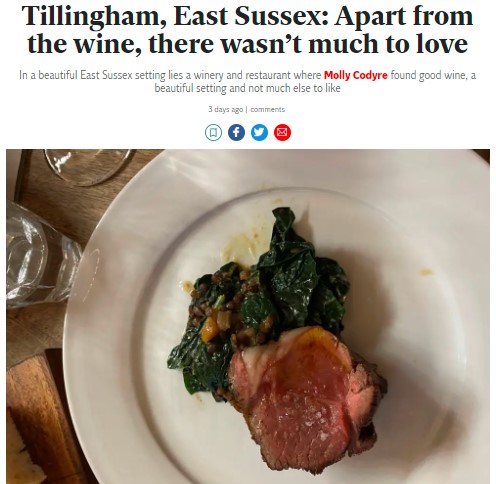 The Independent
Molly Codrye ventured to Tillingham in Rye, East Sussex, the vineyard with restaurant and rooms run by ex-Gusbourne CEO Ben Walgate. It made her wonder about "when your perception of a restaurant is cemented" (rarely an auspicious start to an article).
"There was much to enjoy" about the place, from the "spectacular" location and "tasteful and comfortable" room to "truly exciting" wines, but beyond that, "there wasn't loads to love".
There were no parking spaces at the 3pm check-in time, the £60 bottle of house sparkling wine was delivered with plastic tumblers, and the four-part starters were delivered like the staff were competing in a "speed-dining competition". When the mains arrived, things didn't get better – Molly's was "pretty close to" inedible, accompanied by over-salted sides. After a long wait for dessert (the competition must have ended), they were just "desperate to leave".
*****
And also…
In The Scotsman, Rosalind Erskine reviewed Hooligan, a Glasgow newcomer "rather unexpectedly located in what was a tenement flat, complete with beautiful high ceilings, parquet floors, cornicing and large windows". Like being at "a very grown up house party", Hooligan serves up Scottish small plates and organic and biodynamic wines: "I bet it's here to stay".
*****