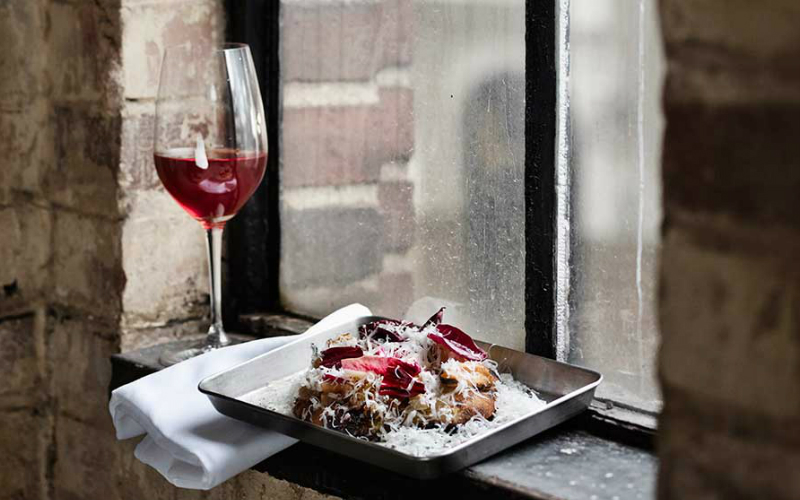 James Lowe and John Ogier's distinguished Borough restaurant Flor has now reopened. Menus, as ever, will be ever-changing, while wine – often exceptional, sometimes odd – bread and pastries will also return to centre stage.
Chef Pamela Yung was turning out progressive pizzas in lockdown under the ASAP Pizza brand, with a relaxed and casual approach and slices to take away. Now, she's back in the kitchen proper alongside head baker Helen Evans, who still has a penchant for heritage grains and seasonal fruits.
In October, there might be a poached quince and lemon verbena Danish, for example, or a savoury braised greens and cheese pastry.
At dinner, Yung's menus are as eclectic as they have ever been, with Italian dishes sitting snug alongside Vietnamese flavours, and old-style pickles and ferments next to classic Continental sandwiches.

Today, the menu features the likes of turnips and beetroot pickled in wheat bran, assorted flatbreads, a banh xeo-style crispy savoury pancake, gildas, and a deep-fried mozzarella and 'nduja sandwich.

Every Friday and Saturday, Flor will open its doors for brunch, serving the likes of beef tongue sandwiches, smoked eel and black fig sourdough waffles, and a riff on kedgeree.

Lowe said: "As autumn arrives, we're looking forward to welcoming everyone back to the table at Flor.
"While we've loved serving slices of ASAP Pizza throughout the summer, the time is right to bring back our bakery and wine bar."
Yung said: "In light of the pandemic, it's important to think about food and restaurants in a different way, working even harder to take responsibility for the ingredients we use, using our platforms to better the world and focussing more on everyday staples such as bread.
"This is an amazing time of year to be in the kitchen, and we can't wait for the next phase at Flor."