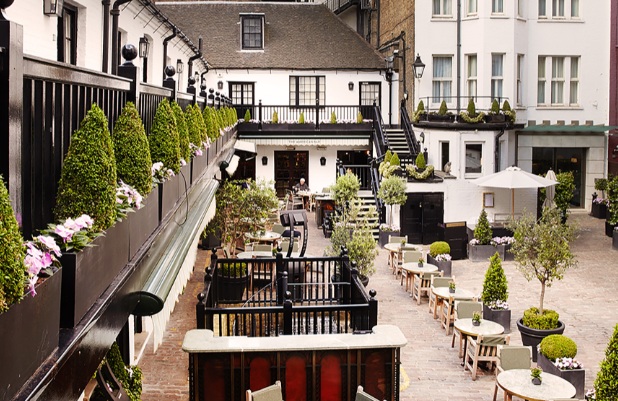 The Stafford London is "celebrating the joy of outdoor cooking" with a new outdoor cooking series, starting in April when restaurants will be allowed to open outdoors.
From April, culinary director Ben Tish and executive chef Jozef Rogulski will be joined by a roster of chefs to cook collaborative menus from the outdoor grilling area in The Courtyard at The American Bar.
Kicking off the series will be Matt Brown from Hawksmoor, who will serve a meat-centred menu on 24 April.
Dishes will include snacks of short rib and Ogleshield nuggets with kimchi ketchup and a native lobster roll; roast Brixham scallops with white port and garlic; and old spot belly ribs and vinegar slaw.
There will, of course, be steak. Dry aged porterhouse will be joined by triple cooked beef dripping chips, creamed spinach and bone marrow gravy.
Will Beckett, founder of Hawksmoor, said: "I think The Stafford is one of the great hidden gems of London. The American Bar, the vast underground Wine Cellars, The Game Bird and of course the Courtyard.
"It's one of my go-to places for eating outdoors and I'm really happy that we will be cooking there with Ben, who is one of London's great chefs and a good friend."
Stuart Procter, from the Stafford Collection, added: "It was our plan to have a summer of barbecues with a whole host of brilliant chefs in 2020, which for obvious reasons couldn't happen, so I'm really happy we can get this off the ground in 2021 with such an amazing first chef and restaurant.
"I've always been such a big fan of the Hawksmoor brand and tried their sell-out at home boxes during lockdown which was brilliant, however it's never the same as the real thing."
Matt Brown said: "Everyone at Hawksmoor can't wait to get cooking for people on May 17th, but I'm really excited to be cooking a Hawksmoor meal alongside our friend Ben outdoors at the Stafford Courtyard to celebrate the beginning of the end of restrictions and hopefully a bit of Spring sunshine.
"It means a lot to us to be invited and hopefully it's a reminder for a Londoners of what's to come when we open our own doors again."
Recent News from Harden's