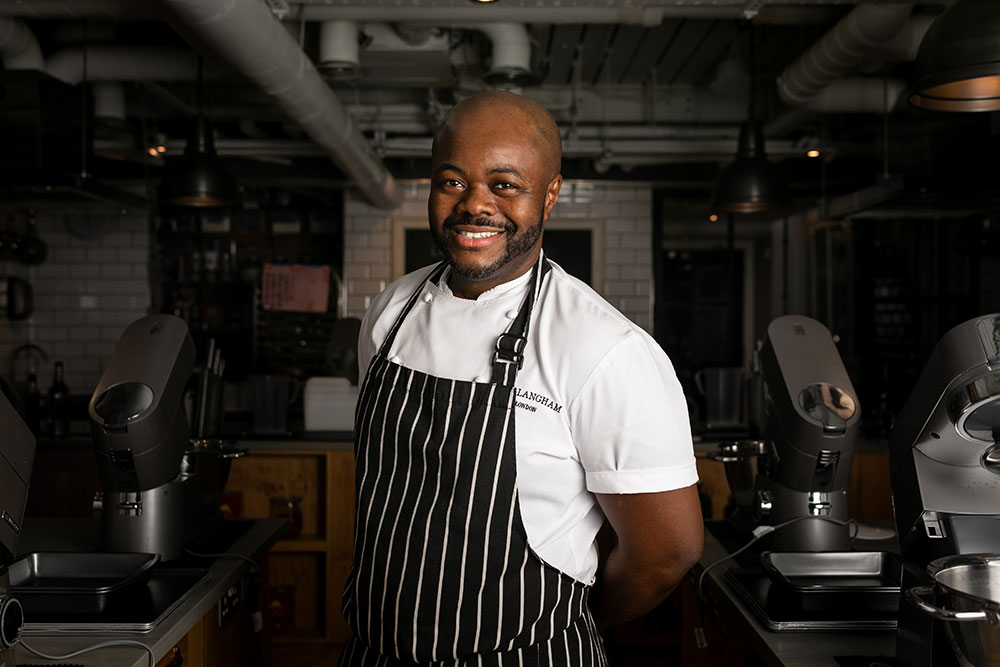 South London chef Dom Taylor has opened an ambitious Caribbean restaurant in the West End's luxury Langham hotel as the prize for winning a televised competition hosted by Michel Roux Jr.
The Good Front Room opened the day after the result of Channel 4's Five Star Kitchen was announced, taking over the Langham's Palm Court for at least six months. It was named after Dom's great aunt Myrtle's house, where "the good front room" was reserved for guests and special occasions.
The menu celebrates Dom's Caribbean heritage – his mother is Jamaican, his father from St Lucia – using his classic chef's training to elevate dishes such as jerk chicken, ackee and salt fish and rice and peas.
He said: "It's a dream come true to open a restaurant at such a prestigious address as The Langham. The modern Caribbean menu we're serving at The Good Front Room brings something totally new to the world of five-star hotel dining in London."
Michel Roux, who is culinary director of the Langham in addition to owning Le Gavroche, said: "We set out to find a hidden gem of a chef with an original vision to revolutionise five-star dining and to launch an exciting new restaurant at The Langham.
"Dom's concept is personal, it's what makes it unique, and after many months of planning and getting everything ready for the launch, I can't wait for the first guests to try The Good Front Room."
Meanwhile, Michel has confirmed that his own restaurant at the Langham, Roux at the Landau, which closed during the pandemic, will not be reopening and that the hotel is in talks with another operating partner for the space.
The Wigmore, his take on pub dining, remains open at the Langham.