A rollercoaster week for our intrepid reviewers: bad starts (including a hellish brush with Bicester Village for Tom Parker Bowles), off-kilter locations and misfiring menus.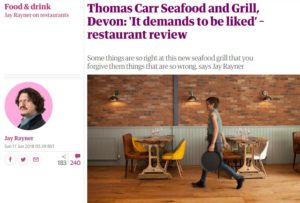 Jay Rayner in The Observer experienced the "troubled adolescence" of newly-opened, crowdfunded Thomas Carr Seafood & Grill in Ilfracombe, Devon. His initial impression left little to hope for, with a "weird" menu that's "a medley of all the greatest hits they haven't yet had" and the room itself a "huge expanse of bar with a brutal tundra of bare floorboards" (We won't mention the toilets.)
But… that little scrap of hope was "fully rewarded" by the main course. Hake in a shellfish bisque was "one of those dishes that reminds you why you made the effort to come and eat this close to the sea" where the fish and seafood are  "that little bit brighter and friskier", while skate in brown butter was, simply "one of the best versions of this dish ever laid in front of me".
So, all in all, a thumbs-up from Jay. Despite his assertion that "as a fully functioning restaurant it is, frankly, a mess right now, and they know it", he also recognises that "it has a warm, beating heart" and "demands to be liked".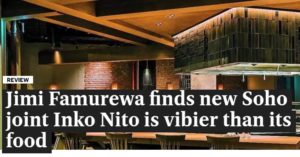 Guest reviewing in The Evening Standard this week was Jimi Famurewa, who visited brand-new "LA-honed mid-priced Japanese joint" Inko Nito (7/10) in Soho where they might just regret squeezing him onto "a 'challenging', walk-in table". Despite several misfires, he detected "an obvious pedigree and slickness to the operation" (Inko Nito is the brainchild of Roka and Zuma founder Rainer Becker).
For those planning a visit, note that "the simpler ideas were the most lucid", like a kimchi rice that was "ugly-delicious… all miso funk, throat-prickling heat and madly addictive, walloping umami" and the lone dessert offering of "bowl-scrapingly terrific charred coconut soft serve".
Overall the location's the winner, especially on a balmy summer night, and will keep Inko Nito humming: "If you're after some solid dishes amid the whirl of Soho's carousing summertime hordes then Inko Nito is more than up to the task.​"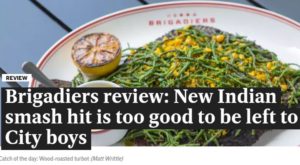 Regular Evening Standard reviewer Frankie McCoy  visited Brigadiers (****), the 12th future success from JKS Restaurants, this time in the new Bloomberg Arcade at Bank. Even an opening night review ("a completely unreasonable thing to do") couldn't shake them: "already Brigadiers is a well-oiled machine on maximum efficiency mode".
There are "six equally enticing menu sections" that  "cleverly ensure that you order too much". Frankie was delighted with the "chaat masala pork scratchings with cod roe… purely delicious booze food" and the "crispy-salty-sweet" of the "Masala chicken skins with pickled onions".
Noting that "the Sethis have an eye for a cult dish", Ms McCoy calls it for "that dish" at Brigadiers to be the barbecue butter chicken wings ("Good grief, those wings.") I think we'll be hearing lots more about them – not many dishes deserve the accolade of "mind-melding poultry crack".
Despite 'those' wings and the "solid menu of Indian hits, brilliantly executed by brilliant operators", Frankie claims she won't return: the place is "unabashedly designed for big-spending City sorts with high return rates and loyal sports fans".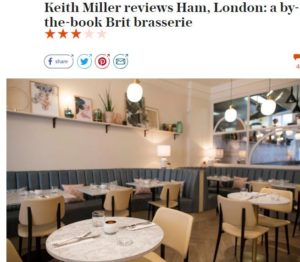 In The Telegraph, Keith Miller visited the new and much-paraded Ham in West Hampstead. 
Like Fay Maschler, and Giles Coren, Miller found good food at the new neighbourhood restaurant. But for him, it was more of a mixed bag.
"Mackerel tartare with fresh mint and ajo blanco was a mixture of textures and tastes you might not expect to march in step with each other. But the slippery, coppery fish worked brilliantly with the velvety roughness and garlicky kick of the soup."
Miller wasn't so enamoured by the tartare – he dubbed it "less of a triumph… a little bundle of raw chopped beef with slow-burning horseradish mayonnaise and crispy, violently salty shallots."
He continued: "Courgettes came in a sort-of risotto with toothsome barley kernels, tomato and tapenade, which all played nicely together but tended to gang up on a timid scattering of shiso; chicken with Jersey Royals (just the two of them, as if we were living through some post-apocalyptic catastrophe of root vegetable cultivation, a Spud Event Horizon – and who knows, perhaps we are), braised rainbow chard and a wild garlic purée that had lost much its fresh-foraged zing in the cooking and tasted, we thought, of nettle soup."
At least Miller found solace in the cheese: "Cheese was a good, unfussy mixture of British and French". And he noted too the lack of other dining options in the area.
"The eating-out options along West End Lane are dowdy and chainy: a Gourmet Burger Kitchen, a Rosa's Thai, a Banana Tree. Hām ought to do well in such a setting, and deserves to: even if the cooking's not flawless, it's done with verve and originality."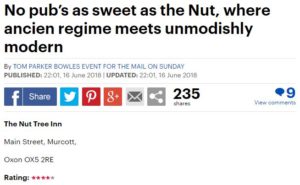 A trip to Bicester (not the shopping village, horrors) was on the cards for Tom Parker Bowles in The Daily Mail , where he visited The Nut Tree Inn, " a Michelin-starred pub with a pretty pond, thatched roof, clubby leather sofas and its own house cider"; " within these walls, all is well in the world".
There's "no showboating or culinary cocking about" here at The Nut, rather "admirably straightforward, classical cooking" from chef proprietor Mike North.
TPB chose a lobster and mango starter, which was " a simple dish but immaculately executed… balanced too." Poached halibut was "a testament to the enduring allure of old-fashioned French cooking" alongside a salad that was " the very spirit of the English country garden". All of this was followed by a pudding of "sticky toffee pudding, as rich, dark and handsome as Omar Sharif playing backgammon".  In short, " a modest star, with a magnificent chef".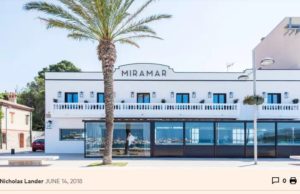 For The Financial Times, Nicholas Lander rated Miramar in Catalonia as "first class": "the locally caught langoustines contrasted beautifully with the morels.
He wrote: "My ideal restaurant table is number 32, along the window of the Miramar restaurant in the Catalan resort of Llançà, just up the coast from its better-known neighbour, Cadaqués.
"The restaurant is no more than 20 metres from the sea. In the distance stand the Albera mountains, the foothills of the Pyrenees."
The locale was clearly impressive. It matched the Catalan cuisine: "My wife went for a tartare of oysters topped with caviar and apple foam, a dish created in 2000, followed by tempered prawns with a morel stew. I opted for hake cheeks with asparagus and a pil-pil sauce, followed by a lobster rice dish with lobster roe and intriguing sounding 'marine sprouts'.
Lander enjoyed the take on Caesar salad – "a crisp tube of thinnest wafer, beautifully decorated and stuffed with herbs, which we consumed after spooning out a particularly well-seasoned iced lettuce soup from a lettuce-leaf-shaped egg cup" – and the various types of pepper. Sorbets also got the nod, as did "a cockle submerged under a heady Bloody Mary."
The cooking, Lander explained, was complex and intriguing. Simplicity is in vogue – but that doesn't mean complication and sophistication has no place in today's dining rooms.
"Miramar's menu and wine list open with a quote attributed to Steve Jobs: 'Simplicity is the ultimate sophistication'. Yet, while the food and service at the Miramar are certainly sophisticated, they are far from simple."