Adam Handling's The Frog E1 is to move to a much larger site in Hoxton. As well as a larger restaurant proper, Handling is making room for his Bean & Wheat coffee shop and craft beer concept, as well as a standalone bar, Iron Stag.
The Scottish chef has named his new 60-cover venture The Frog Hoxton – continuing his amphibious theme – and will "recreate the original restaurant's personality and feel". A la carte and tasting menus will feature, though there'll be a greater emphasis on larger sharing plates. The Frog E1's current head chef Jamie Park will maintain his role at the new restaurant.
"This is my biggest venture yet and it's a very personal project for me," said Handling.
Handling moves to Hoxton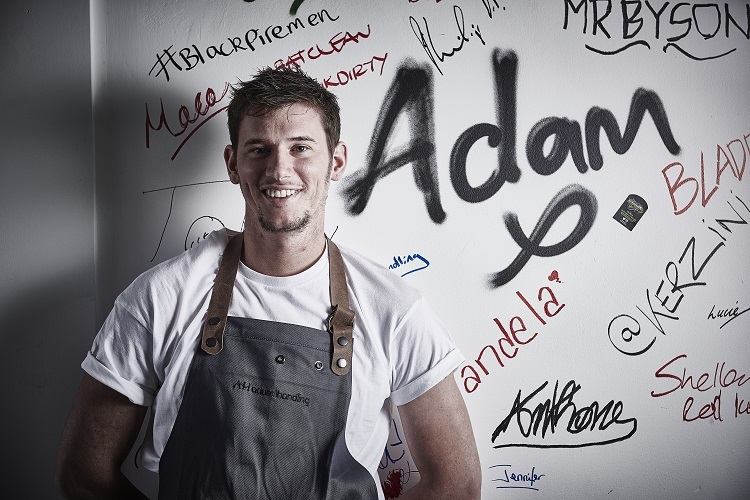 "I've learned so much from past ventures and whilst I'm proud of them all, I've delegated too much of the design concepts to outside companies. This time, I've taken on the design of everything myself.
"The Frog E1 was originally supposed to be a test project on a temporary basis, but it became so successful we kept extending the lease. Now, we want to give it a permanent home to give it the revamp it needs. When we first opened Frog E1, it was just me a couple of my chefs painting the walls ourselves and putting on the doorknobs (backwards!) – we were so proud of it when we were finished, and I want to be just as proud of this new site knowing that we've done as much as we can ourselves.
"E1 was my first independent restaurant, and its been a great testing ground for what we do best. I want to take everything that people love about it and are familiar with, but slightly elevate the offering, and make it even better."
The Frog Hoxton will be separate to the coffee concept and bar. Handling will oversee all venues, while executive chef Daniel Watkins will be responsible for delivering food in each space. Drinks in The Stag, a low-key cocktail bar, will be looked after by Rich Woods (aka the Cocktail Guy) and Matt Whiley. There'll be jazz bands and plenty of liquor.
Coffee shop and cocktail bar
In the zero-waste coffee shop, Handling has designed a more casual setting open all day and through to the evening. The focus will be on coffee (of course), and craft beer. Bottles will be available to take away.
A statement from Handling's team said: "The sustainable concept and emphasis on reducing waste will remain the same in that menu items including sandwiches, salads, parfaits and preserves will be made from offcuts and by-products not used in Adam's main restaurants. Adam will be implementing a recycling initiative in keeping with the theme of Bean & Wheat, encouraging customers to bring their empty beer bottles back in exchange for free coffees."
Handling's Frog E1 has a five-star food rating on Harden's. Readers say:
"Bold British tapas, with interesting combinations, textures and flavours" – "superb newcomer" – "you observe the fierce concentration of the chefs who also serve you" – "the best mac 'n' cheese in London"