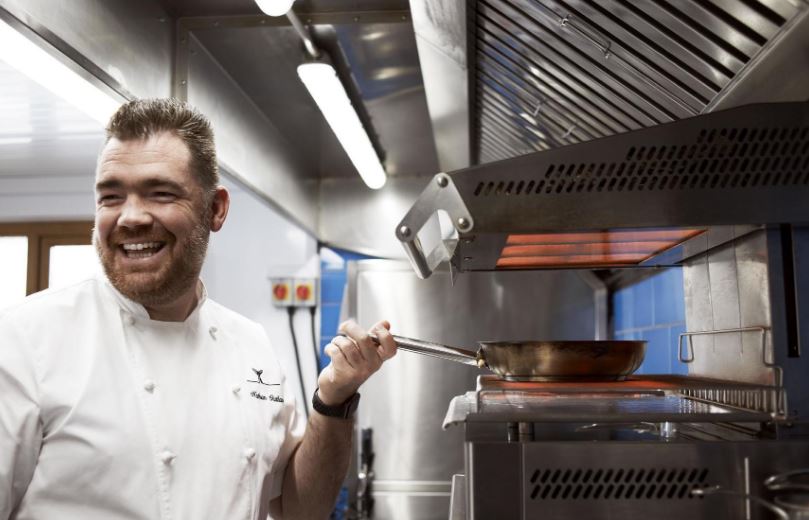 Establishment favourite, The Goring – just behind Buck Pal, its dining room is one of the few restaurants to have fed The Queen; and the hotel itself was where the Middleton sisters shimmied into their respective dresses on the day Kate married Wills – is to open its first new restaurant at the hotel since 1910. Nathan Outlaw is to steer the ship.
The hotel said Outlaw's space will be a more "casual" environment, providing a second option to The Goring's main, traditional Dining Room, which (despite winning a rather unexpected, and arguably slightly incongruous Michelin star executive chef Shay Cooper), is famously one of London's few exemplars of traditional British dining, down to service of the type they don't make any more.
The new space will not be carved from an existing section of the hotel, but will be a new-built building in the garden. "An eccentric, uplifting space" is promised from architects Russell Sage.
Though Outlaw's success as a chef is predominantly pinned to his eponymous restaurant in Cornwall, Nathan has seen his style work in London, too. Outlaw's at The Capital has seen positive ratings in this year's guide, even if the Knightsbridge site itself has perennially lacked pizzazz both under his regime and all preceding ones in living memory.
Like his other venues, Outlaw's latest venture will make a feature of Cornish fare. An announcement on Tuesday said that the aim is to "create simple seafood dishes of understated brilliance, which showcase the best of Cornish seafood and produce."
CEO and latest scion of the family to be at the helm, Jeremy Goring, said of the new restaurant: "Some of the best seafood in the world comes from the pristine waters around Cornwall.
"We're looking forward to bringing this West Country treasure to London, with the help of Nathan Outlaw."
Outlaw added: "Creating a new restaurant with such an iconic British hotel is a huge highlight in my career. I can't wait to get cooking."
The Goring, London's last remaining family-own five star hotel, has long had links with Cornwall. The company owns The Chapel, a boutique hotel in Port Isaac, not far from Outlaw's own restaurant in the county.